Time Tracking
Accurate Time Tracking

WebWork Time Tracker desktop application provides an effective way to track your time and computer usage.
What does the WebWork Time Tracker do?
Accurately tracks working time

Tracker counts the mouse clicks and keyboard strokes.

Takes Screenshots (considering the Screenshot mode).

Records active applications and browser windows.
How to start using WebWork Time Tracker
First of all you need to have projects and assigned contracts in your web account in order to see the projects in your desktop app. Projects and contracts are created in Projects page.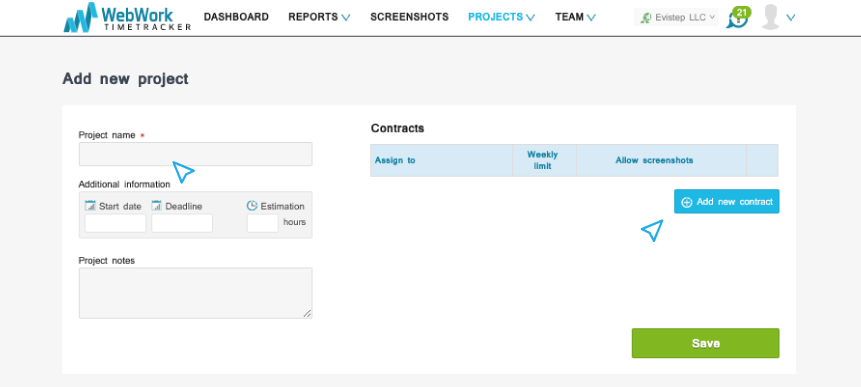 If you are invited as an employee, your owner or managers need to assign a contract to you in order you can start tracking time.
Simple steps to track time
Download and install WebWork Tracker desktop app.
Choose the project you want to track time for.
Click on the "Start" button at the bottom of the app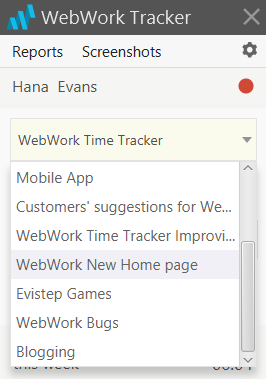 How to track time for tasks
You can create tasks within your WebWork account and start tracking time on them. But you will need to select a project and to be assigned to the particular task in order to track time.
If you don't need to have tasks, you can leave the Task field with "no task" selected.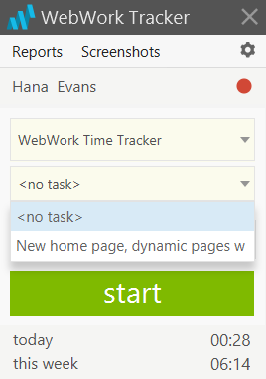 How to describe your activity
Describe your activity to have more information in your reports later. You can type random texts here and change it while the tracker is on.
You will see activity descriptions on the Activity Reports page and also at the bottom of each screenshot. It will help you to divide the project or a task into several components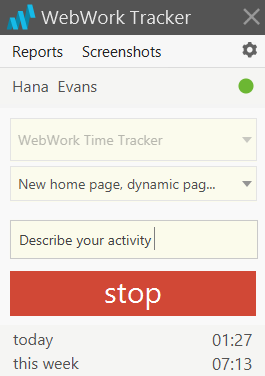 From tracker to browser account
You can go directly to your Report and Screenshot Pages from your time tracker.

By clicking the settings button on the tracker you have possibility to

- check your dashboard
- refresh the data of the tracker (in case you make some changes in your contracts or projects)
- check if your tracker is up to date
- get a help or assistance from Customer Support
- sign out
- quit the tracker.