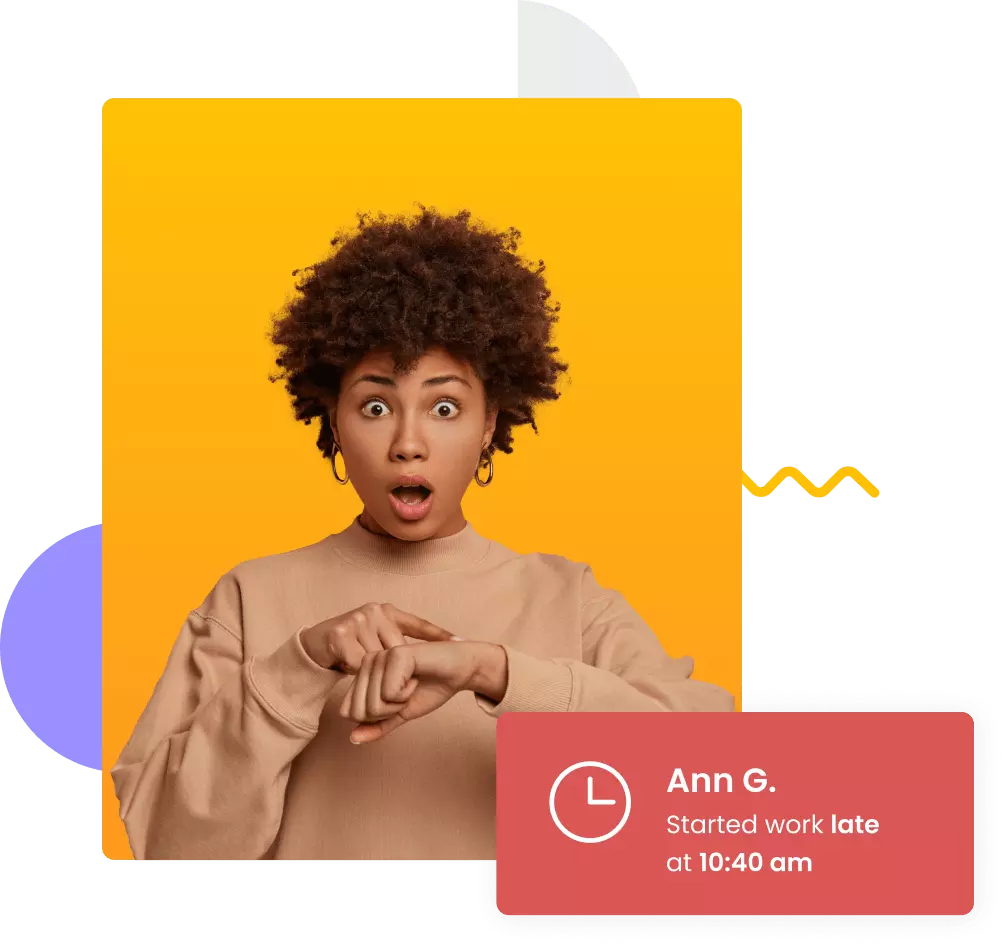 See When Each Employee Comes and Leaves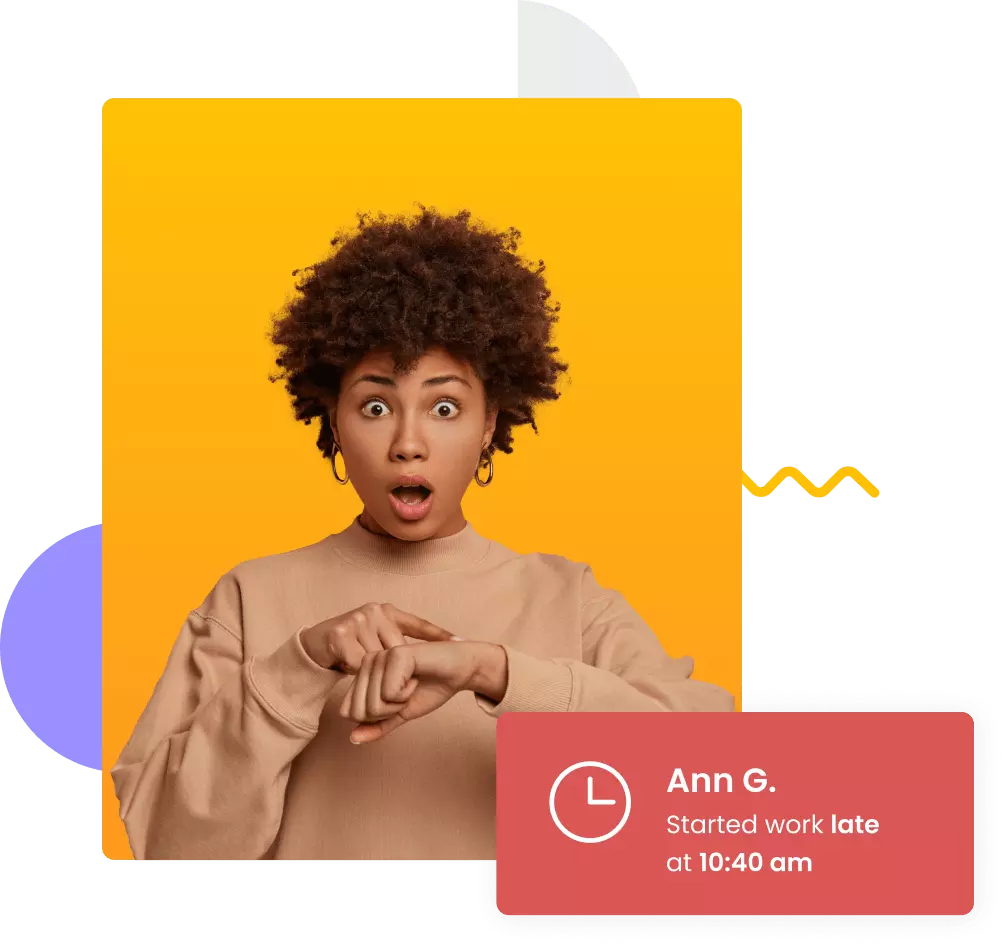 You set the workspace schedule and WebWork does the rest. When team members start the tracker, it automatically records the start time. And when the tracker is turned off for the day, WebWork considers it the end of the workday.
50K+
users are accomplishing more every day
More Features for Better Performance
Experience WebWork to the Fullest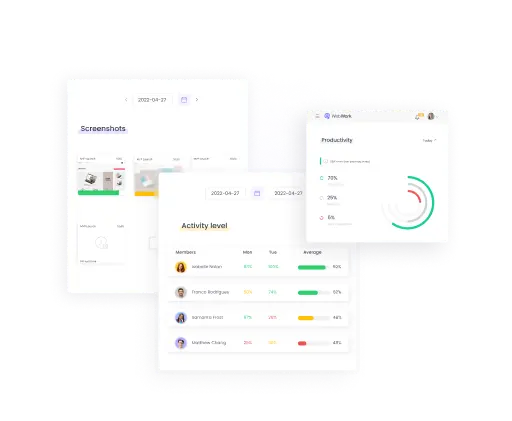 Screenshots

Screenshots enable you to see the whole process of a project's execution. With the right mode on, they capture the screen at a 10-minute interval and provide you with a granular view of your employees' work process. Depending on project type and preference, they can be turned off or you can change the mode to blurred.
App and Website Usage

WebWork also provides you with data on productive or nonproductive app and website usage. What this feature does is give you an idea on how much time employees spend or waste during working hours on non-work-related activities.
Activity Levels

By counting the number of keystrokes and mouse clicks, WebWork decides the activity level of employees. In the reports section, you can see the activity levels with green, yellow, and red for showing high, medium and low activity levels respectively.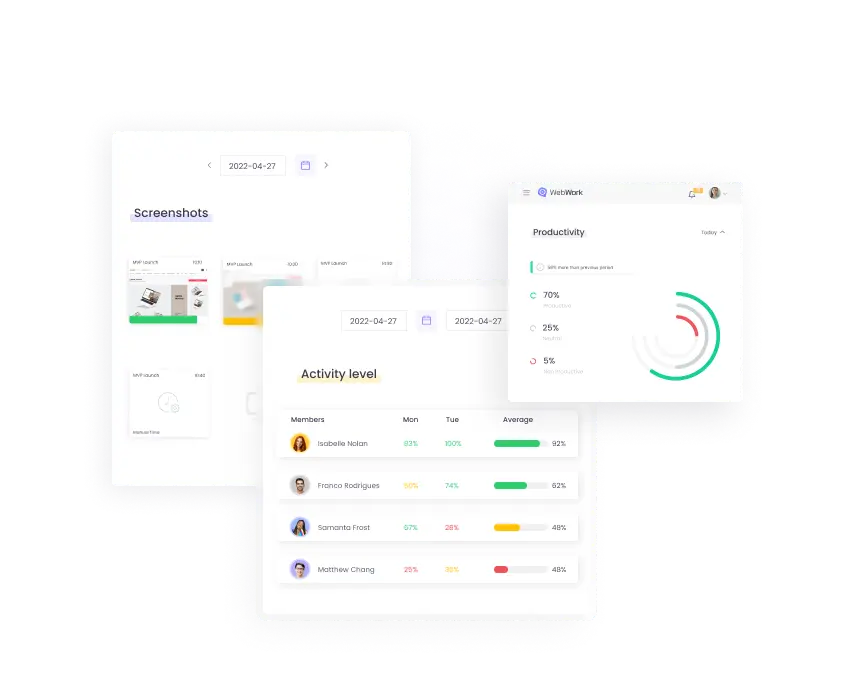 Our Customers
Love

Us
Aaron L.
I love the ease of this product. I have over 10 employees and this does wonders for tracking progress and work actually done.

Lorie Therese L.
I love WebWork's comprehensiveness. Everything either a project viewer or freelancer could need is on there!

Latasha C.
WebWork Time Tracker Saves Us Time! This web-based time tracker is extremely easy to use, download and run reports and it's well within anyone's budget! Fantastic!
Pricing Has Never Been Simpler
WebWork has 3 simple pricing plans
Free
14-day free trial. No credit card required. Cancel anytime.
Try For Free
Basic
Access to all features with unlimited projects and project viewers.
Get Started
Enterprise
Get your own offer to meet your team's custom needs. Includes all features.
Book a Demo
Have Questions?
We've got you covered.
What time zone is attendance tracking based on
The owner of the team can set a "system time zone". In this case the time zone becomes the same for all employees and attendance will be based on "system time zone".
If, however, the owner does not set a "system time zone", every employee will have their attendance reports according to UTC±00:00.
Are split shifts available?
We are currently working on making attendance tracking in different time zones available.
Stay tuned! Split shifts will be here soon!
Where can I see attendance deviations of employees?
The deviations can be found in the "Attendance" section, along with comments about the reason of being late or leaving early. These data are available to the owner and the managers.
What happens when employees are late from their fixed attendance hours?
The owner can set "Allowed Deviation" time for their employees. When an employee is late or leaves early in this set timeframe, no deviation from attendance will be recorded.
Otherwise, employees will get a popup asking for the reason for being late or leaving early. Note that the popup cannot be closed without writing the reason.
Can employees track during non-working days/hours?
Yes. If the owner enables tracking on non-working hours, employees will be able to track their work. However, if that function is disabled, the tracker will not start during non-working hours and days.