Track Time in the Browser with Web Tracker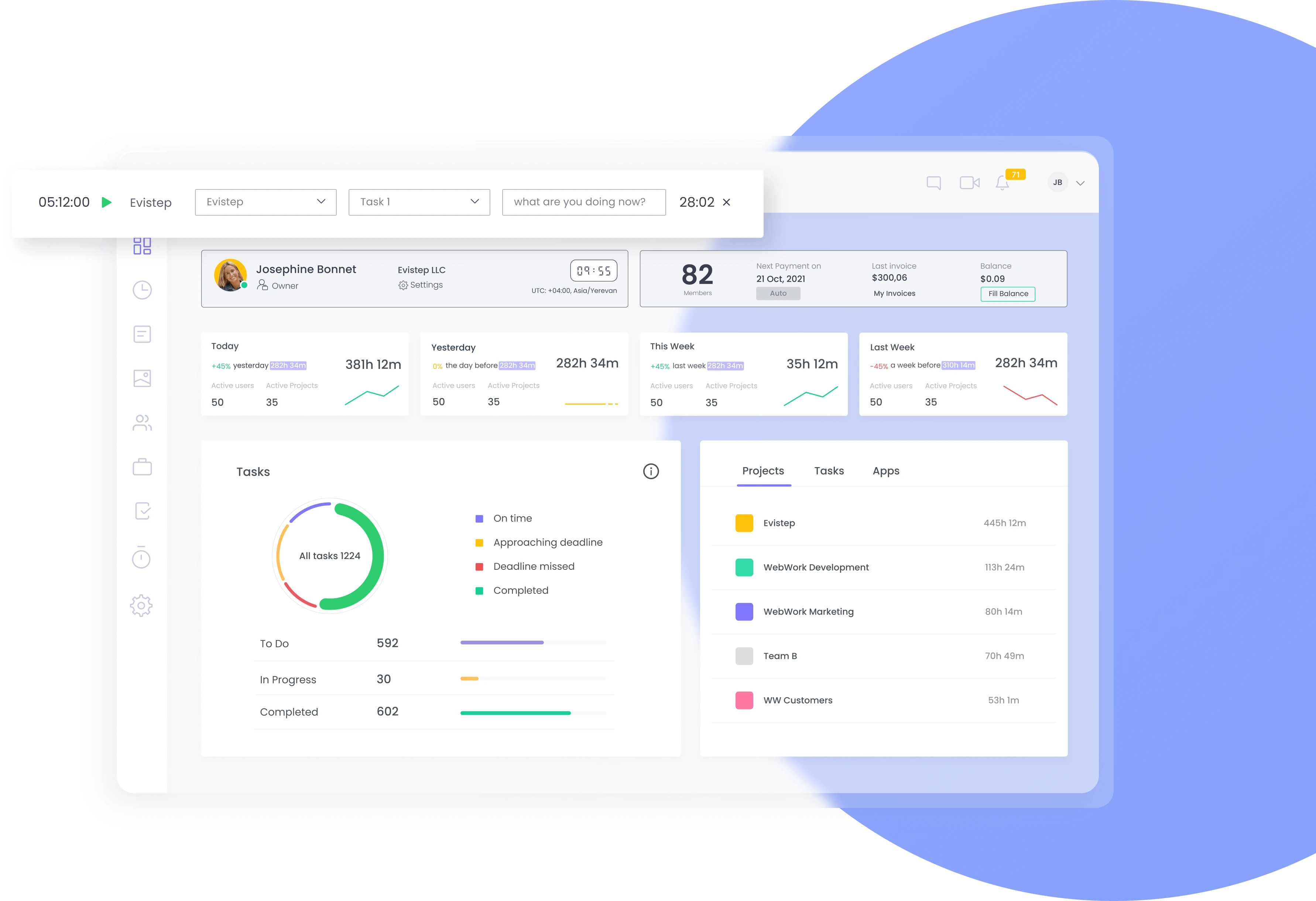 Web Tracker covers all important aspects of browser time tracking. Track work hours in the web browser without any extra effort.

No credit card required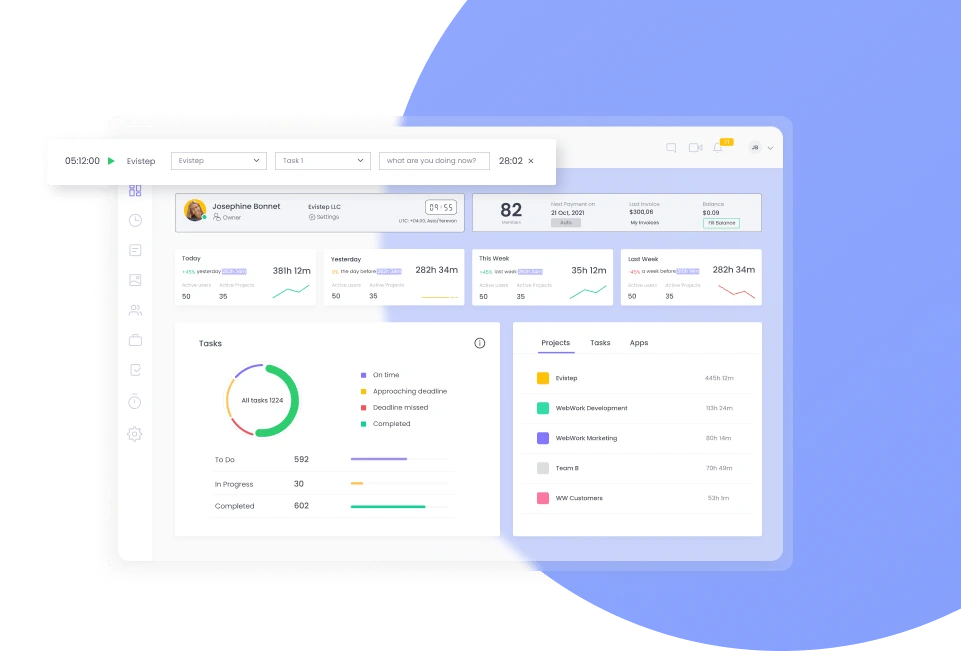 What does Web Tracker do?
WebWork Web Tracker is for those who prioritize browser time tracking and don't need to monitor activity with screenshots.
Learn More
What does Web Tracker do?

Manage Projects
Organize, execute and monitor an entire project from start to finish.

Manage Tasks
Create and assign tasks to your team members and track time on each.

Monitor Attendance
See when your employees come and leave with automated Attendance Monitoring.
WebWork Web Tracker is perfect for those who give priority to time allocation and don't need to monitor activity with screen captures.
Learn More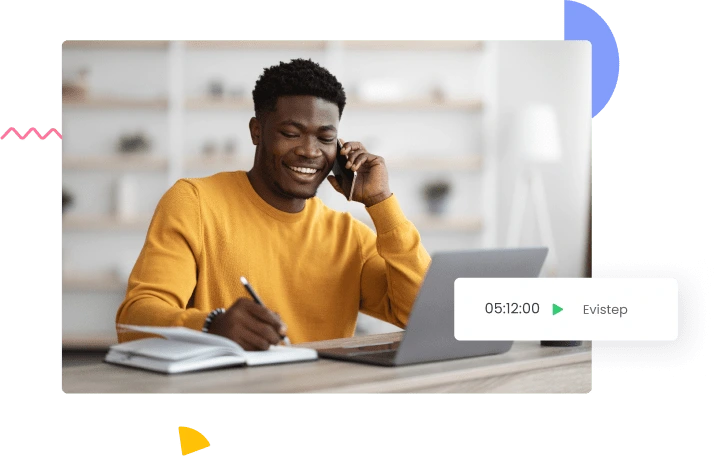 Benefits of Web Tracker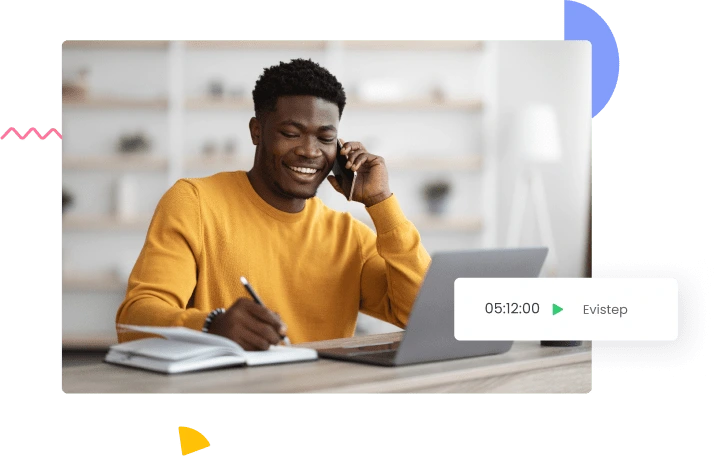 No need to download

On Web Tracker you track time without downloading the app. The Web Tracker tracks time without Screenshots, Apps & Website Monitoring and Activity Level Recording.
Keep track of tasks

Track the progress of tasks from start to finish and ensure they are completed on time.
Become more efficient

When you have detailed time allocation information, you can measure your or your team's performance.
Get more organized

Become more organized and keep track of things you need to focus on. Track the progress of your to-do list and monitor the time you spent on each activity.

One Thing to Keep in Mind
You should always keep the tab of WebWork open. If you close the tab, Web Tracker will automatically stop in 15 minutes.
Get Started
How to start using the Web Tracker?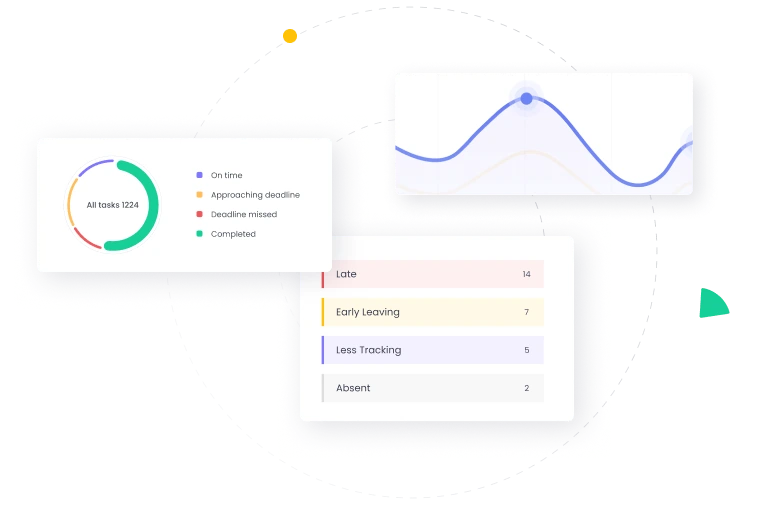 Permission
First, the owner of the workspace should turn on web tracking in the settings

Activation
To activate web tracking, go to Settings>Tracker>Allow website tracking

Ready to go!
You're all set. Start tracking time on WebWork.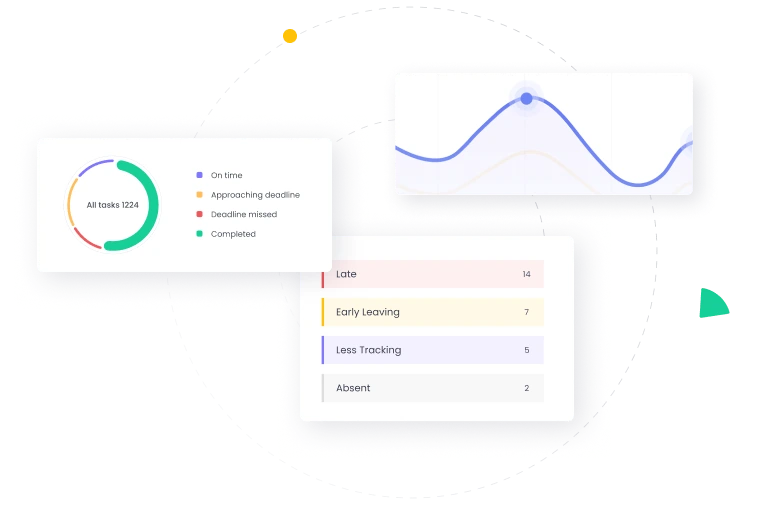 Have Questions?
We've got you covered.
Can I use Web Tracker and Desktop Tracker for the same project?
Yes, you can use all trackers for the same project but not at the same time. For example, if you are working on a project with the Desktop tracker, you can turn off the Desktop Tracker, go to the Web Tracker and continue working on the same project there, as the trackers work in a synchronized manner. The same goes for the Mobile time tracker.
Why can't I see my productivity data and screenshots on the web tracker?
The web tracker only tracks time, nothing else. It does not measure productivity and does not take screenshots.
I can't find the web tracking option on my dashboard, why don't I have it?
In order to be able to use the web tracker, your owner should enable it through their settings for you. In order to do so, they need to go to their Account Settings >> Features >> Web Tracking.