Start free trial now
Registration is simple and easy, you can create your webwork account in seconds: no credit card required, no charges, no contracts.
Just start your free trial and check how our time tracking software works.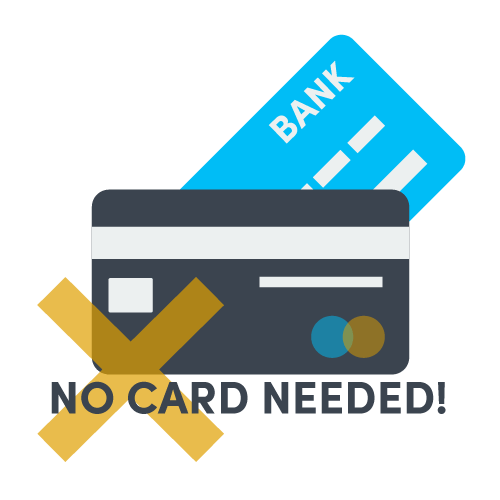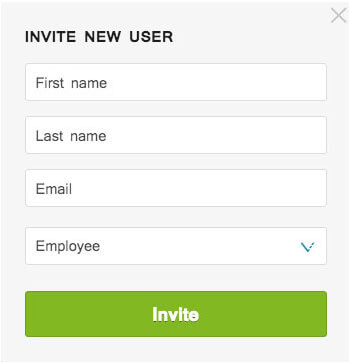 Invite your collegues
WebWork time tracker is made for freelancers, teams, small and large companies. After creating an account, you can invite your employees by just a few clicks, from team menu.
Just fill their name, email, role, click invite, and they will get an email to accept an invitation and become part of your team. Then they will be ready to work on your projects, do tasks, track time on tasks and projects!
Sign up now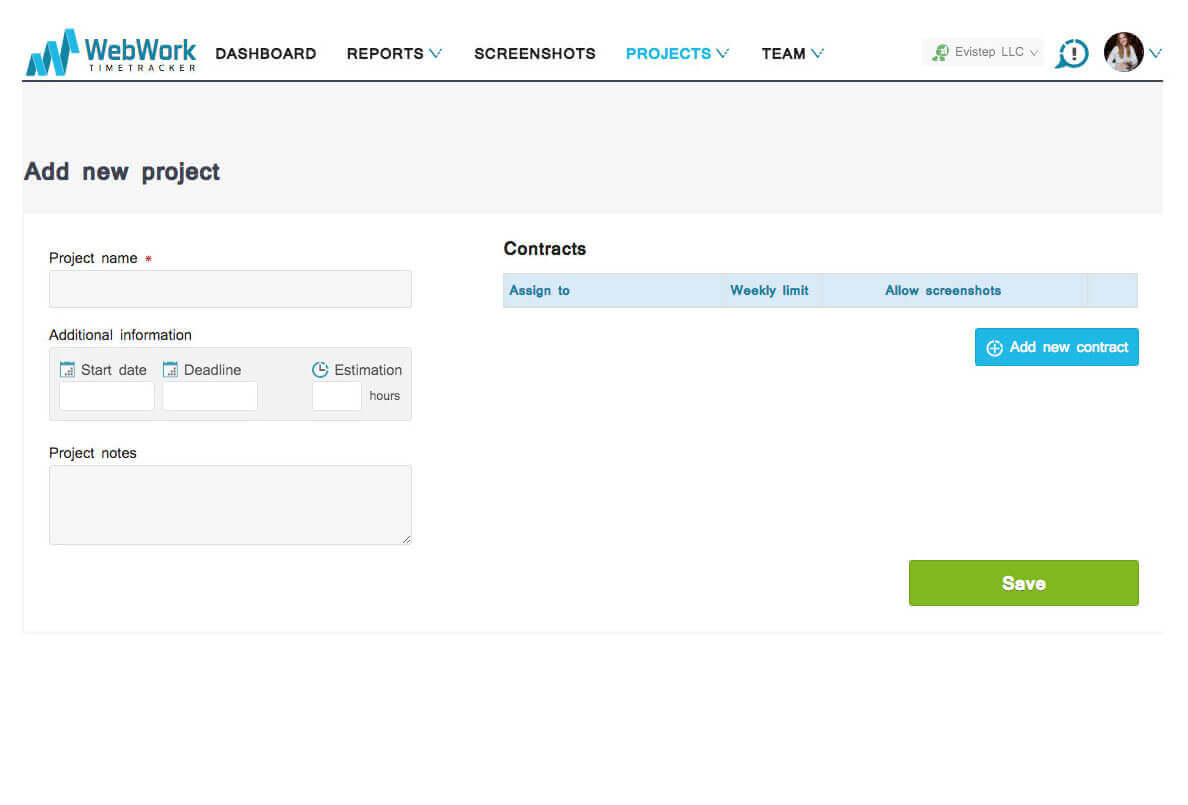 Create projects and contracts
In WebWork you can make projects on which your team is going to work. You can have separate tasks for projects and also team tracks time on different projects, you see reports based on projects. To let employee work on the project you just make a contract for him in projects page or in team page.
Our solution provides the easiest and simple way of creating contracts. For each contract you can have a weekly limit in hours, put which screenshot mode, you need: no screenshot, blurred screenshots, background (invisible) screenshots, regular screenshots.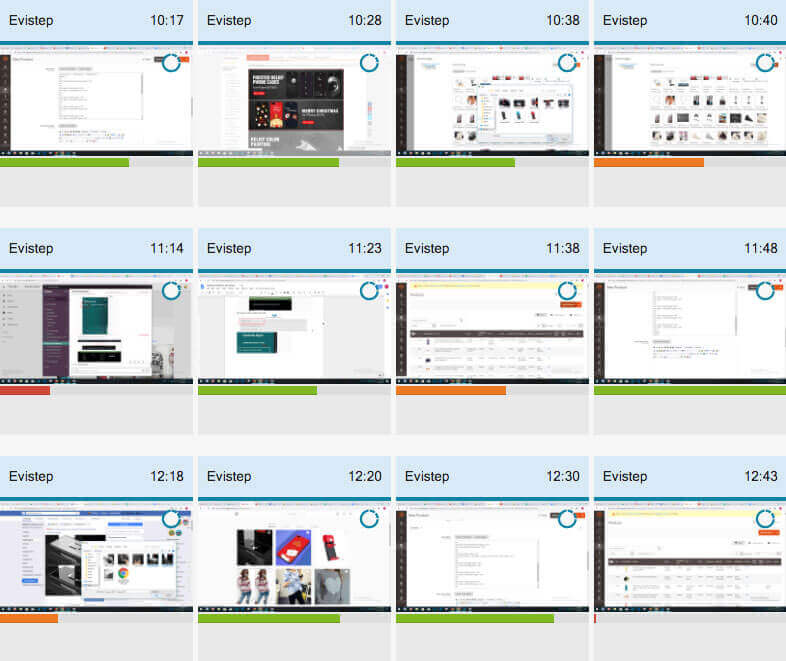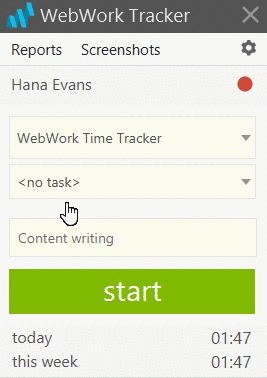 Start Tracking Time
Tracking time made easy with our superior and powerful tracking software. Just select the contract (and/or task) and click START. When you have finished, click STOP. Nothing more - just it, and the rest software will do itself! You will be able to see reports, screenshots, active window reports, reports about mouse and keyboard clicks and more.
START DEMO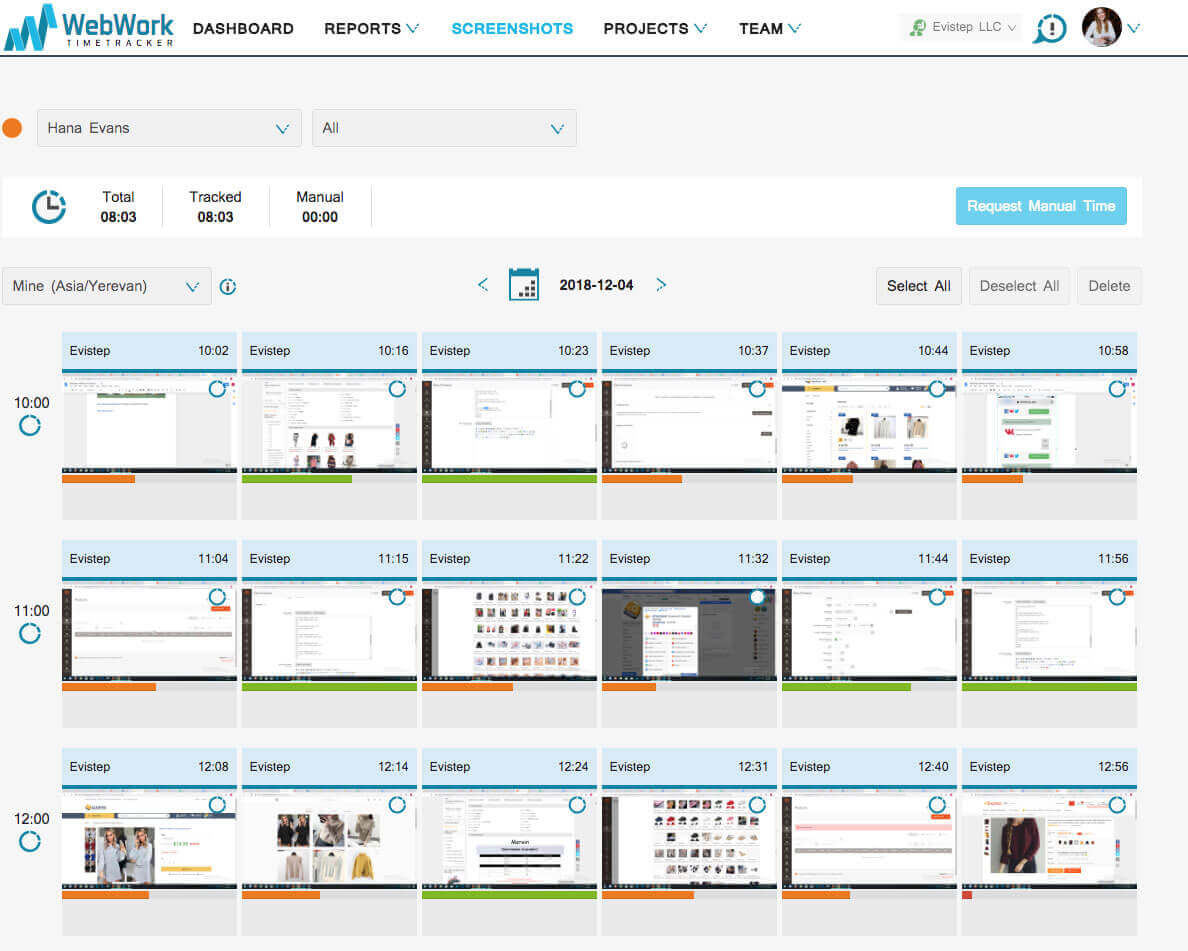 View Screenshots
Screenshots are the essential functionality in our time-tracking software. Using screenshots you can monitor your employees work activities and understand on what exactly do they work.
On the screenshot report page, you will see also other useful information for each 10 minutes: keyboard and mouse clicks for each minute, active window for each minute, and activity level in percents!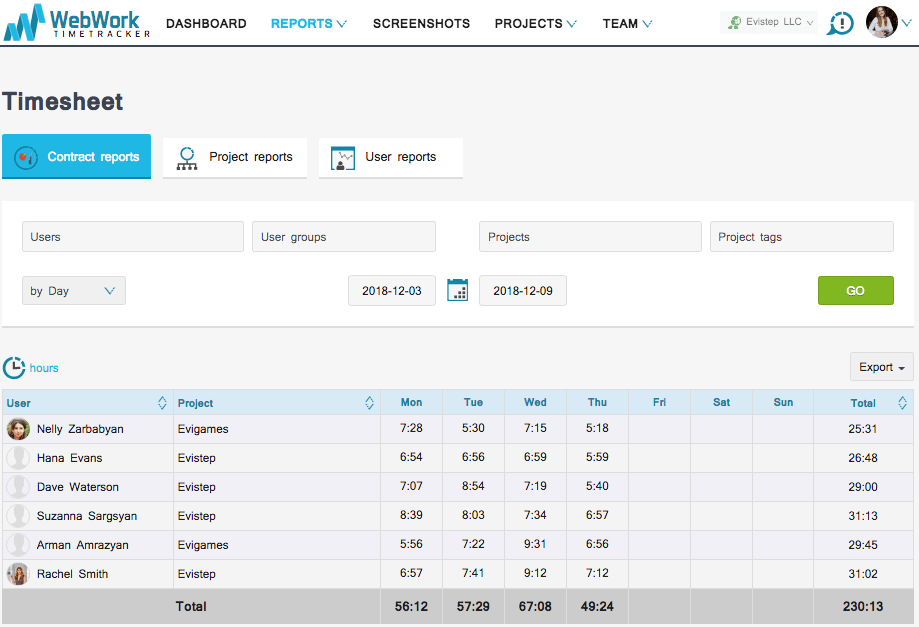 See Real-Time Reports
Reports are important. After you and your employees track time using our software, it's important that you will get detailed data about spent time in your team. We have employee reports, project reports, full reports, active window reports, activity reports, task reports + visualized data with charts and graphics.
ALL FEATRUES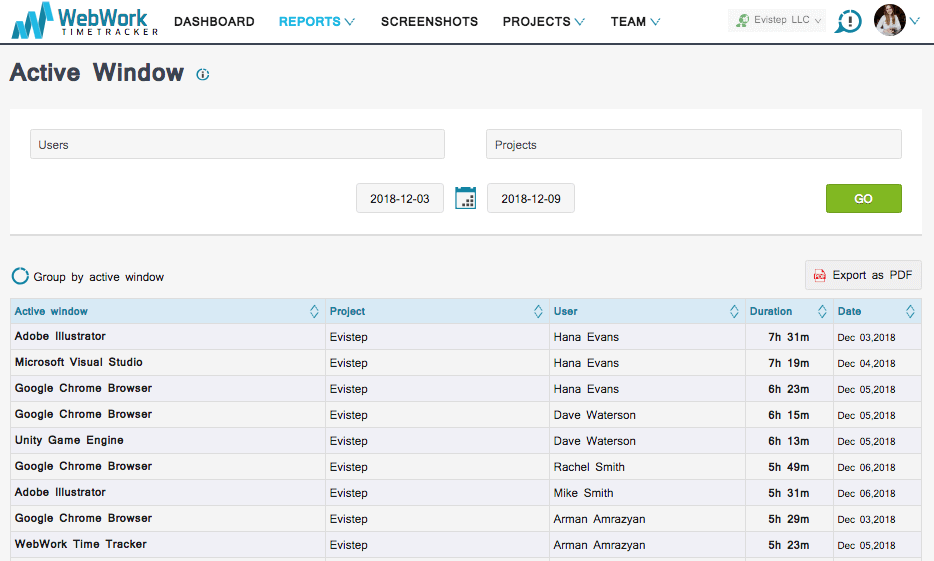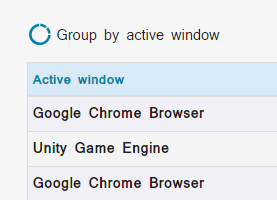 Check Active Window Reports
Active window reports give you insight of what applications your employees spend the most time. It's extremely useful tool to understand which time exactly was lost, and on what your team is losing time. After understanding the real problems which decrease your team's productivity you can take right actions and together we will boost productivity in your team!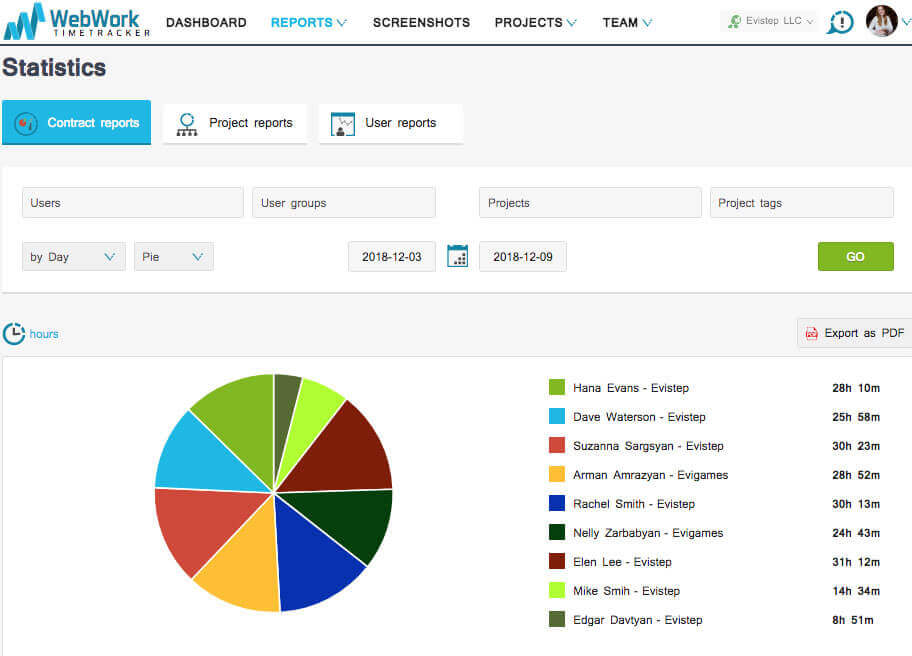 More Graphical Statistics
When it comes to reviewing time tracking data, visual information is always useful, so we made tools for you to visualize time tracking data and view reports as charts and graphics.
There is three types of charts. So, you can choose the data and chart which is more convenient for you.
Start Free Trial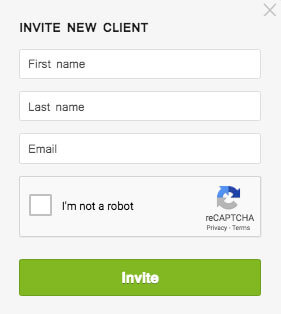 Invite Unlimited Clients
Yes, you can invite UNLIMITED clients for FREE. They will be able to see projects on which you will give them permission. Client is not able to make any changes as they just have the role of observer.
It's useful to show client proof of work, information about spent time on projects.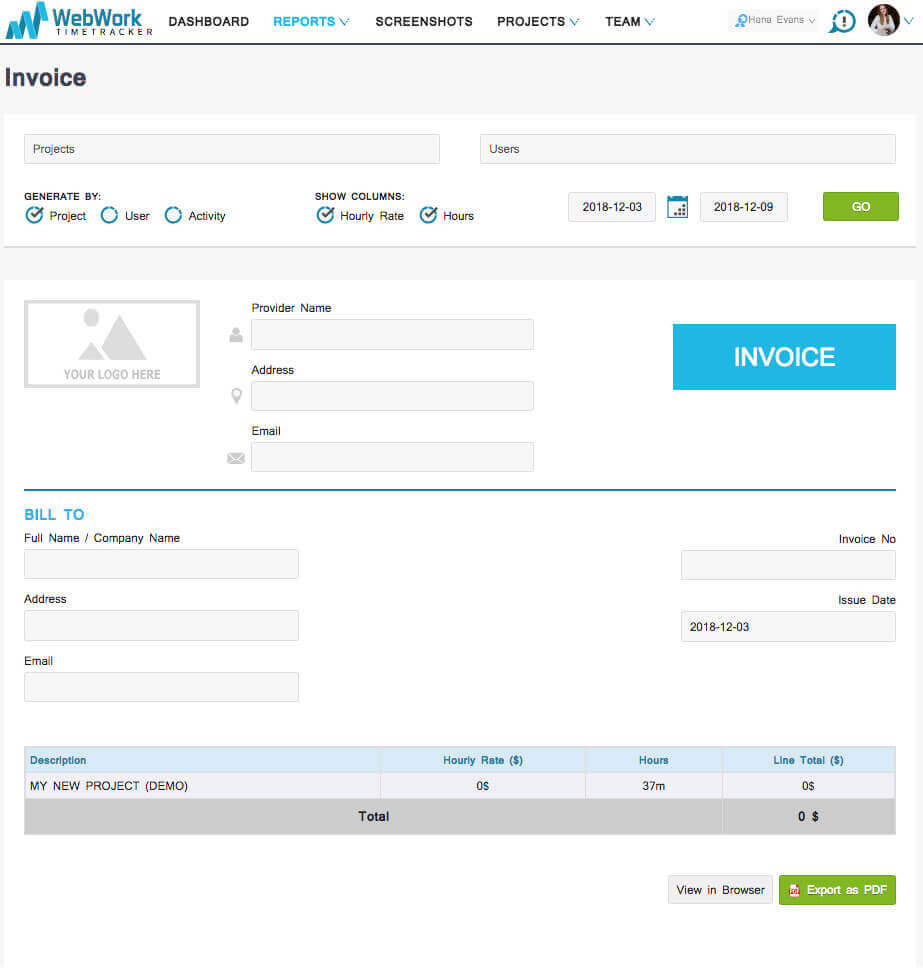 Generate Invoices
WebWork Time Tracker has a tool to generate invoice based on real tracked time. So billable hours are being converted to invoices in seconds just with few clicks from Invoice menu.
Invoices can be generated by Project, User, Activity and also by their mixed combinations.
get started now
GET THE WHOLE PICTURE
WebWork Time Tracker helps you to stay in touch with your remote team