Get Transparency into Your Employees' Work





"Easy to use tracker for Entrepreneurs and Managers. The Software has a clean Interface, intuitive and easy to use. The screenshot feature is effective and the employee can control the time tracked after the time was recorded, thus being able to avoid unintentional tracking". Aqiq I ., Team Lead
Start My 14-day Free Trial
No credit card required
14-day free trial without any limitations
Cancel anytime
Monitor How Your Employees Work
Screenshots
Get actual proof of your employees' work through screenshots taken randomly every 10 minutes. There are 4 modes to choose from based on your needs.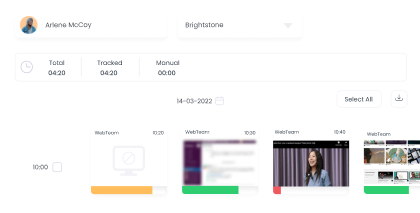 Apps/Website Monitoring
Get an idea on how much time your employees spend on each app and website to see what's affecting performance. Get productivity reports tailored just for your team and make smart decisions.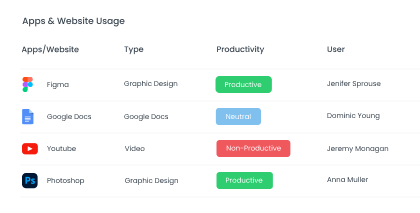 Activity Monitoring
See the activity levels of your employees through the amount of mouse clicks and keystrokes. Identify your top employees and reward them.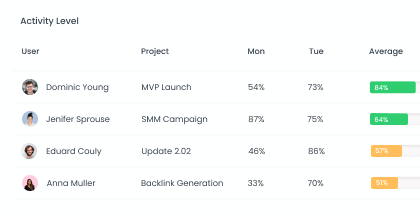 Attendance Monitoring
Monitor your employees' attendance easily with automated check-ins and outs. See who's late, early or always on time.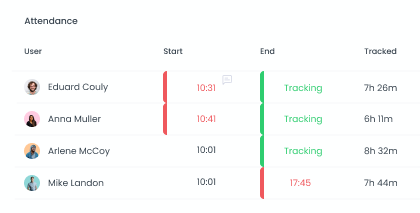 I'm Ready to Start
More than 50K Users All Across the Globe
Amber
WebWork Time Tracker is a phenomenal software that helps in increasing our productivity, especially that it smoothly runs on any device we use. This tool helps track consumed time for each assignment.
Boris Hrbacek
WebWork Tracker is an excellent choice for small teams with remote workers. Being able to accurately track not only hours worked, but also activity levels with screenshots really helps to identify what your team is working on and for how long.
Joel Ángel A.
I haven't had any problems whatsoever with WebWork Time Tracker. It has helped a lot to measure my workload and it helps my employer to see what I'm working on. It's also useful to focus and to keep a record of your working hours in case they pay you by the hour.
We Listen to You
Your feedback matters to us. We listen to what our customers have to say and move accordingly.






Pricing
Get access to pro time tracking features at a not-pro price. WebWork Time Tracker offers all the necessary features for complete time and work tracking at the most affordable, yet inclusive price in the market. Guaranteed satisfaction and no limit to any of the features.
Time Tracking
Task Management
Attendance Monitoring
Online Reports
Apps & Website Usage
24/7 Support
Free
14-day free trial. No credit card required. Cancel anytime.
Try for Free
Basic
Access to all features with unlimited projects and project viewers.
Get Started
Enterprise
Custom solution for 40+ team members. Includes all features, and 24/7 support.
Try for Free
Have Questions?
We've got you covered
Why do you need time tracking with screenshots?
Screenshots are the best way to provide true information on behalf of your employees. They provide immediate reflection of the work being done and are a guide to how employees spend their working time.
Does WebWork record my employee's screen?
WebWork does not record the screen but only takes screenshots. It captures the user's/employee's screen randomly in every 10-minute interval. WebWork also has Blurred and No Screenshot Modes. These can be used if privacy is your priority or you don't need screenshots.
Can I use WebWork secretly on my employee's computers?
You cannot use WebWork without notifying your employee. Furthermore, you are required to notify and explain the purpose and the benefits of the tool to your employee.
Take Your Company up a Notch with WebWork