WebWork Time Tracker keeps simplifying remote work management for everyone. Other than time tracking, task management, and the recent introduction of communication tools, WebWork now has HR tools as well.
They are leave management, and automated holiday notifications.
Now HR managers and employees no longer have to deal with Excel sheets, paperwork, and miscommunication errors.
It's very simple.
Employees click on Request a day off, fill in the details, and HR approves or rejects. Or the HR can organize it themselves in a similarly simple way.
WebWork Leave Management Makes the Whole Process Faster for the HR and Ensures the Accuracy of Data
The automated process of arranging and requesting time off reduces the chance of man-made mistakes or misunderstandings.
There is no longer a need to inform HR about a day off through a messenger or email, which can sometimes lead to misunderstandings. 
I asked our HR about issues they came across before using WebWork's HR Tools, especially Leave Management. Turns out one of them was occasional miscommunication.
"Sometimes employees would inform and take a day off and then at the end of the year claim that they didn't. I did have their day off recorded, but there was no way I could prove that this employee had asked for that day off in the first place." 
However, with WebWork, all the information, from the request to the approval or rejection is recorded and can be available to both parties.
Now taking leave is not based on mere verbal or written notice, but is also backed with proof. 
Automated Holiday Notifications Save You Time and Effort
Instead of spending time sending out congratulatory or informative messages on your Slack channel, you only need to give the necessary data to WebWork.
First, you add a holiday or memorial day and write the necessary message.
Next you mark whether it is a working or non-working day, who it applies to, and submit. Then when the day comes, you get the message sent to your team.
Easy-peasy!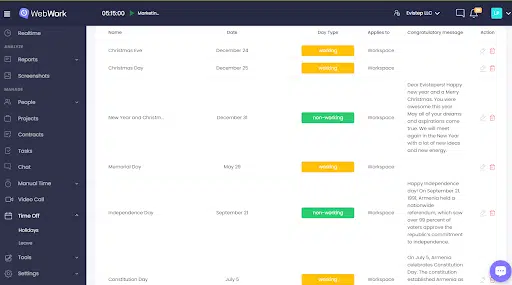 In case you are new to WebWork, get it here for free.
Check also: How to Choose the Best HR Software for Your Business in 2023