At WebWork, we aspire to create the best solution for managing remote work and remote teams. For that reason, we have made it possible to integrate a number of other digital tools with WebWork and manage work faster and more efficiently.
Up until now, you could integrate WebWork with tools like ClickUp, Asana, Trello, Slack, Jira, Zapier, Xero, and many more.
We are constantly working on adding new integrations aaaand drum roll – Deel is one of our newest integrations.
Now you can integrate WebWork with one of the biggest global hiring, HR, and payroll systems on the market – Deel.🎉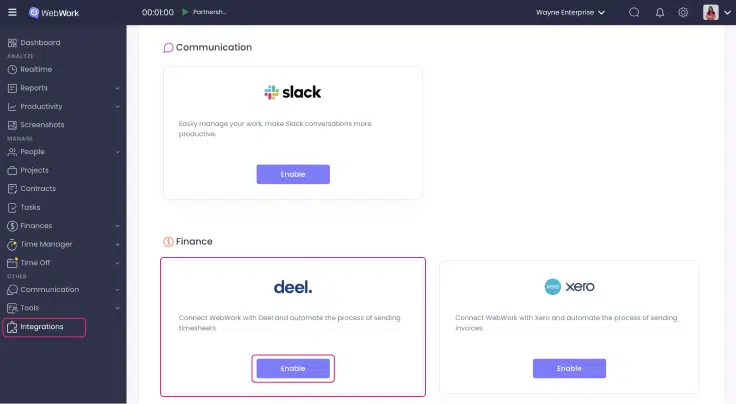 That's right. We have partnered with Deel so that you can have an even easier and more efficient remote work experience.
What does this partnership and integration mean for users and customers, including you?
A couple of good things.
1. You can import data between both tools with a single click.
Now you can import all your team members from Deel into WebWork quickly and easily. Then you can import their timesheets from WebWork directly into Deel. This way you will save time and use both tools more efficiently.
2. Perks. Some juicy perks.
As a result of our partnership with Deel, we have prepared perks for users on both ends.
Stay tuned for some generous perks and benefits👀
Until then, integrate Deel with WebWork and enjoy the benefits of both tools at the same time.