Digital marketing tools are the in-thing. The relationship between online marketers and digital marketing tools can be compared to the one between both hands of the human body. You see, you cannot clap without the other! 
I am a huge fan of using the latest (and popular) digital marketing tools simply because they make the life of millions of digital marketing professionals easier. Also, these tools are a reliable answer to a common question doing rounds in the digital marketing domain – How to be more productive without exhausting ourselves? 
These tools help marketing professionals to execute their marketing campaigns exactly as planned and race ahead of the competition. 
Now, the thing is that as a digital marketing pro, you and your team are only as good as the tools that you use. Yes, I am not exaggerating! It's not that you can randomly pick out any online marketing tool and hope that it works for you. 
You need to use only the right tools that suit you and your team's digital marketing requirements in the best way possible. So, what exactly are the right tools like?
There are a plethora of digital marketing tools available today, and if you haven't had the chance to use them then decision-making can be quite a difficult task. After all, there are so many alternatives available today. 
To make your job easier, you should first make a list of all the features that you and your team need out of an online marketing tool. As you go through some of the best tools mentioned in this post, you should check whether the tool offers all (or most) of the features that you and your team want to successfully execute marketing strategies. These tools help marketing agencies and professionals to execute their marketing campaigns exactly as planned and race ahead of the competition.
Let's get started then. 
WebWork Time Tracker
WebWork is a cross-platform tracking tool that allows you to track your working day properly by keeping track of all actions. We provide time monitoring for four different platforms, each with its own set of requirements.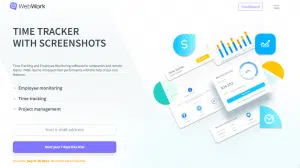 WebWork is a cross-platform tool that enables users to track their working hours by monitoring all activities. WebWork provides time monitoring solutions across 4 different platforms- Desktop, Web, Mobile, and Chrome extension.    
          Main Features Include: 
Time Tracking with Screenshots

Attendance Monitoring 

Apps and Website Usage 

Billable Hours and Invoices 

Generate Employee Reports  

Fast and Easy Integrations
Pricing: The Standard plan is priced at $2.99 per user per month. 
Jotform Apps
Jotform Apps is a no-code mobile app builder that will help you build apps easily. You can collect user feedback, analyze your data, and keep your customers engaged with your brand from any device. Use tons of free templates to get you started on creating a beautiful app that will stand out and allow your team to collaborate on files.
Speed up your digital marketing workflow by integrating with your favorite tools and keeping your data organized.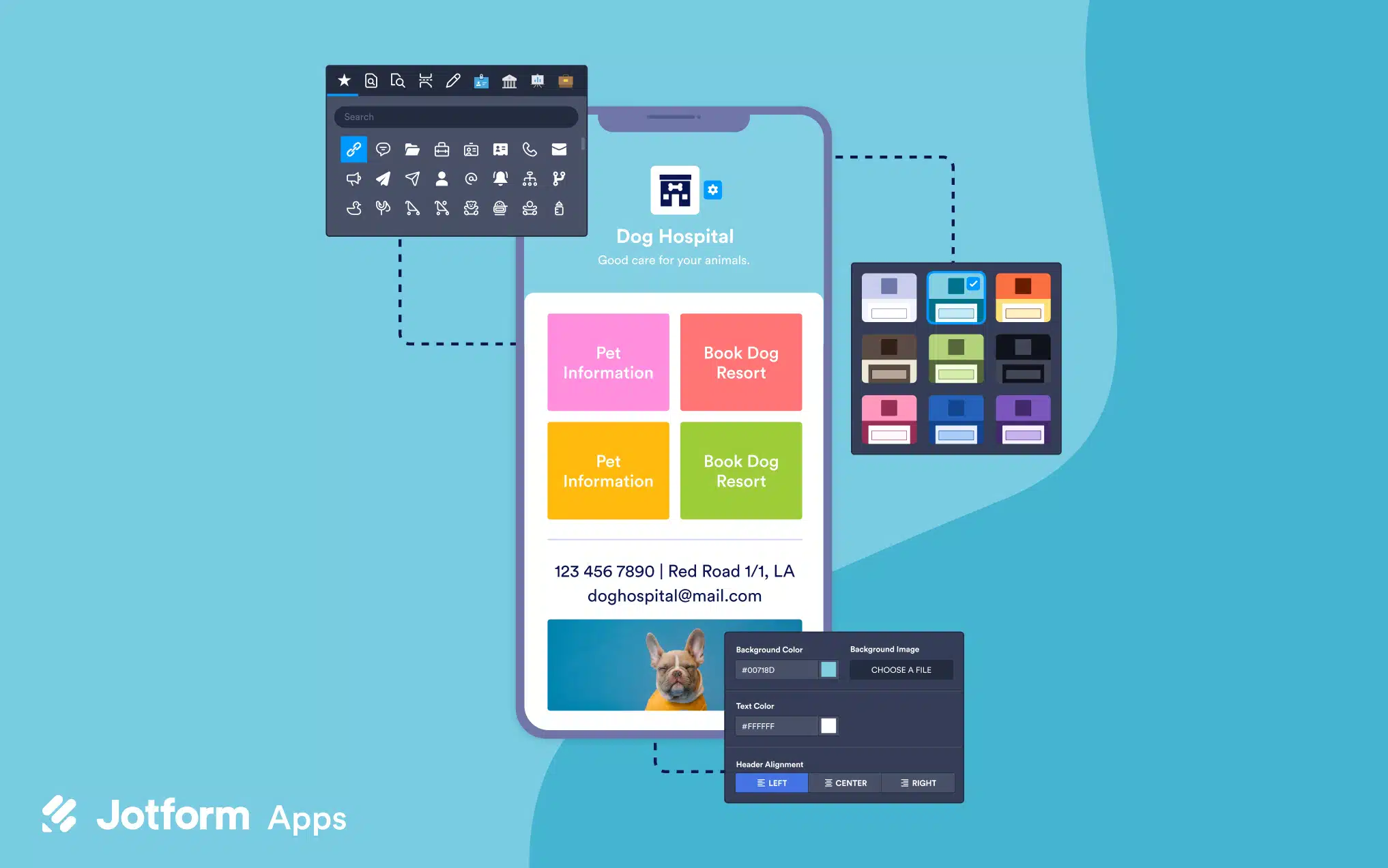 Main Features Include: 
Apps on any device
Drag and drop interface
70+ app widgets
Ready-made templates
Powerful online forms
Data management with Jotform Tables
Sharing and publishing options
Embeddable on any website
Custom URLs
Payment integrations
EasySendy Pro
EasySendy Pro is a hybrid email marketing platform for digital marketing teams. It integrates with multiple email delivery API relay service providers and enables delivery of email campaigns to a list of opt-in emails.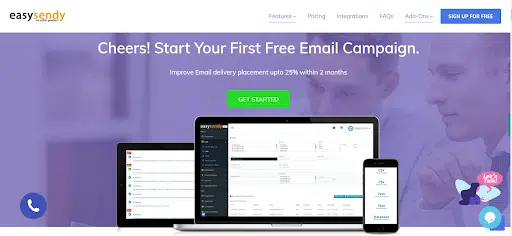 You can split test email deliveries across the relay servers, do email list cleaning, email warmup and check reports, track email clicks, and open each email campaign. It also has smart autoresponder and email list segmentation.
Main Features Include:
Connect multiple email delivery API relay servers, SMTP email delivery services and email list verification tools

Run Email Warmup Process

Run A/B Split test along relay servers

Single/Double Opt-in/Opt-out for Email Lists

100% Customizable Email List Pages

Use RSS/JSON Feeds in your Email Campaigns

Bounce & Complaint Emails Processing

Inliner CSS and Minify Parser

Detailed Email Campaign Reports

Pricing: EasySendy Start Plan starts from $19 per month.
ProofHub 
ProofHub is an award-winning team collaboration and project management tool that gives project managers greater control over projects and teams while empowering them with all the tools that are required to automate tedious manual tasks.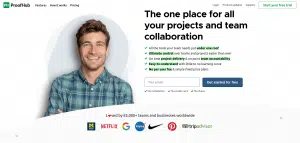 A simple, user-friendly tool with a minimal learning curve, ProofHub helps to keep all your digital marketing team members on the same page through thoughtful features like Group chat, Gantt Charts, Kanban boards, Online discussions, Task management, and many more. Fixed pricing plans mean that you don't have to worry about incurring an additional per-user fee while onboarding new members. 
Main Features Include: 
Online proofing

Table view

Kanban boards

Gantt charts

Group chat

Stickies and Bookmarks

File management

Task management

Timesheets

Scheduling calendar

Fixed pricing plans
Pricing: The Ultimate Control plan is priced at $89 per month, billed annually 
Social Champ
Social Champ is inevitably the most powerful social media management tool to automate all your essential social platforms. It is a leading social media automation tool, which enables users to create social media content, post across multiple social channels, and tracks analytics.

Social Champ also offers powerful integrations, including bit.ly, GIPHY, Canva, Wave.video, Vista Create, and more. The tool is super easy to navigate and has a vibrant UI. 
The tool recently launched a freemium plan as well where nothing is locked, and you can use premium features for free. 
Main Features Include:
Social media calendar

Content suggestions

Bulk uploader

Recycle feature

Auto-post RSS feeds

Monitoring analytics

Team collaboration
Pricing: The first plan is FREE for life, the second plan starts at $29, the third from $99, and the last plan has custom pricing. 
Sprout Social 
Sprout Social is a powerful, all-in-one social media management platform that helps digital marketers unlock the full potential of popular, engaging social media platforms to effectively engage with current customers and prospective customers. Using Sprout Social, marketers can discover the latest trends and actionable insights from social data to create brand and business strategies.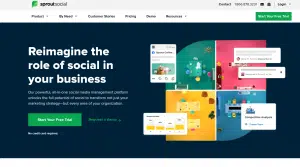 Trusted by more than 25,000 world-class brands and organizations of all sizes, Sprout Social allows digital marketers to spend less time on manual tasks and invest more time in connecting with target audiences through authentic and personalized experiences.
Main Features Include:
Unified social inbox

Task completion reporting

Collaborative content calendar

Multi-profile publishing

Report and Analyze

Listen and Inform 
Pricing: The Standard plan is priced at $99 per user, per month
Survey Anyplace
Survey Anyplace is a powerful lead generation tool for digital marketing teams. The ReportR feature of Survey Anyplace allows respondents to download a personalized PDF report immediately after taking your questionnaire.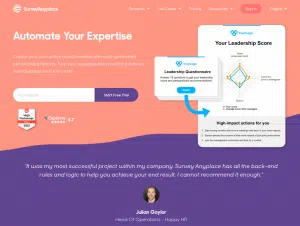 Survey Anyplace empowers digital marketers to create questionnaires that ask questions to their respondents and provide them with valuable insights and advice in return. You can easily transport leads through to your CRM or email marketing tool and start nurturing campaigns. 
Main Features Include: 
Branding and White Labeling

Reporting

Scoring and Calculation

Quizzing capabilities

Mobile surveys

Multi-user management

Integrations 

Data collections
  Pricing: The Essential plan is priced at $39 per month. 
Yoast
Yoast is one of the most popular WordPress plugins around and it's not hard to figure out why. Whether you're running a personal blog or managing a website for a client as an SEO pro, Yoast can help you make your (or your client's) website as search-engine-friendly as possible by optimizing its content.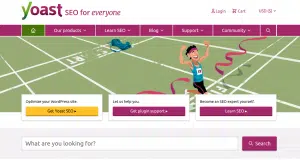 Yoast helps website owners attract traffic from the search engines by keeping content easy to read for their audience. The software makes sure that search engines can find and understand your website pages because that'll help improve Google search engine rankings.
Main Features Include: 
Estimated reading time

Elementor integration

Zapier integration

Enhanced Slack sharing

Keyword data via SEMrush

Schema controls

Internal linking blocks

Stale cornerstone content finder
Pricing: The Yoast plugin for WordPress is free. The paid premium plans depend on the number of sites you need to monitor.
Canva Business
Canva is a widely popular drag-and-drop design platform that is ideal for organizations and businesses with large digital marketing teams. The platform provides users with all the productivity and design features along with smart controls to collaborate on brand designs.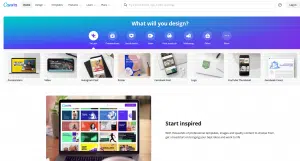 Canva Business offers a wide range of stock images to users, which helps them create images, logos, presentations, or graphs depending on your team's needs. Additionally, Canva and its alternatives reduce the requirement of hiring an experienced designer as you can create the exact visuals you have in mind with the help of a vast image collection.
Main Features Include:
Stock images and illustrations
Social media graphics

Library of fonts

Drag and drop editor

Custom templates

Customizable branding
Pricing: A Free Basic plan. The Pro plan is priced at $12.99 per month, and billed annually. 
Google Analytics
Google Analytics is considered the gold standard for website analytics. It can be said that if you want to carve a successful career in the digital marketing domain then you should have a good understanding of using Google Analytics.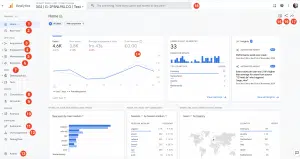 This widely used tool can show you the number of visitors to your website, their location, and on which pages they're spending most of their time. Google Analytics provides useful data that digital marketing teams can use to evaluate their website's performance, and further plan a data-driven, results-oriented digital marketing strategy.  
Main Features Include:
Conversion tracking

Traffic reporting

Keyword referrals

Third-party referrals

Custom dashboards 
Pricing: The Standard version is Free. Google Analytics 360 is priced at $150,000 a year. 
Zonka Feedback
Zonka Feedback is feedback software that can become an indispensable part of your marketing strategy. It enables brands to learn about their customers better through surveys designed to capture information on aspects like campaigns that bring customers to the website or select features that make customers complete their purchases. This information can strategically be used by your marketing team to create more engaging and specifically targeted campaigns. For example, a simple question on the website – 'What did you come here looking for?' – can help understand directly from visitors what they tend to visit the website for. And this can help you create special marketing campaigns for products that are showing high demand.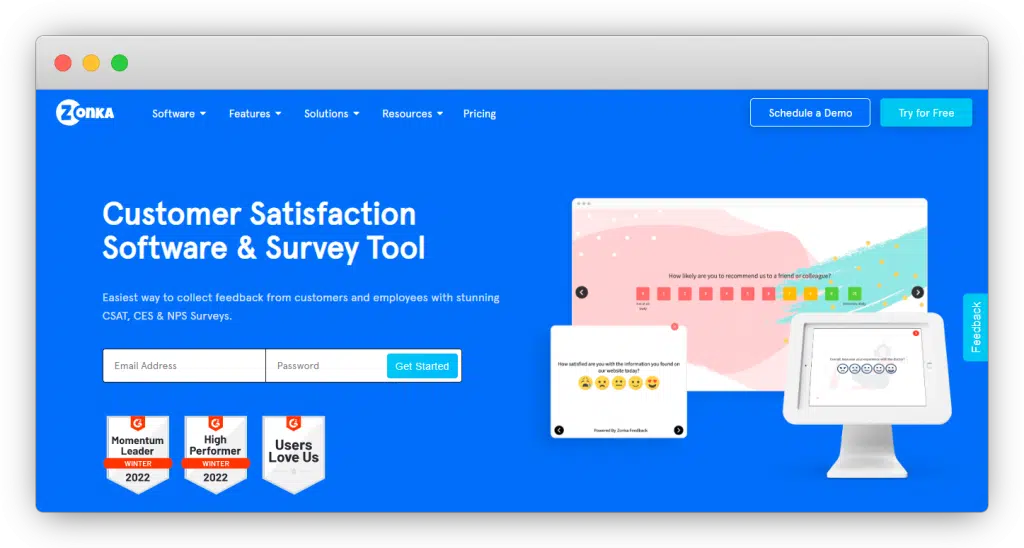 Similarly, with an attribution survey, you can find out what route visitors usually take to land on your website or page, for example, newsletter, paid campaigns, etc. As a result, you can capitalize on strategies that are working and discontinue the ones that aren't so effective.
Main Features Include:
500+ survey templates

30+ question types

Automated Surveys

Insightful Reports

Integration with BI Tools

Survey logic

Real-time notifications and alerts
Glorify App
Glorify is an easy-to-use yet powerful graphic design tool that allows you to plan, design, launch and analyze all your big ideas in one place. It is a lifesaver if you're looking to easily create high-quality images without the need for pricey outsourcing. 
Glorify makes design accessible to all. Entrepreneurs, marketers, agency owners, designers and just about any busy professional can use this tool to create aesthetic images that convert. 
It is also super useful to Ecommerce enthusiasts who need a simple, quick solution to make their products stand out in a saturated market. With simple tools for beginners and advanced features for designers, Glorify provides a great alternative to other design tools out there. 
Features
Has thousands of fully customizable ready-made templates

Offers fully customizable 3D mockups and mockup scenes 

Has branding tools such as a logo maker, brand kits and template bundles

Collaborative features and workspaces make it ideal for teams

Has an ambitious roadmap with several future features lined up

Has amazing customer support 
Pricing:
Glorify offers a free plan for those just getting started. Monthly subscriptions to their Pro and Business plans cost $39.99 and $99.99 respectively. However, if you choose either plan as a yearly subscription, you will get a 25% discount.
Renderforest
Renderforest is an online platform that offers a suite of tools for creating stunning videos, animations, logos, mockups, websites, and more!
With a user-friendly interface and highly intelligent functionality, the platform allows individuals and businesses to create high-quality media without requiring extensive design or technical skills.
Find a wide range of customizable templates and graphics to create your unique content in minutes!
Some of the key features that Renderforest offers include:
Video creation: Renderforest allows users to create videos for different purposes, such as promotional videos, explainer videos, social media videos, and more. You are free to choose from millions of templates, customize them with your content, and share them across various social media platforms.
Animation creation: Users can create different types of animations, such as logo animations, whiteboard animations, and character animations.
Logo creation: Use the AI-powered logo maker tool to allow advanced algorithms to create stunning logo designs. You can then customize each logotype with color schemes and typography preferences to suit your brand guidelines.
Mockup creation: Renderforest equips users with ready-made mockups for their designs, such as product packaging, t-shirts, and more.
Website creation: You can even create websites using the pre-made templates available at Renderforest. Customize each landing page with unique content, add visuals, CTA banners, and more! Moreover, third-party marketing and SEO integrations will help you optimize your website to outrank competitors.
Chamaileon
The product is developed for the ultimate user experience. It is designed to help you and your team perform as effectively as possible. The innovative, easy
–
to-use UI completely transforms your approach to email design. The software provides real-time visibility so team members can instantaneously see changes made by others. There are no drawbacks in decentralization of the email creation tasks, you have centralized control over who can edit and approve workflow. Chamaileon is there for you all along your company's journey because of their scalable solution.
Features
Real-time collaboration
Organized email asset library
Shared email preview link
Review & approval workflow
Access control
User roles & permissions
Design & content locking
Tailored on-boarding & training
EU / US data center
SAML SSO
SLA
Pricing:
Offers different prices for Standart, Premium and Custom priced plans with monthly and annual billing. 
The Final Word
Now that you've gone through seven of the best digital marketing tools available today for online marketers, I am quite sure that you can't stop yourself from getting out there and signing up for free trials. That's great!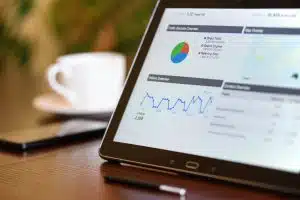 It's quite possible that your search for the right digital marketing tool might very well end with one of the seven tools mentioned in the list. 
Author Bio:
Nandini Sharma is the Assistant Marketing Manager at ProofHub – an all-in-one project management software loved by thousands of teams and businesses across the globe. Nandini brings close to a decade of experience in the field and has successfully executed a number of brand-building and marketing campaigns throughout her career. A specialist in the field of marketing, Nandini is well-versed with technical know-how, and always stays on top of the latest trends in the digital world. You will find her constantly putting marketing strategies into motion with perfection. Over the years, she has triumphantly created a wide base audience on a number of popular online platforms. When she is not busy penning down out-of-the-box marketing ideas, she can be found channeling her creativity into art and craft activities.


Check also: Successful SaaS Content Marketing In 2023