There is no doubt that behind each successful business stands a cooperative and well-managed team. And for that reason executive directors want to keep up with their team on an ongoing basis to make sure that the company is performing as it was supposed to. But how to do that? There are a number of employee monitoring tools that come to help. What's good about them is that they allow you to increase transparency of work and analyze employees' performance. 
In this article we will introduce you to a well-known employee monitoring software list and will describe each of them in detail.
So, let's see.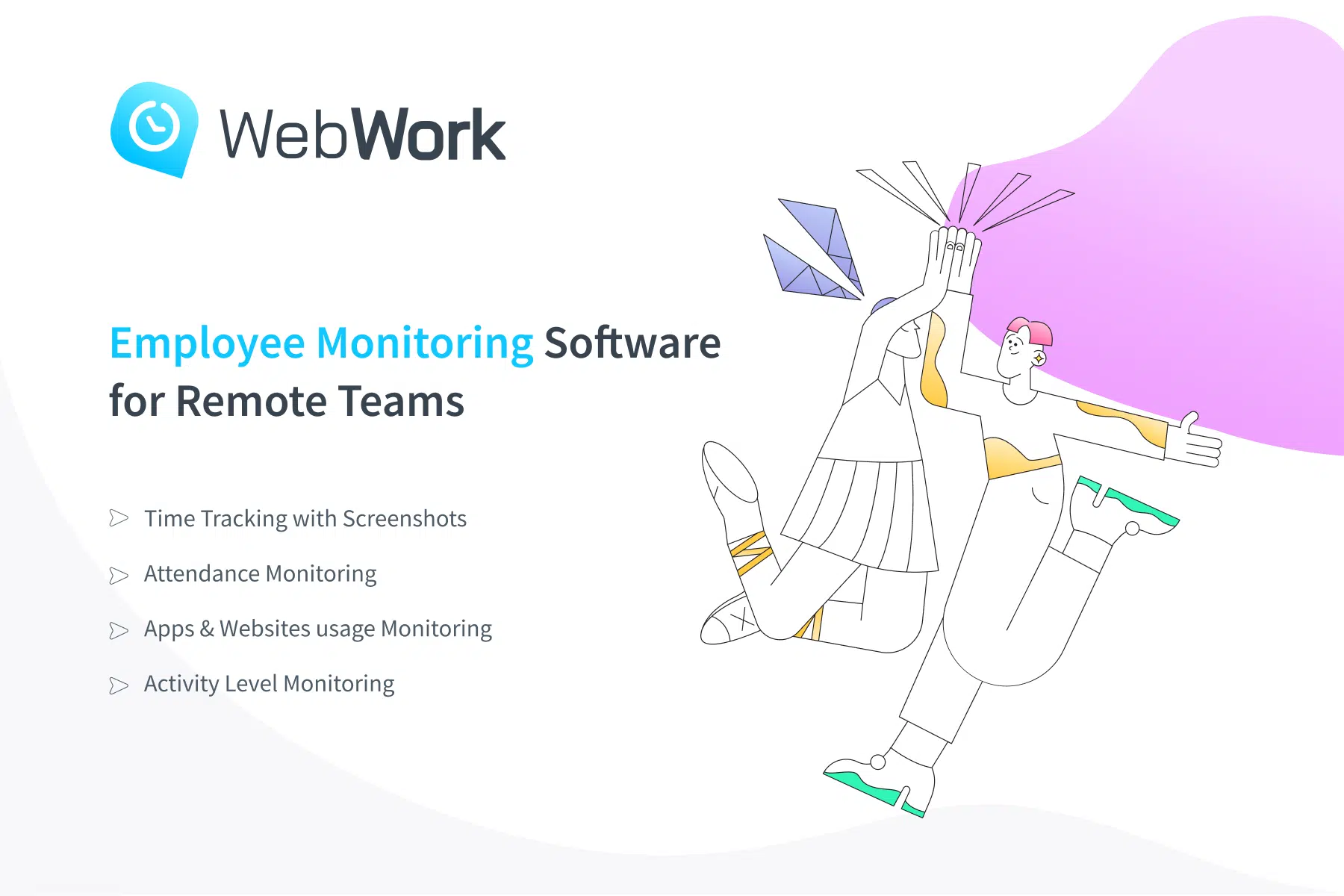 WebWork Time Tracker is a great choice to consider if you're seeking for a user-friendly and multi-purpose solution that gives powerful insights about your team. You can see when your employees arrive at the office, how many hours they work, how productive they are and so on. It gives you real-time data for each of these, so that you can inspect and analyze what works well and what does not. Consequently you can make some adjustments as needed to achieve higher results. 
Key features:
Time tracking with screenshots:

The software automatically generates random screenshots in each 10 min interval to give you a real proof of work. As a result you can view your employees' computer screen to observe what they're doing during a work time.

Attendance monitoring:

Having information about when your team members start and finish their work is important in case of both remote and office employees. WebWork Tracker automatically records attendance and presents it in a well-organized format.

Apps and websites usage:

You can view the productivity of your team based on the apps and websites that they visit during a work time. They are presented on the Reports page and are classified as productive, non-productive and neutral. 

Activity level:

You can check the activity of your employees based on the quantity of mouse clicks and keyboard strokes. It is expressed as a percentage and is indicated with an appropriate color to easily identify the high, medium and low activity levels.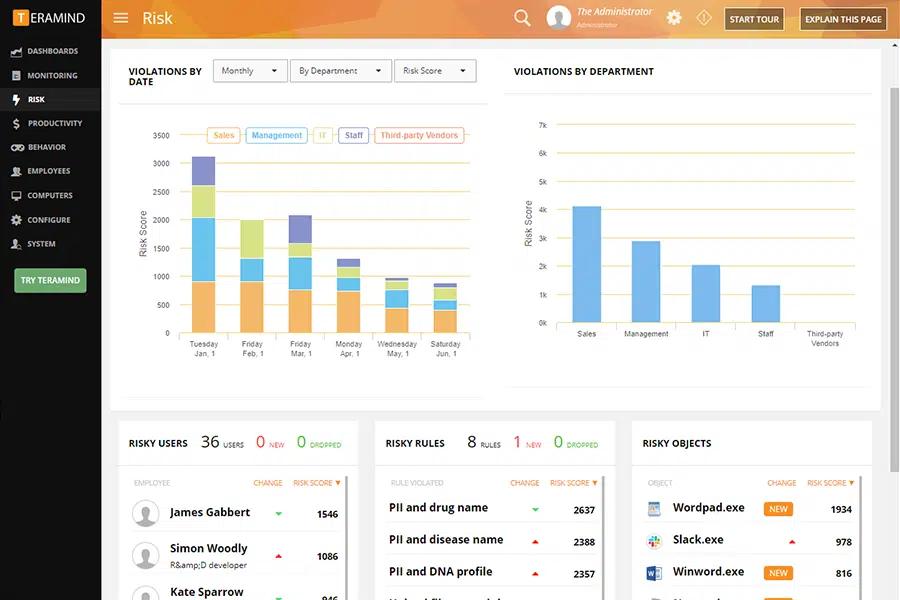 Teramind is heavily concentrated on monitoring employees and detecting insider threats. It has a specific data loss prevention solution that protects data from being shared with third party institutions. It uses certain techniques and analyses to make sure that confidential information stays within the company. And in case of any violations it applies certain policies. 
Key features
It monitors all emails, both received and sent, to immediately identify inside or outside threats such as transferring files with sensitive data.

The smart rules feature allows you to instantly notify, block or stop certain actions in case of any potential threats taking place.

Track behavior patterns of individual employees and teams by setting up customized rules to limit the usage of several apps and websites.

Have full control over network connection by monitoring the internet usage, IP addresses and amount of bandwidth used.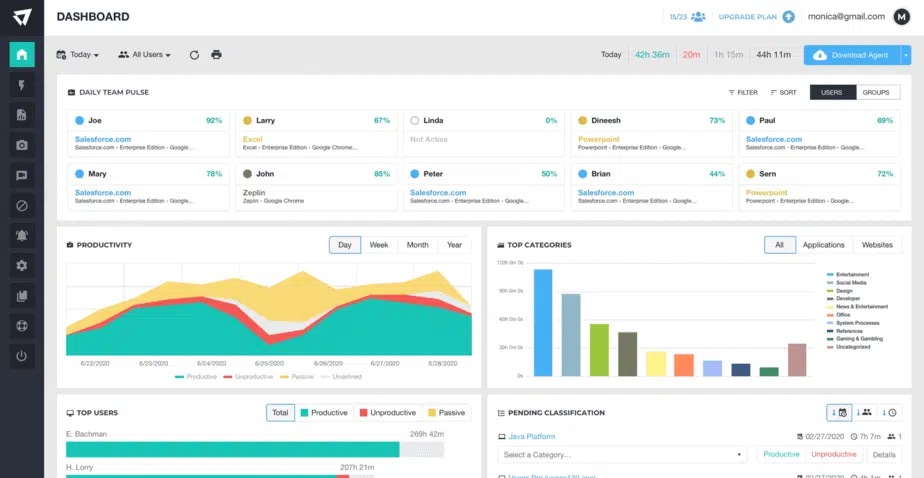 This well-designed tool provides various analytics about workplace operations to give you an instant understanding of how your team works. It monitors and measures the productivity of your team to identify top performers. Also, it allows you to identify trends and patterns of top performers and make other improvements to achieve higher productivity.
Key features:
Identify opportunities for achieving higher goals based on performance patterns and productivity habits.

Manage resources, distribute workloads and keep up with business operations effectively.

Block unproductive websites and send alarms to make sure that all the actions are within the scope of the company's operations.

View  historical data to compare the productivity levels of your team members over time.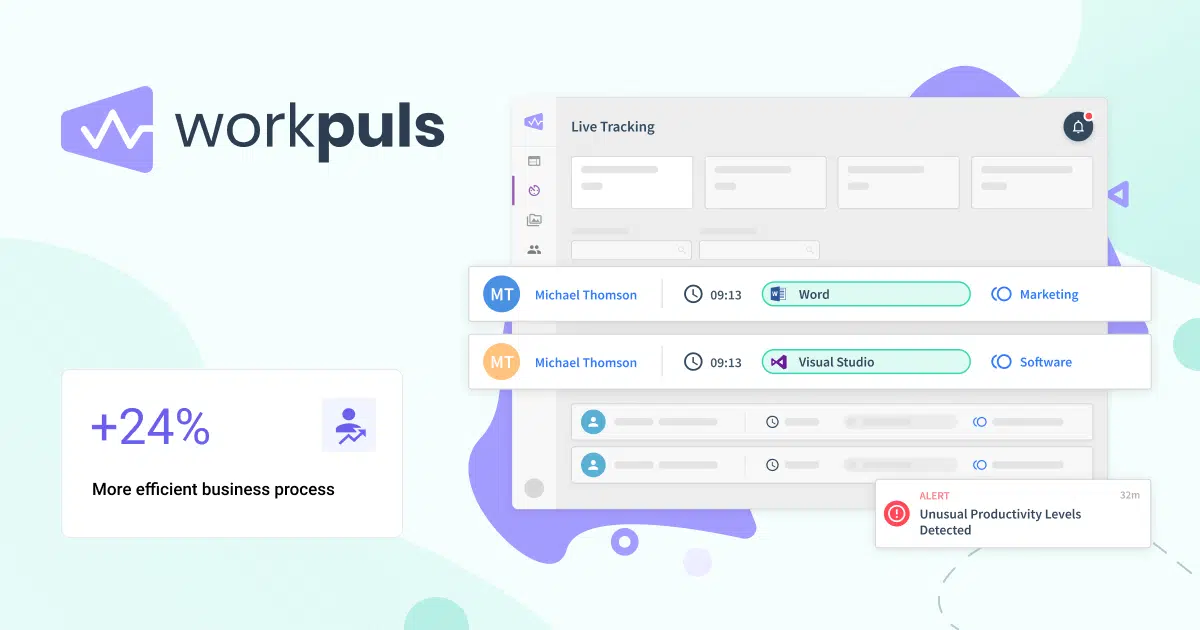 With Workpuls you can always be aware of your employees' workplace activities. It allows to identify employees' potential and put more emphasis on the aspects that are falling behind. It has productivity reports that provide insightful information about employees' progress. You can view the active and idle time of each employee to see how they allocate their working time. 
Key features:
Monitor your employees in a secret mode meaning that they will not know that they're being tracked.

Data storage allows you to view the data up to 2 years ago which means you can always go back and compare some performance indicators. 

Distinguish between different apps and websites and label the specific ones as productive for a further reference.

Track employees' attendance automatically which saves your time and ensures the absence of any inconsistencies.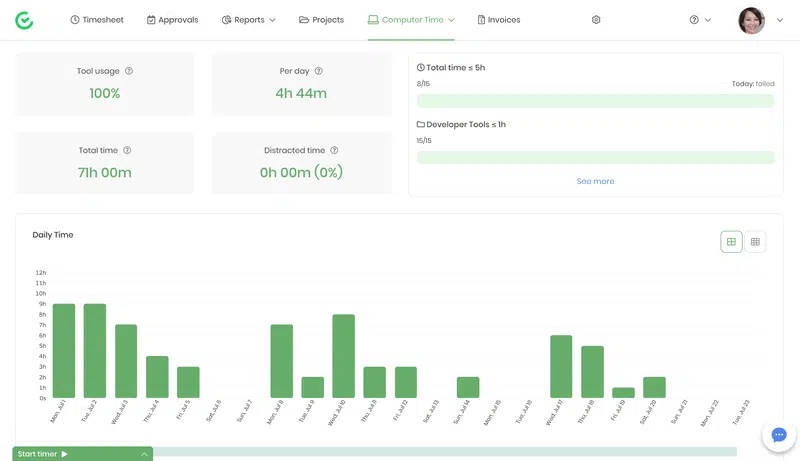 Timecamp allows to track the performance of individual team members on a project basis. It gives information about computer activities, so that you are able to quickly determine what are the task related activities and what are not. It is designed both for small teams and international organizations. 
Key features:
You can manage project finances by continuously monitoring costs and making sure that they do not exceed the budget.

Employees can turn on the private mode for some personal use and the software will stop tracking at that time. 

Have the holiday and leave status presented on reports and avoid confusing employee schedules.

Track both active and inactive time of your team members and have them presented on reports. 
ActiTime provides you with powerful data to analyze your business processes and gain employee performance insights. It generates all the information into visual reports that give all specifications about workplace activities. It has different summary reports that update the data every 5 minutes. This allows you to have a fresh look at the work progress. 
Key features:
You can effectively manage your team by assigning tasks to freelancers, remote and outsourced employees. 

Manage employee leave types and absences to have a well-regulated workplace environment.

Monitor total working hours of employees and pay them accordingly by avoiding any extra costs.

You can send reminders about tracking time via emails to ensure accurate timesheets.
To sum up, we want to highlight once again how important it is to monitor the activities of your employees. It allows you to identify any gaps based on real-time data and make corresponding improvements. Also, it is great in a sense that you can stick to what is already working well and keep it up on a long-term basis.