With no doubt, project management is not easy peasy lemon squeezy. It takes a lot of knowledge and skills to manage a project successfully. Starting from setting targeted deliverables, to analyzing data to best reflect on performance, to all the way to effective communication across all stakeholders are super important in project management. How do project managers master it all together with maximum efficiency? Of course, with the help of the best and the right project management tools! Don't you agree? Great project managers are great due to their use of project management tools and techniques, for achieving maximum efficiency and effectiveness.
We believe in the great project manager you are, or have the potential to be! Thus, we have made this project management tools list that contains the 3 major tools you should be using in 2021. They are the best open source project management tools you can choose from to use to master project management like a pro. Now, let's get to know them one by one!
BASECAMP
Basecamp is used by thousands of project managers on a daily basis, having 2,581,030 accounts signed up as of 2017. How is that for you? Well, it has been included in Forbe's list of "Small Giants 2017." Congrats, Basecamp!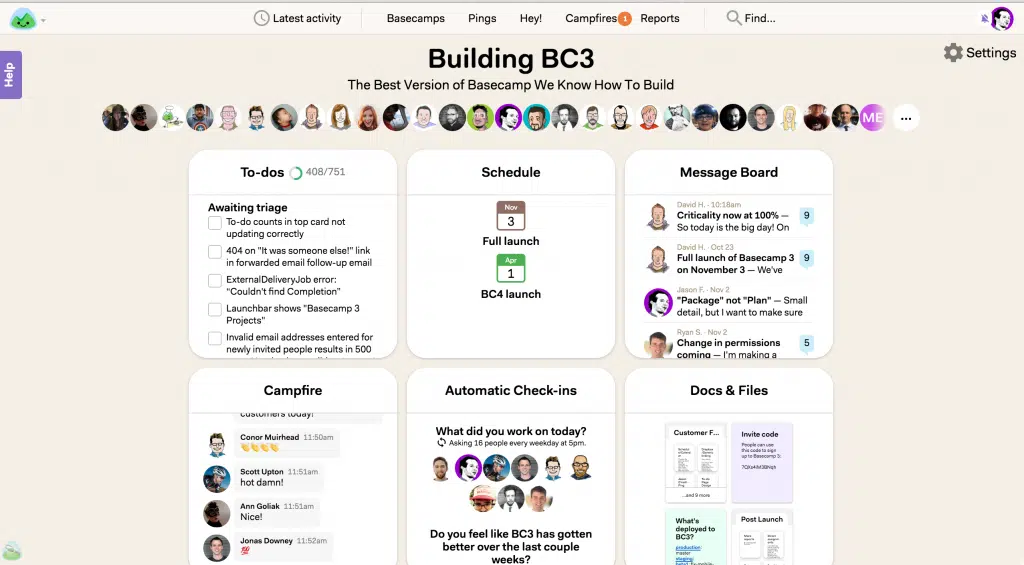 Basecamp's perfectly designed message board for discussions, native chat app, separate dashboard for showing to clients, file storage, and reporting on project performance among many other great features make it the perfect choice for a project management tool. It makes collaboration both with clients and teammates an easy and enjoyable process, especially with its modern social media-like interface.
The pricing of Basecamp is fairly cheap. It is just $99/month for every business's team size. Or, you can pay $999/year to save 15%. Great, huh? It also has a 10% discount for non-profits and charities and is completely FREE for teachers and students. Now, that is pretty great!
ASANA
Asana is a great project management tool, dedicated to helping manage projects across a team without email. This tool is a communications time-saver and gold mine for tracking projects from start to end. Managing projects with Asana is an easy and smooth process, where everyone unitedly works to get one step closer to the success of targeted outcomes. As they say it, "Move work forward!"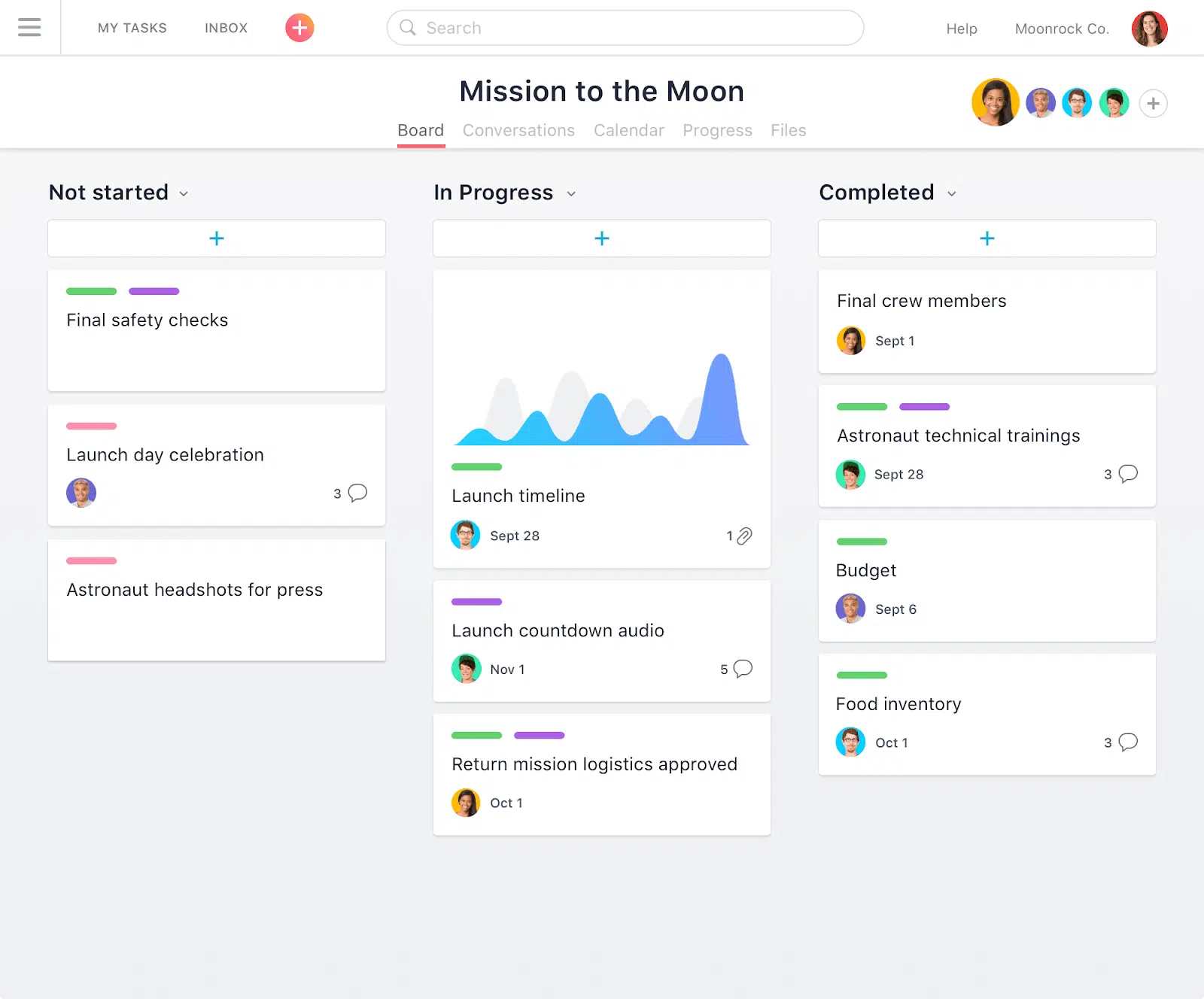 Asana is a very simple and easy-to-use tool for project teams of various sizes and niches. It allows its users to break work into smaller pieces: tasks, and assign them to specific teammates. As a result, you have the privilege to enjoy an all-organized system of tasks projected in appropriate projects. You can monitor your team's performance, review milestones, receive notifications every time a project update occurs, and always be up-to-date with projects, having just a glance at the project dashboards. Most importantly, Asana makes the whole "to-do lists" experience an exceptional one. Other than allowing to create and manage tasks easily, Asana also gives the option to share your to-do lists with your teammates with no fuss.
The pricing of Asana varies based on 3 plans. The basic version of Asana is FREE for up to 15 members, with no limit on the number of tasks, projects, and conversations. The PREMIUM plan is $9.99/member/month billed annually. There is also the ENTERPRISE plan, which is basically everything PREMIUM plus more support and control.
See Asana alternative.
Also Read:  3 Reasons Why Small Businesses Should Use Time Tracking Software
TRELLO
Trello is one of the most popular project management tools you should be using in 2021. It is the perfect tool to help you organize all of your personal and work projects with ease. The concept behind Trello is the use of boards with cards, which represent tasks that move cross-platform to indicate appropriate project status. Tracking project progress in real-time with the in-line editing and the drag-and-drop functionality could not be any more convenient with Trello!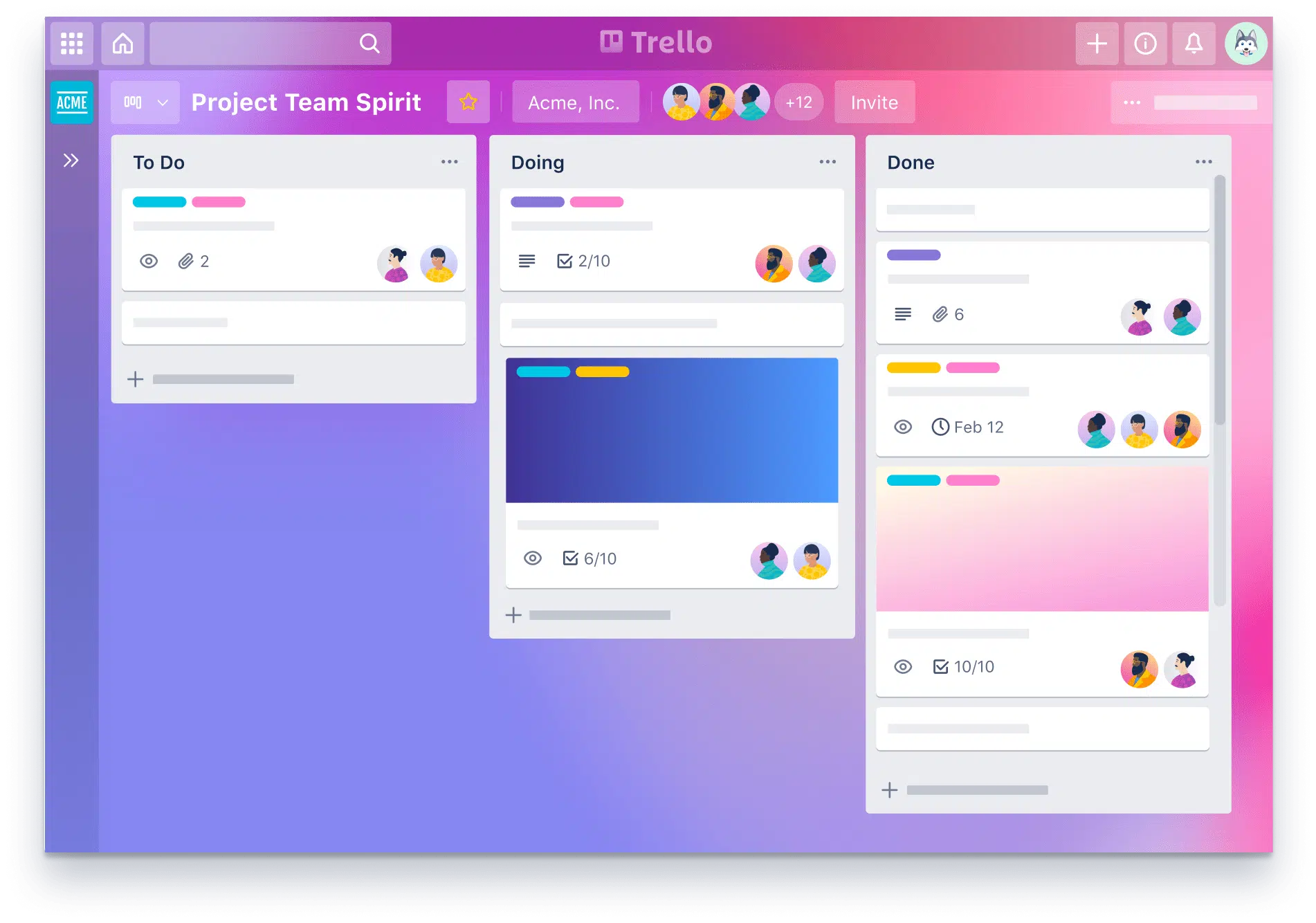 With Trello, you can set up boards to arrange all the work into meaningful pieces and assign team members to take on specific tasks within those boards. You can monitor every project's progress by tracking each card with all of its tasks and to-do lists within each project. That's right! You can create to-do lists within task cards, make comments on them, attach files, and set deadlines. You will get email notifications on the cards' status and deadline reminders to stay on track with your projects. Other important features include a search function, voting feature, archiving of card records, data filtering, and SSL encryption of data.
The pricing of Trello is super convenient. It is lifetime FREE for the basic plan, that teams can use for their basic needs. There are also 3 pricing packages: STANDARD plan ($5/month), PREMIUM plan ($10/month) and ENTERPRISE plan ($17.50/month).
nTASK
nTask is a robust project and resource management software that is used to manage multiple projects and help teams to collaborate for getting things done. This Asana alternative is an easy-to-use application that doesn't need technical knowledge.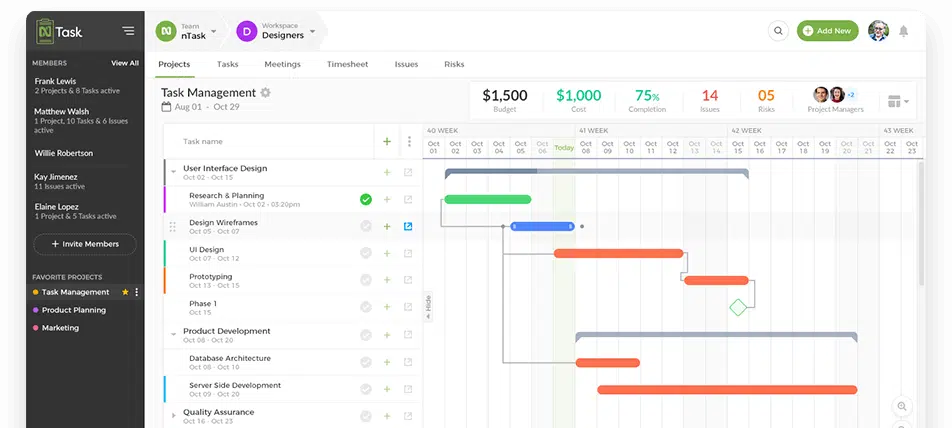 nTask offers several tools that help you to manage projects from start to finish. It allows you to create Gantt charts for managing your workflows, timesheets for time tracking of all your tasks, issues management, risk matrix, task management and work assignment. Give due dates, set status and priority of your tasks for tracking the progress. 
It recently launched Kanban boards for smooth project management, and help teams to collaborate on tasks seamlessly. It integrates with Zoom, Slack, Google Calendar and with your favorite applications through Zapier. 
Used by more than 100,000 teams worldwide, including; Sony, Walmart, HP and AT&T. nTask lets you manage all your projects in one place without the need to shift through apps. 
Time Analytics
Time Analytics is an automated online timesheet software, designed to help users keep track of billable hours and improve the profitability of projects. With this software, you can discover the most valuable clients, the time utilization rate for each employee, and more.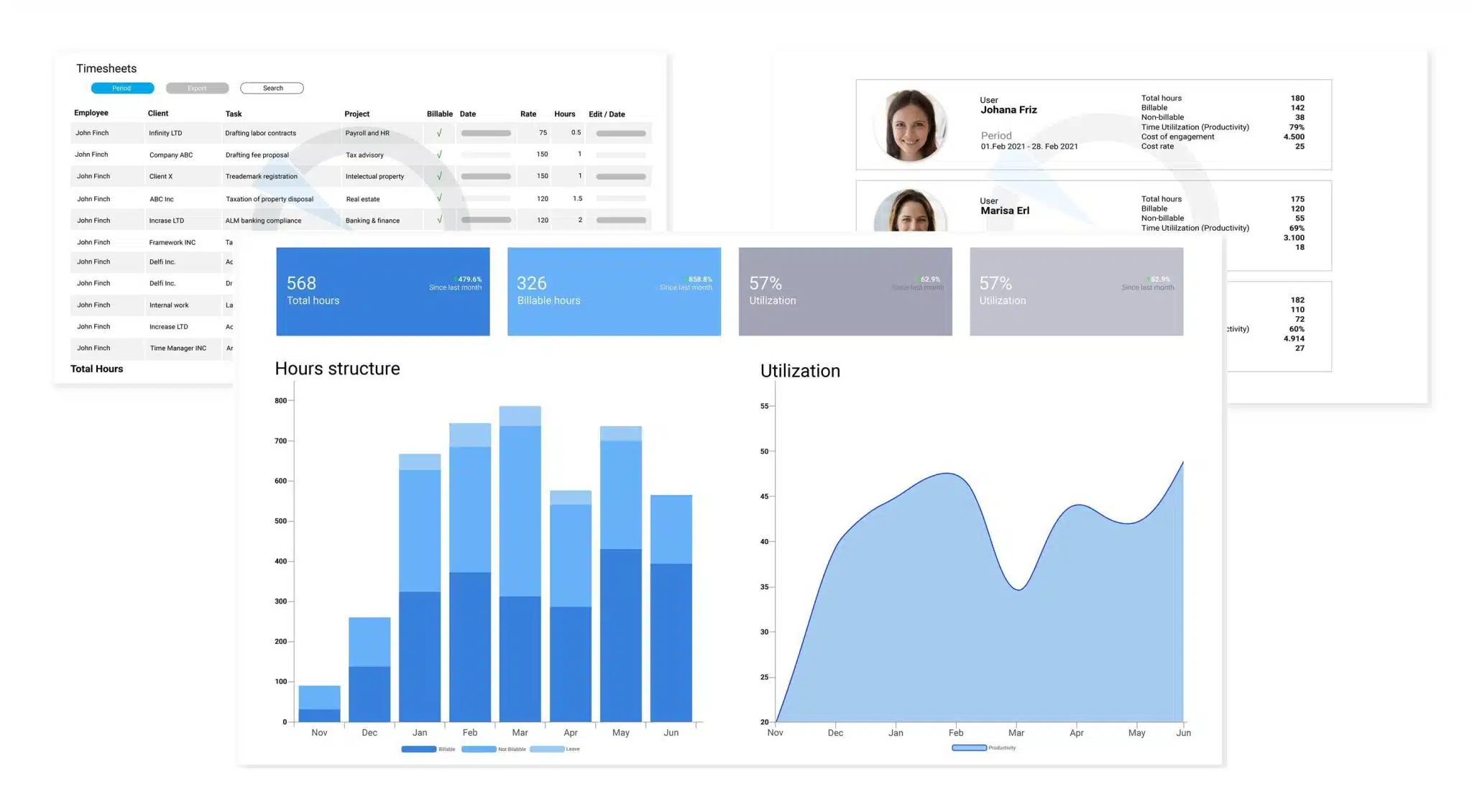 It takes a few minutes a day for each employee to fill the timesheet, thanks to the simple workflow and timesheet templates.
Time Analytics integrates with Excel, making it your perfect invoicing assistant that presents your time data quickly at the touch of a few buttons.
The pricing
After the 14-day free trial, you can choose between the following pricing options:
Free: for up to five users, 30 clients, 30 projects, and 100-time entries per user per month

Starter plan: $4.99 per user/month. The plan includes up to 15 users and 150 clients, while projects and time entries are unlimited. It also includes 24-hour email support.

Optimum plan: $6.99 per user/month. The plan includes everything from the Starter plan, while the number of users and clients is unlimited.

Premium plan: $12.99 per user/month. The plan includes everything from the Optimum plan, with profitability tracking and phone support added,
Choose the option that best fits your project management needs and enjoy your work with Trello! Or, with Asana! Or, with Basecamp! The choice is yours! Just make sure to do your research thoroughly, keeping in mind what we have recommended! Good luck!
Don't Miss:  Why WebWork Is Efficient For Employee Monitoring