In this article, we'll find out what is Hubstaff and which are Hubstaff alternatives.
In today's modern world where business executives, freelancers and remote teams are trying to keep everything on track, numerous tools and apps are being introduced to help them with that. But how to choose among all these alternatives? Given the tough competition and the growing number of software, it can be difficult and a bit confusing.
But after comparing all the specifications and details about each of them, you would be ready to select your preferred one and rock with it. This is exactly what we have done here for you. So, read, pick and enjoy!
What is Hubstaff?
Hubstaff is a time tracking app that automates a number of workplace operations to help you improve your team's performance. It shows when employees start and finish their work on online timesheets and also sends reminders to track time. You can also track time based on a location with its GPS feature which is a great help in case of field workers. It has an employee scheduling system where you can add the shifts of your team members to avoid overlaps and confusion.
Now let's jump into the top Hubstaff alternatives that the industry provides.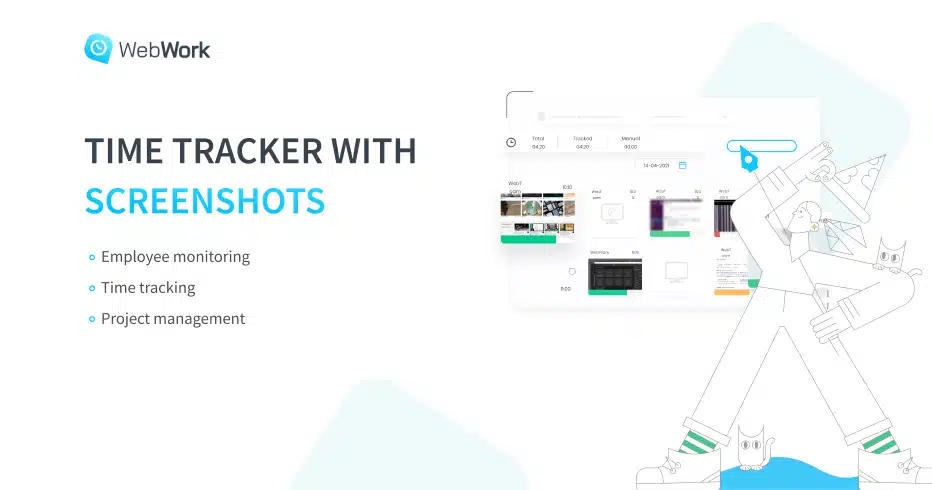 The number one alternative that we want to draw your attention to is WebWork Time Tracker. As a time tracking and employee monitoring software it is a go-to tool for workload and workforce management. It allows you to track your working hours while specifying how much time you spent on each task and project. This gives you a thorough understanding of how productive you are in completing particular tasks.
What's even great about WebWork Tracker is that it allows you to measure your productivity with real-time data. You can find the detailed statistics and numbers about productivity on the Reports page.
Key features: 
Time tracking with Screenshots

: This is what ensures the complete visibility and transparency of your team's workplace activities. The tracker takes random screenshots of employees' computer screens once in every 10 min interval. This allows you to get detailed information about what your employees are doing during a work time. 

Attendance monitoring:

Forget about confusing timesheets and docs to check when your employees arrive and leave. WebWork Time Tracker has automated the process, you simply need to click on "Start" and "Stop" buttons and it will record your entry and exit times. 

Apps & websites usage:

There is no more "I haven't visited that website during work" thing. You can easily monitor your employees' apps and websites usage with WebWork Tracker and detect what are the productive and nonproductive ones. 

Task management system:

Delivering projects is way easier when you have everything organized in one place. You can distribute tasks, prioritize them, track the time spent on each of them and monitor your progress. This will ensure that your team completes everything on time and you have no missed deadlines.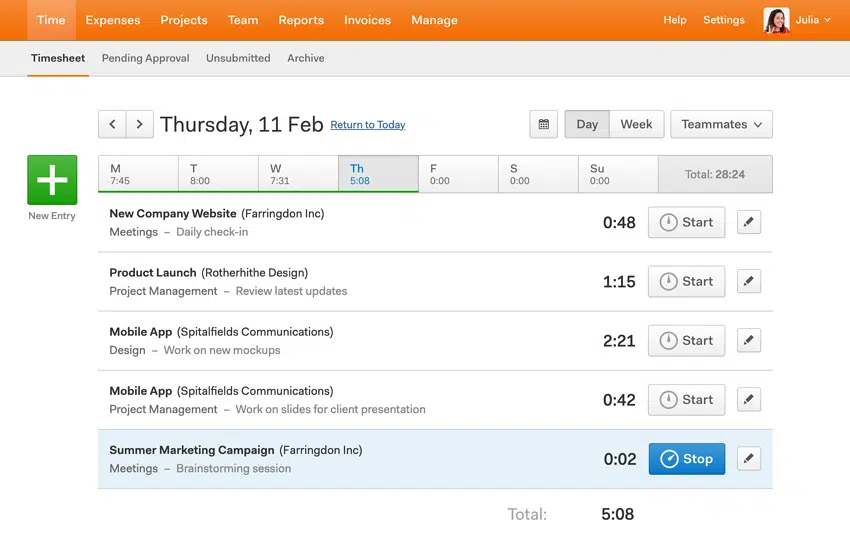 Harvest is a time tracking software that is aimed at easy use with its clean interface. It has multiple forms of reports that visually show the completed work. And this gives you insights into how your team performs and what improvements can be made. It presents the specifications of your team and projects in a structured dashboard, so that you can view everything easily.
Key features:
Set up a budget for a project to monitor and optimize costs and measure the profitability of each project.

Set up a team capacity to better manage their workload and compare it with the total hours worked.

Generate invoices automatically from your expenses within a tap with Stripe and PayPal integrations.

Receive reminders to not forget about tracking time and have accurately reflected working hours.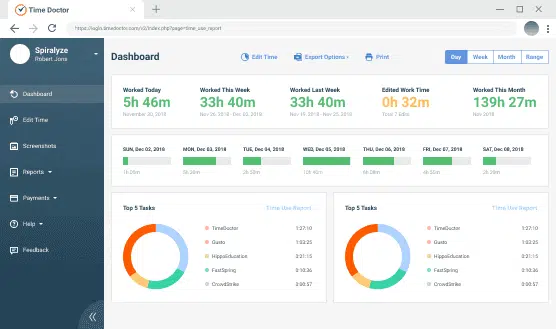 Time Doctor improves your team focus and the quality of the work done with its multiple features. It gives you the summary of completed tasks on a daily and weekly basis, so that you can analyze them and draw useful inferences. It keeps track of time and payroll with online timesheets that have the total number of worked hours and the corresponding amount to pay.
Key features:
See who is in charge of what with its project management tool that allows to distribute tasks and review progress.

It sends you distraction alerts to help you to not get involved in non-work related activities during work time.

Have accurately tracked working hours even if you're offline because it will be synced once the internet connection is restored. 

Increase the trust among clients by giving them access to your work at no additional cost.
Monitask is a web-based tool that is focused on creating remote work feasible with its different features. It monitors employees by tracking the time spent on work and recording their computer activities. With the help of it you can measure the productivity of your employees and improve work efficiency with valuable insights.
Key features:
The live dashboard has the list of all employees and allows you to check who is online and who is not at that moment.

It removes the non-productive working time automatically, so that you end up with accurate time tracking results.

You can keep track of the expenses related to each project to better manage your budget and achieve higher profitability.

It allows you to distribute workload accordingly in terms of time and other resources to deliver projects effectively.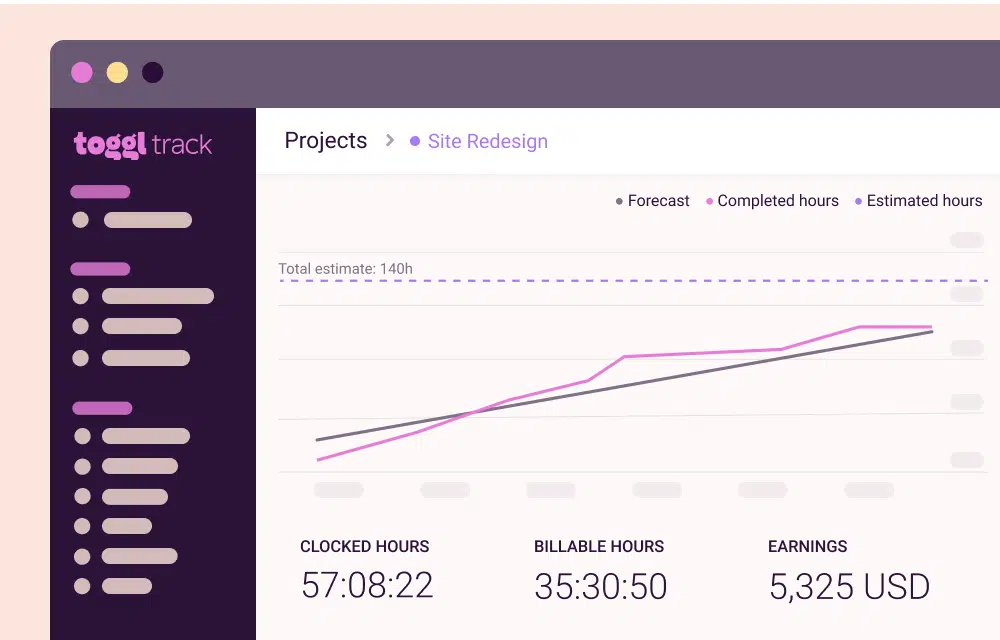 Toggl is a bit different from Hubstaff in terms of its offerings because it is more concentrated on task management, rather than time tracking. Its project boards have all the information regarding planning and implementing in one place. You can view the timeline of the project with corresponding tasks and assignees to make sure you do not miss anything.
Key features:
Receive notifications both via email and in-app in case of any occurring changes or updates.

View the tasks on a monthly, quarterly or annual basis to have the needed information beforehand.

Increase visibility and transparency of your work by inviting your clients to view the project progress.

Its flexibility allows you to adjust your workflow with Toggl in case of increase in project number.
Conclusion
To sum up, we want to emphasize the importance of having your team and projects organized in a structured and timely manner. This allows you to keep up with your employees' performance and identify useful working patterns that can serve as the benefit of your team's own. And all of these can be made possible with a time tracking and employee monitoring tool that fits to your teams' needs and preferences.  Now you know the top Hubstaff alternatives. Choose the best time tracking tool and get all the benefits.