Employee monitoring is an essential part of good management, ensuring maximum levels of employee efficiency within a company. In the end, employees are the base of any company's operations. If they aren't efficient, what happens with the company? It loses! It loses a lot of time and money, the most valuable resources that no company would be happy to lose!
Do you see the point? Good! Now, go ahead and check out these 3 effective ways of employee monitoring for achieving maximum employee efficiency levels. No losses here, only significant gains!
Using Employee Monitoring Software
Employee Monitoring Software allows company administrators to track their employees' working time and activities on company devices. Each second of time spent on a project, task and other webpages or applications is recorded, along with taking screenshots and counting keystrokes every now and then. Moreover, employee monitoring software provides different types of analytical reports on time consumption, assisting companies in finding areas with the need of improvements. Using such software is a very easy and valuable way for companies to monitor their employees and boost overall productivity and efficiency.
WebWork Time Tracking and Employee Monitoring Software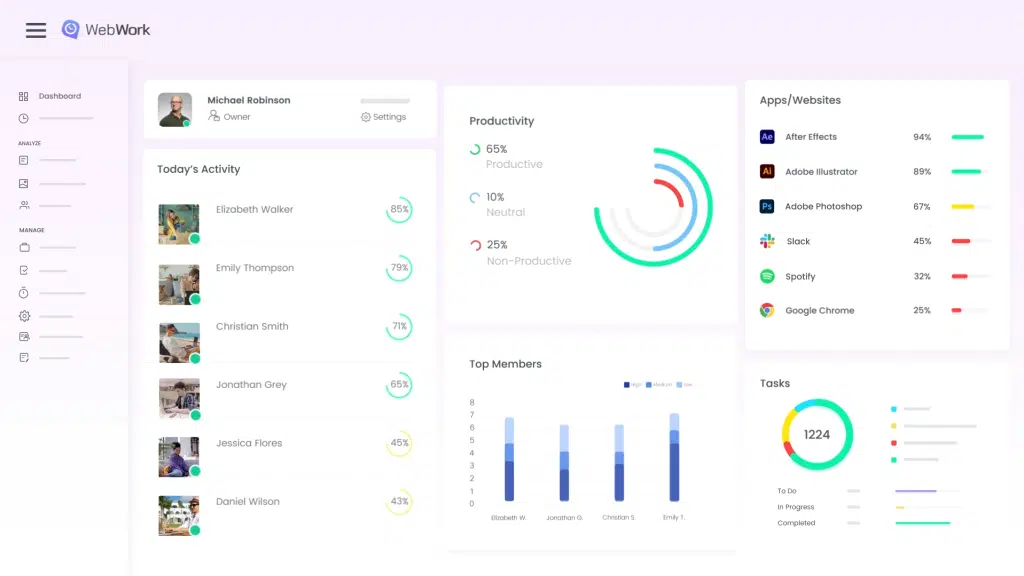 Surveying clients on the satisfaction level to monitor employee performance is a great idea. Clients are one of the reliable sources for employee performance indication. If clients aren't happy, then employees have gone wrong somewhere! Moreover, the surveys can also help understand employees' interpersonal relationship skills, which have a major role in client-employee interaction efficiency levels.
Measuring Cost-Effectiveness
Measuring the cost-effectiveness of employees' work performed is also an effective way of monitoring employee performance. In this case, employee's pay is in consideration relative to their contribution in terms of work completed. No company wants an employee who costs more than the value of that employee's work performed! Don't you agree?
Check also: Top 6 Employee Monitoring Software 2021