With remote work becoming more and more common, rises the need for accurate time trackers. Time trackers must have perfect or near-perfect features so as not to skip or miscalculate anything, especially because money and time are involved. 
Table of Contents
Why is Time Tracking important even if you don't like Upwork's tracker? 

What's wrong with Upwork's tracker? 

8 Upwork Time Tracker Alternatives

WebWork Time Tracker 

LogWork

TimeDoctor 

Harvest 

Timecamp 

Timely 

Tmetric 

My Hours 
Why is Time Tracking important even if you don't like Upwork's tracker? 
Time tracking is the only way to track worked hours, be it by a freelancer for billed hours or a corporate employer. Because Upwork is one of the most popular freelancing websites, it comes with its own built-in tracker. 
However, there have been growing amounts of complaints regarding its tracker. Upwork seems to be aware of its tracker's limitations, but they are still there nonetheless. So, the only thing left to do is go for better trackers.
Luckily, there are plenty of them these days. 
What's wrong with Upwork's tracker? 
I had heard complaints about Upwork's tracker but didn't really know what they were about specifically. After doing some research I found some. 
Here are the main issues reported by users:
No payment protection for manual time 
In some cases and for some projects, freelancers are required to use manual time. However, there is no guarantee that the client will pay for those hours like they would in case of billed hours.
Upwork Community is full of reports of the tracker failing at times.
Let's admit it, Upwork fees are a big turnoff, cause they aren't really low (the lower the earnings, the higher the fee, i.e. 20%)
Offline tracking is quite limited
So if you happen to have an unstable connection or sometimes no internet at all, those tracked hours are cached for 12 hours only. Moreover, if for some reason the system fails to cache them, there is no way to restore them manually.
8 Upwork Time Tracker Alternatives 
We have made a short guide of 8 Upwork time tracker alternatives so that you don't have to. 
Here are the trackers:
1. WebWork Time Tracker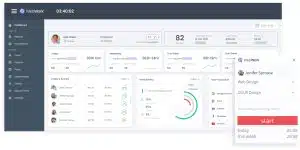 WebWork is a time tracker with screenshots that makes tracking work and time easy and effortless. With WebWork you'll save time, increase productivity and boost performance.
Along with its tracking and monitoring features, you get detailed reports including:
4 screenshot modes (screenshot, background, blurred, no screenshot)

App & website usage

Activity levels

Attendance monitoring

Real-time reports

Billable hours and invoice

Project management

Team management
You can choose the necessary screenshot mode depending on your priorities. Whether it is employee privacy or project sensitivity. 
If you want to keep the privacy of your employees, go with the Blurred Mode. If you want to do the tracking without distracting your employees from work, choose the Background Mode.
Use WebWork across 4 platforms, such as Desktop, Web, Mobile and as a Chrome extension and integrate it with other tools you use.
Pricing: WebWork offers all aforementioned features with a free trial followed by 2.99 $ per user/mo.
2. LogWork Time Tracker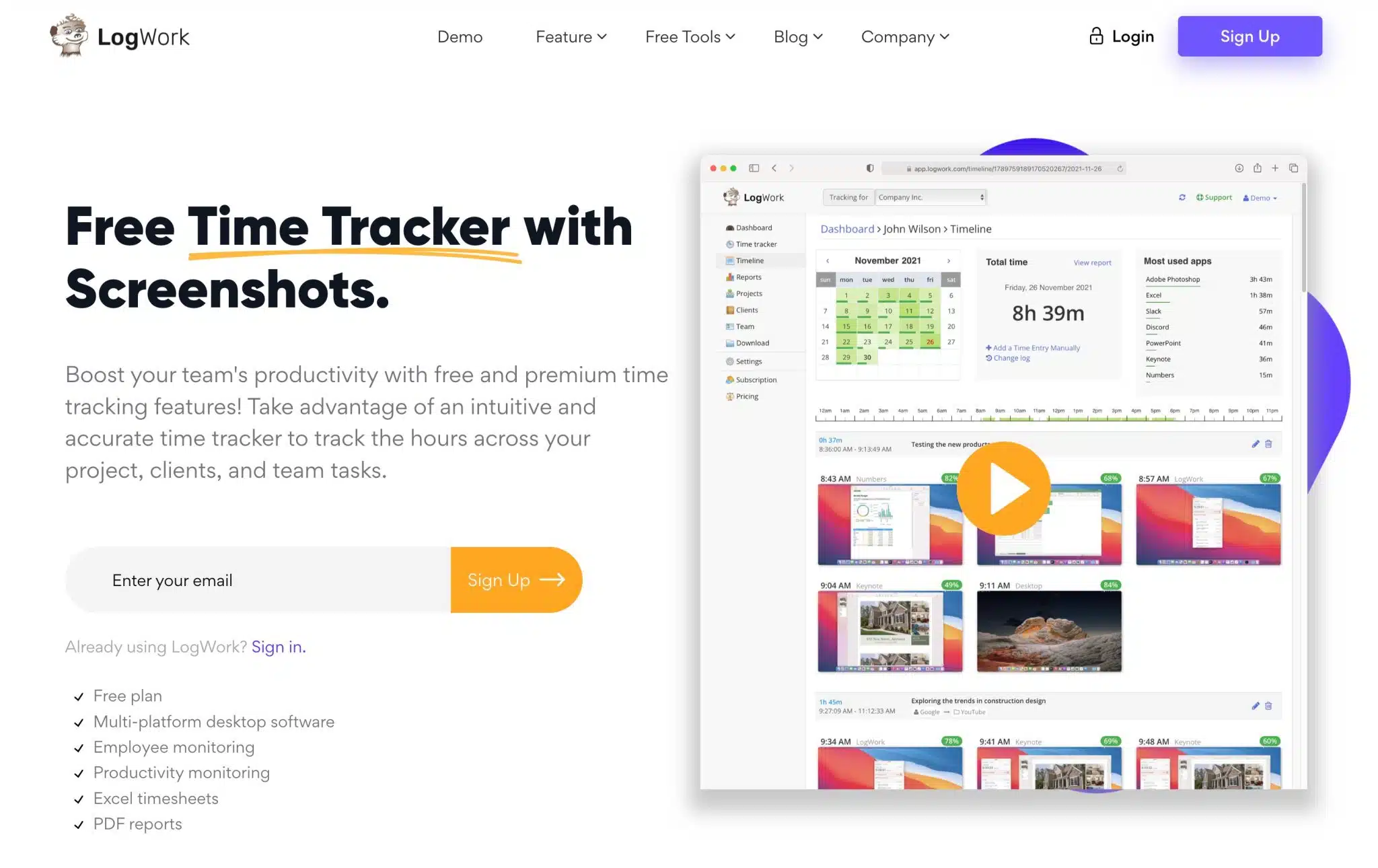 LogWork Time Tracker is another great time tracker with screenshots that companies, remote workers, and freelancers use. It helps to boost productivity, get real-time insights, stay accurate and automated, and save time and effort.
With LogWork, take advantage with:
 
Employee monitoring
App usage tracking
Web usage tracking
Activity tracking & idle time detection
PDF & Excel customizable reports
Offline support with auto-sync
Mobile-friendly platform
Integrations with favorite tools
Browser extension for time tracking
API interface
Pricing: LogWork offers 3 plans, Free, Basic (3.99$ per user/mo), and Premium (5.99$ per user/mo). You can try the Free plan or the 14-day free trial to check which plan covers your time tracking needs. In addition, you can get 2 months for free if you pay for an annual subscription.
3. TimeDoctor 
TimeDoctor is a time tracker that is suitable for companies of all sizes and freelancers. Get transparency into your employees' working process with the following features:
Reports

Web and app usage

Screenshots

Billing

All platforms

Break time tracking
You can integrate TimeDoctor with your other tools, such as project management software, communication app and accounting tools.
Pricing: TimeDoctor has a free trial of 14 days, followed by 10$ per user/mo.
4. Harvest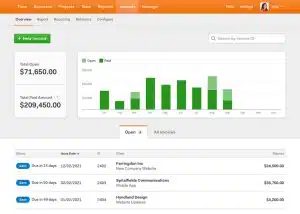 Harvest is another tracker that can be used instead of Upwork's tracker. It offers a wide range of functionality and features such as:
Time tracking 

Report and analyze

Invoice

Integrations with other tools
One thing that makes Harvest differ from most time trackers is that it does not take screenshots. They support this way of tracking by "Let your team know that you won't be using time tracking to spy on, micromanage or judge them". 
Instead, users can start and stop timers themselves, or fill in their timesheet at the end of work.
Harvest believes it's a better way to grow trust in employees which in its turn will produce better results in teams.
Harvest also offers integrations with payment platforms like Paypal and Stripe.
Pricing: free plan with 1 seat and 2 projects or Pro plan with unlimited seats and projects for 12$ per seat/mo.
5. TimeCamp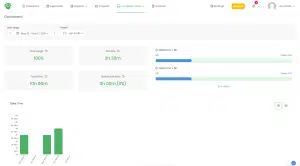 A time tracker that offers "a multitude of benefits". Here's what you can track with TimeCamp:
Team's performance

Project profitability

Productivity
Timecamp offers a list of said benefits:
Reports for projects, budget and more

Billing

Attendance reporting

Invoicing

Integration with more than 100 apps

With and without screenshot options 
Pricing: TimeCamp offers a free plan with some of the features and three plans: Basic 6.3$ per user/mo, Pro $9 per user/mo and Enterprise. You will get 10% off with a yearly subscription.
6. Timely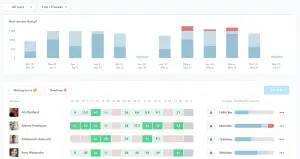 A time tracking tool built by Memory.ai that is aimed at automating time tracking. Just like Harvest, Timely is also against screenshots. 
Here is what you can do and have with Timely:
Monitor hours and budgets

Integrate other apps

Have accurate timesheets

Control projects

Reports

Easy-to-use dashboards

To-do lists and planning

100 % user privacy
Timely is all against any surveillance of employees and does not make tracked hours or other data public or share with anyone else without the user's/ employee's agreement. 
Pricing: Timely has 4 plans. Starter (10$ per user/mo), Premium (18$ per user/ mo), Unlimited (26$ per user/mo) and Custom Unlimited +. You can save up to 23% if paying yearly. 
7. TMetric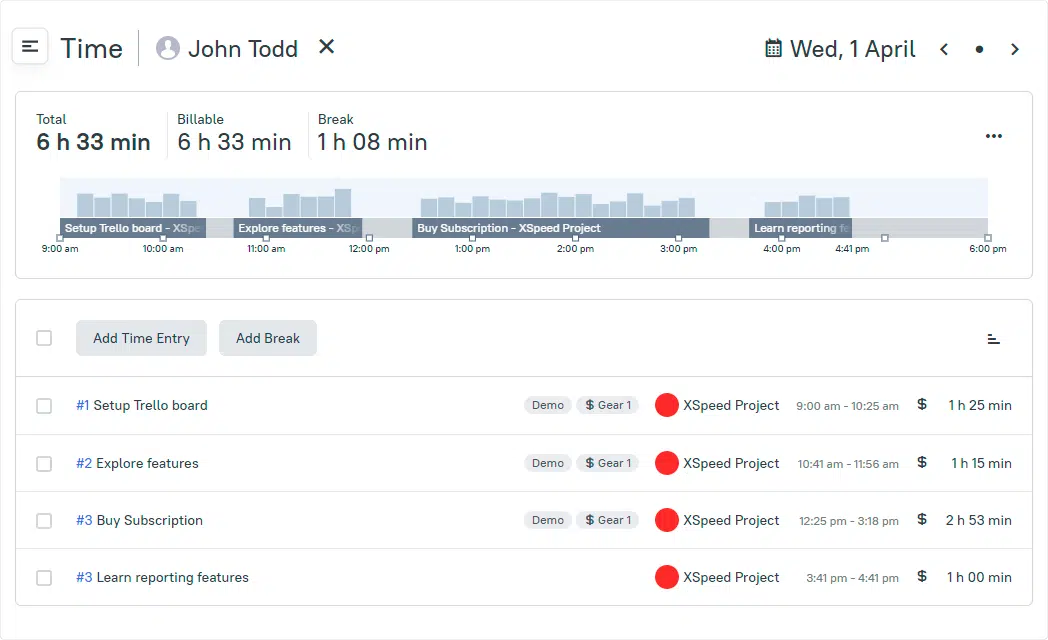 A time tracker that offers all necessary features for time tracking. You can use it both for your own projects as a freelancer or for monitoring your team. TMetric has an array of features that are just enough for any user.
They are:
Time tracking with or without screenshots, including blurred mode

Detailed reports for projects, activity summaries and more

Transparent reports to show clients what you're working on for them

Project management

Team management

Integrations with different platforms and apps
Pricing: Tmetric offers 3 plans, Free, Professional (4$ per user/mo) and Business (5.60$ per user/mo). You can try the Free plan to see how you like it and only then transition to paid plans for the full experience.
8. My Hours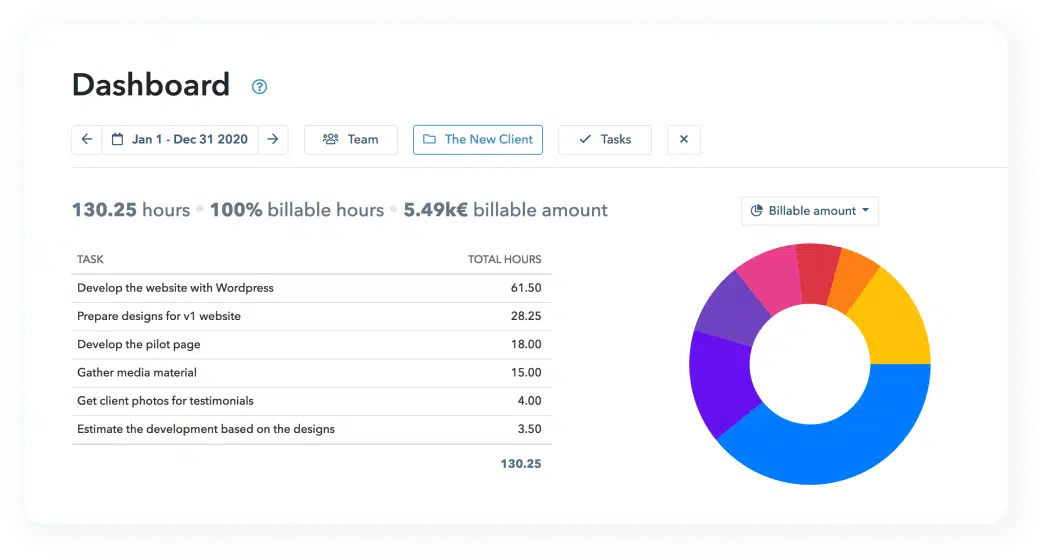 A time tracker that's all about tracking hours. Even though My Hours monitors neither with screenshots nor app and website usage, it makes up for that gap with other features. 
They are:
Projects and tasks

Billable rates and invoices

Time tracking with notes, custom keywords, files, and expenses

Custom reports

Integration with different apps 

Build your own integrations

No screenshots
Pricing: My Hours has two plans, free and pro (7$ per active user/mo or 6$ yearly). You can get a taste of the Pro plan with a free trial and see for yourself whether you want to continue using it or not.
Conclusion
In a nutshell, if you are unsatisfied with Upwork's tracker, you are not restricted to sticking with it forever. And luckily there are dozens of other time trackers out there to choose from. 
Take your time to go through each tracker, even try some until you find the one that works best for you. 
If you don't have the time to go through each one and just want an all-inclusive tracker already, try WebWork. Get pro features at a not-pro price of 2.99$ per user/month.