Why use CRM tools? Sales and marketing are the two essential aspects of any type of business to reach success. That's why it is important to organize these operations effectively to reach maximum results. To do that it is pretty helpful to use a certain type of software combining CRM with email marketing. But we should bear in mind that it is difficult to use multiple tools and apps simultaneously. The reason is that it is so confusing to constantly switch between them to check a certain type of information. Fortunately, there is a solution to this and that solution is using a customer relationship management platform that will have everything under one roof. So, let us walk you through the best CRMs that the industry provides.
1. Salesflare
Salesflare offers a CRM that sales team actually love to use. The CRM is not as dependent on sales people to fill it out, as it automates most of the data input. In our research, we did not find a CRM that is easier to keep up to date. It also actively helps you sell, not just by tracking everything for you but also by automatically reminding you to follow up. Getting started with Salesflare is extremely easy, so definitely give it a try.

Key features:
Sync up your emails, calendar, phone, email signatures, social info, email and web tracking… to get a full view on your customers without extra work.
Work straight from Gmail/Outlook and from LinkedIn with the dedicated sidebars. They allow you to fully manage the CRM without switching tabs.
Send automated email sequences to customers, automatically find their email addresses, track email opens and clicks, and use handy email templates.
With a visual drag and drop pipeline and a handy tasks system, which makes automates suggestions too, you'll never drop the ball again."
Apptivo offers multiple apps that cover all aspects of customer relationship management. In other words, it allows you to keep track of all sales operations and reach new customers. The software  is a great helping hand in managing existing and potential customers in a structured manager. Similarly, it provides you with tons of data that you can aggregate, analyze and draw valuable information about how to improve sales and marketing channels. 
Key features
Generate leads from email and website activity by having their contact information to further follow-up.

Safely integrate Apptivo with G Suite to make the process of customer management easier.

Make the billing process easier by generating invoices right from your sales and paying within a tap.

Send out emails with customizable templates to save time and effort on this repetitive task.
Zoho CRM is a famous solution with a market presence of over a decade. It allows you to measure your business activities and operations to make smarter and data-driven decisions. Zoho is suitable for all types of businesses ranging from the healthcare industry to startups. Moreover, you can manage customers through multiple channels such as email, social media, live chat etc. 
Key features
Different types of reports and dashboards that allow to effectively manage data and draw useful insights.

It offers over 300 integrations to streamline your work and give you the best possible experience. 

AI assistance facilitates your job of making predictions on sales and other marketing activities.

It sends notifications in case of any business interaction to ensure that you closely monitor customer activities.
Salesforce is a well-known and one of the most popular, if not the most popular customer relationship management platform that leads the industry. It helps you to make measurable progress by giving tons of opportunities to keep up with your company's processes. Meanwhile, it gives you powerful data-based insights about how to maintain and engage customers.
Key features:
It gives you data about important marketing metrics that you can analyze to make conclusions about further improvements.

Use the gathered information to personalize communication with your leads and existing customers.

Keep up with your digital advertising and other campaigns by constantly monitoring their performance.

AI assistant that helps you to analyze your performance in a timely manner and get the most out of your job.
See the best salesforce integrations.
In short, Freshsales is a comprehensive solution that gives you the big picture of how to manage sales and marketing channels effectively. For instance, it allows you to know your customers better and use that information to deliver the best experience to them. With the help of it you will be able to adopt the best working practices that will ultimately increase your revenue and minimize costs. 
Key features:
Closely track the page visits and their performed actions to understand the intent behind visiting the particular page.

Build better customer relationships through email campaigns, sales promotions and other tactics.

Create welcome emails, pop-up registration forms and other these kinds of actions to engage customers.

Set up your preferred language to manage transactions and have automated currency conversion.
Engagebay has positioned itself as an all-in-one platform to work smarter and better. Above all, this CRM tool provides you with a number of tools and techniques to automate many processes and work in a more organized way. For example, you can manage contact information to instantly comprise messages for follow-up or plan future deals. In addition, the helpdesk software makes your job easier by managing tickets and answering inquiries faster.
Key features:
You can seamlessly build landing pages, email templates and level up your marketing operations.
Advanced sales tracking tool with the help of which you can monitor updates, directly schedule appointments and make calls.

Monitor emails by receiving notifications in case of reading emails, opening attachments or unsubscribing from newsletters.

Make instant calls to have all the necessary information in front of you and therefore make the experience more personalized.
7. Salesblink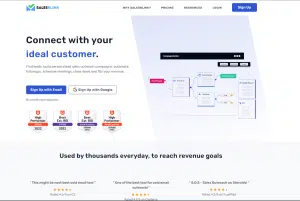 SalesBlink has emerged as one of the best lead-generation tools for sales as it focuses more on smart work than hard work. The software uses cold email and LinkedIn outreach methods to connect with prospects in a few minutes while maximizing the chances of a response. 
With the visual campaign builder option, you can gather leads from multiple channels in minutes. Also, you can get an ideal list of prospects with its B2B company finder feature. It helps you filter companies based on their country, industry, and team size.
Key features:
Manage prospects and their history on a centralized dashboard

Get verified emails and perform single or bulk searches

Filter out companies and pitch globally 

Schedule automated follow-ups across channels
In conclusion, we want to state that with the help of a CRM you will get the data you need to make better conversions and experience revenue growth. It helps to automate routine and administrative tasks so that you could concentrate on more important aspects of running your business. You will be able to identify potential customers and build the perfect journey. As a result, this will lead to higher engagement and retention rates.
Check also: The Role of Operational CRM for Business Growth