Today automation tools are used across many platforms and industries for saving people time and resources. They do this by simplifying work, ridding us of repetitive tasks and allowing us to focus on those that need the most attention.
Table of Contents
Automation in Project Management

Why Use Automation in Project Management?

Do You Need Automation?

Benefits of Automation

5 Automation Tools to Use in 2022
Automation in Project Management
The introduction of automation into project management has been a phenomenal asset for managers and teams. Regardless of whether you use it in your work or not, if you are here, you are on the right track. After using it in your project management, you will never want to go back.
To understand how they work, let's take chatbots as an example. Nowadays almost every website has them. They are very effective at providing necessary information at the right time without human intervention. They receive instructions beforehand and perform based on the trigger they receive, i.e. a message from a website visitor. In other words, they do the job of an employee, until the need for a human employee arises, which in many cases even doesn't.
In this article, we will look at the benefits and reasons for project management automation and 5 tools that you can start using now.
Why Use Automation in Project Management?
Short answer – because it will do your work instead of you!
Integrating Automation into Project Management not only feels alleviating in terms of workload but also saves you time and resources. 
It is important to note that automation is not a do-it-all solution for project management. It is rather an asset. As explained by Wrike, it isn't a solution itself, it's a magnifier. 
Hence, everything already needs to be set before introducing automation, as it is only going to amplify the given instructions, not solve them.
Do You Need Automation?
You are probably still not convinced why you need automation. If you are, that's great, you can scroll down. If not, let's think again about the following. 
Have you ever had to deal with:
missed deadlines

constantly having to remember and remind

repetitive tasks

basic time-consuming administrative tasks 

tasks that in fact could be done with little to no supervision
You most likely have faced some, if not all of these issues in your workflow (especially, freelancers).
That's why it's important to have workflow software that lets you create your own automations to meet your specific work needs. 
Benefits of Automation 
Automation tools provide benefits that cannot be acquired otherwise. 
Here are some of them:
First and foremost, automation benefits the manager by removing the load of repetitive and administrative tasks. These can include assigning tasks, sending reminders, project and report updates, data collection, and many more.
This way the manager and the team are exempt from some portion of not-so-essential or low-value work which can be tiresome when added up. 
Better Distribution of Efforts
The next benefit is better distribution of efforts, energy, and focus. When managers and employees do not have to worry about small and uncomplicated tasks, they are able to direct their energy and time to tasks requiring more attention.
Having a more efficient distribution of efforts naturally results in higher productivity. With automation assisting in calculated and programmed tasks, employees produce better results in areas that need creativity and innovation.
Low Chance of Manmade Errors
Automation tools reduce the possibility of man made mistakes if programmed properly and devoid of underlying discrepancies. No matter how flawless the human brain is thought to be, mistakes are inevitable, especially those coming from inattentiveness. The latter is almost non-existent with automation tools, but again with proper instructions.
Five Automation Tools to Use in 2022 
So at this point, you are most likely set to try automation in your project management but unsure about what tools to use. 
We got you! 
Here are 5 automation tools you can start using now. 
WebWork Time Tracker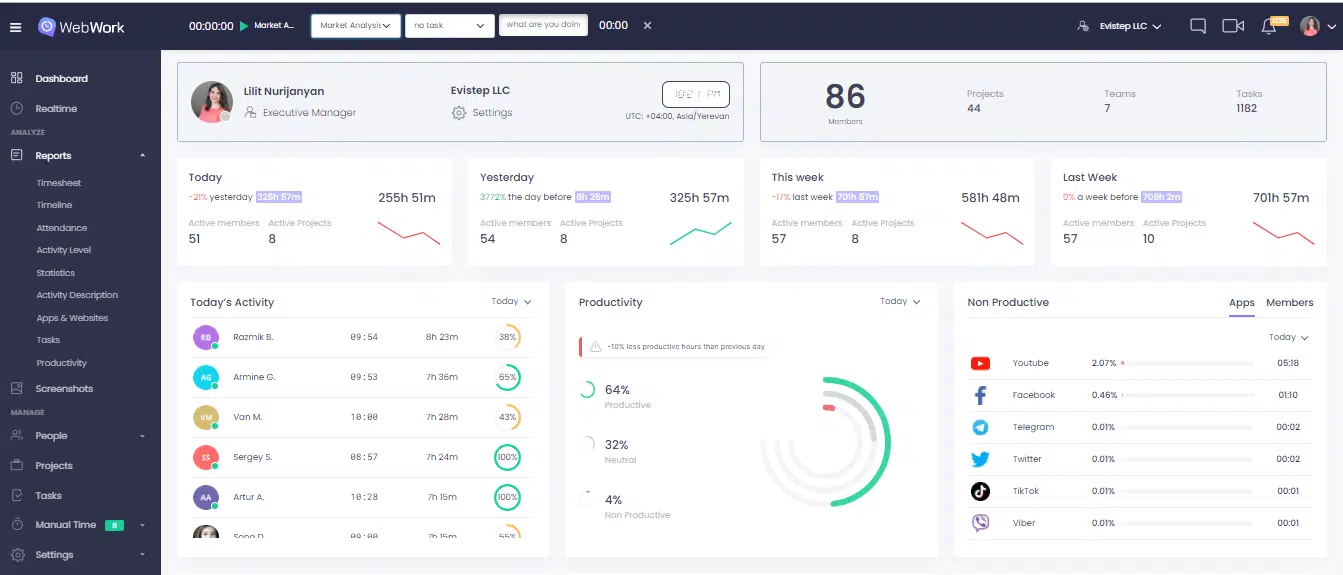 Imagine being able to see what your employee is doing from anywhere in the world. Exactly, WebWork gives you that opportunity without extra effort from you.
You get automated screenshots and detailed information on how much time each employee spends on each project, app and website, when they come and go and who's the most productive of them all.
WebWork Time Tracker allows you to automate your project management by monitoring and tracking your employees' work.
With the necessary settings on and without further intervention you get 
automated screenshots and pop-ups

detailed reports on employee activity level 

app/website usage

attendance data
With the right screenshot mode on you get random screenshots of your employees' screens every 10 minutes. But that's not the end. WebWork also gives you detailed information on the time spent on each project, each app and website. 
Another example of automation with WebWork is that you can assign the necessary data (e.g. you mark Facebook as an unproductive website), whenever the employee visits the said website, the automation tool opens a pop-up reminding them to go back to work. Of course, exceptions apply (e.g. Facebook is part of work).
It's that easy! 
ClickUp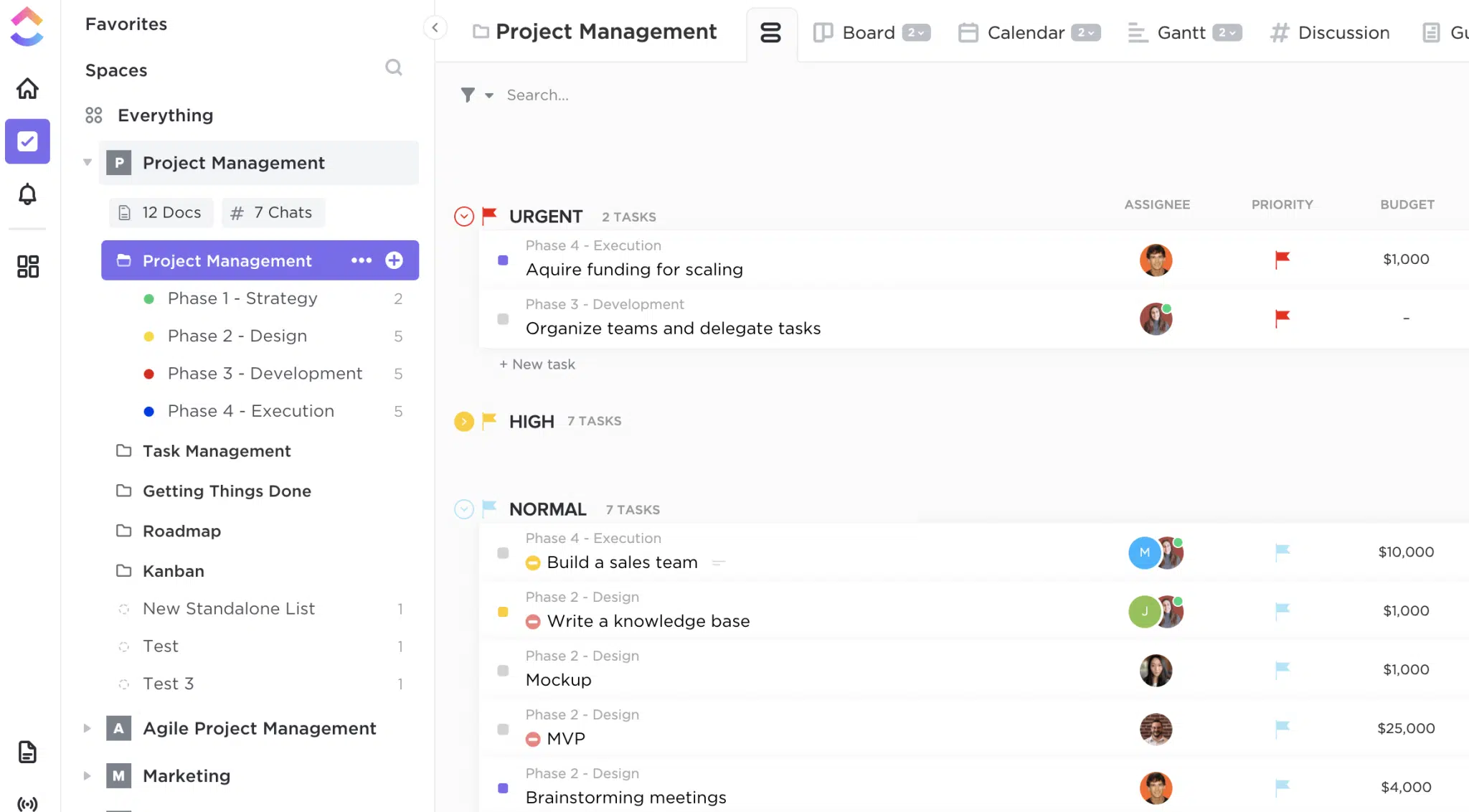 ClickUp is a project management tool for task management, communication, collaboration and more. With its wide range of features, it is considered an automation tool as well. 
What you can automate with ClickUp:
assign tasks

add tags when a status change happens

change the priority of the task when the deadline approaches

create your own automation
By giving your instructions to the tool, you create conditions that will be essential for the automation to work properly. Next, when the necessary trigger happens, automation knows what to do. 
Clickup makes project management automation a piece of cake with its more than 50 automations. Moreover, you can create your own if none of the available suit your needs.
Slack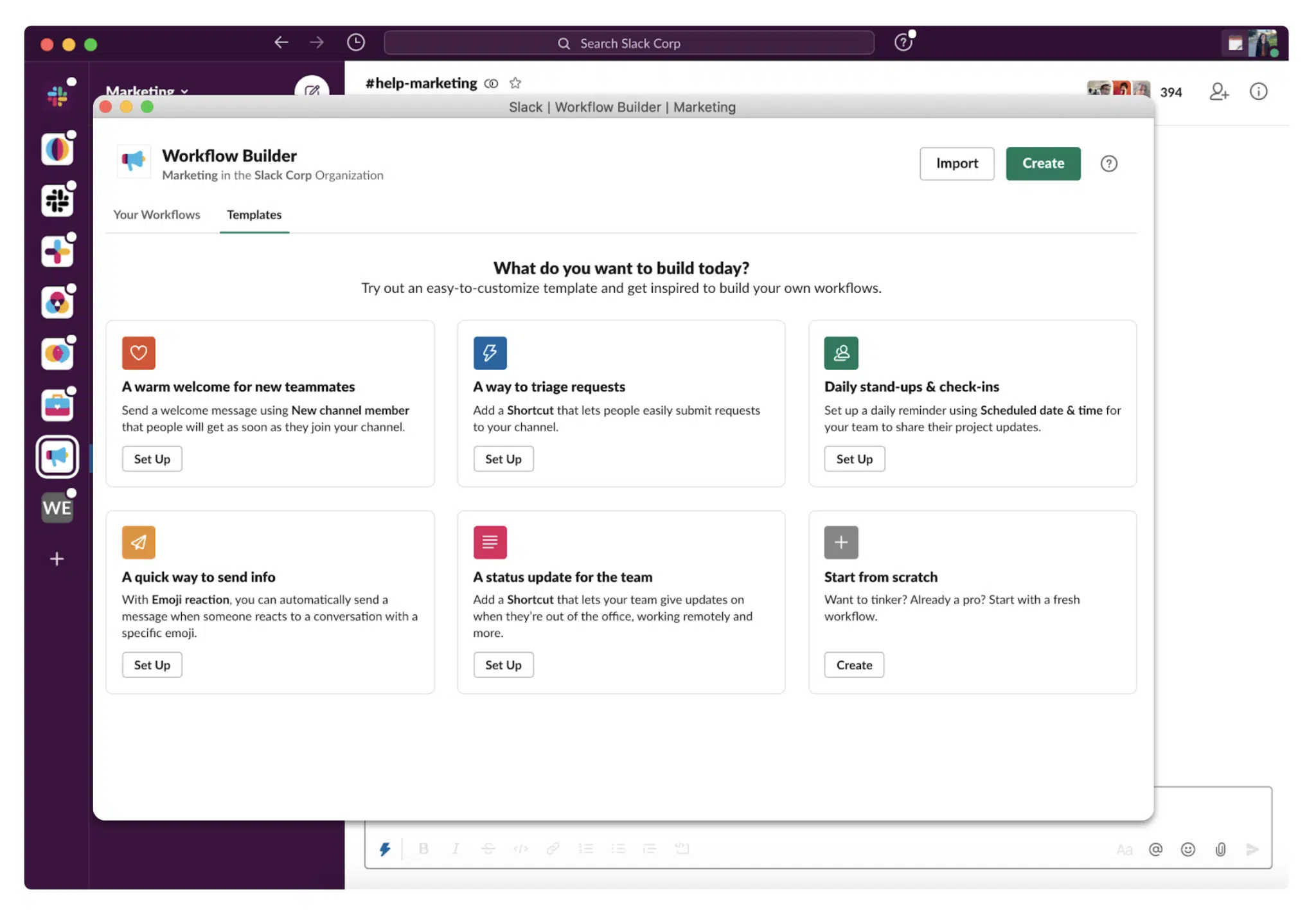 Slack is a communication tool that makes communication among your team organized, fast and secure. 
It can be used separately or be integrated with project management tools for making workflow automation such as automatic notifications, sending shout-outs, bots for different purposes and many more.
For example, with automated notifications, you do not have to remind every employee about each update manually, as they are automatically sent to the respective channel on Slack. Remember that Slack needs to be integrated into the project management software you use.
Jotform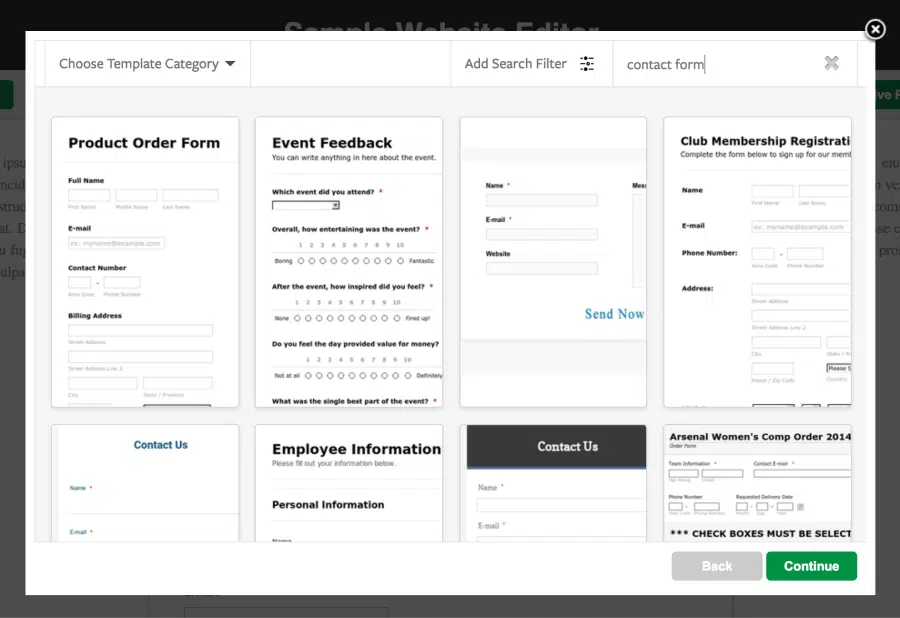 Jotform is a form builder and creator that can be used for workflow automation. It can be used for making automated tasks that use forms.
If you use forms frequently, then you want to avoid mistakes that are inevitable when the forms are made by a human. With an automation tools like Jotform or Leadgenapp, you get the same or better performance with less chance of mistakes.
For example, as they describe it on Jotform, it can be used for sending website visitors automated responses after they fill out a form. 
It can also be used as part of CRM software for pulling in lead generation information from web forms.
ifttt 
Image Source: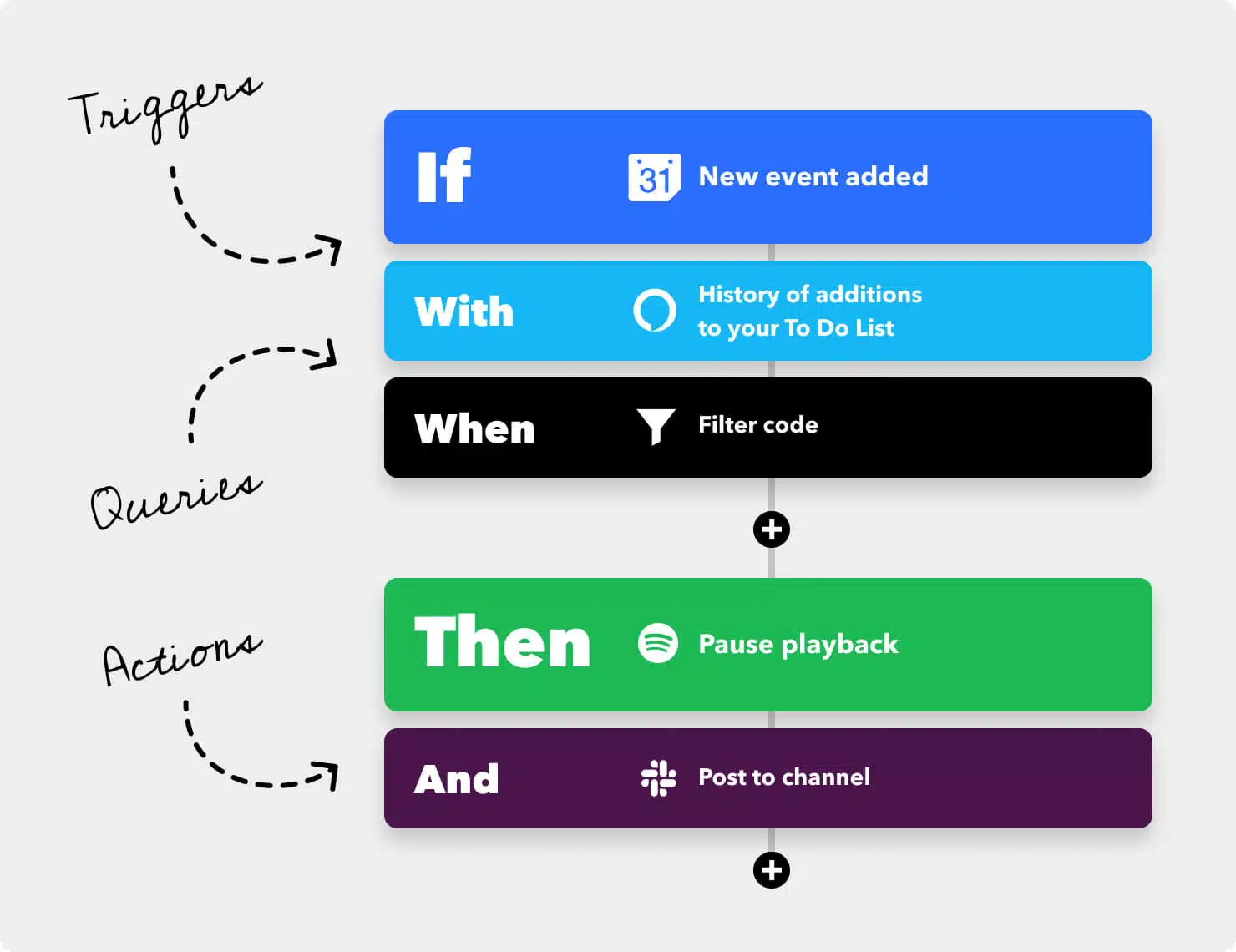 The last tool I want to include in our list is Ifttt. It is an automation tool for connecting different apps and devices. 
Ifttt is an inclusive tool as it works with 650+ services. You just need to choose the two services you want to connect, set the necessary conditions and that's it, you created automation.
These automations are called Applets. You can either choose from those available and ready-made or create your own. 
Now the interesting part. IFTTT opens as "if this then that", which means that set instructions produce a certain result. 
When you want to create a new Applet, you add an app or a service in the "if this" section, choose the specifications and then add another one in the "then that" section.


At this point, you should be convinced about the effectiveness of automation in project management and know what tools you can incorporate into your work. 
Automation is revolutionizing the way we work by being of great assistance. 
That is why it's high time you started using some of these tools in your work and experience project management automation yourself. 
If you are not sure where to start, give WebWork Time Tracker a try as it offers a free trial.
Let it simplify your work routine by giving a start to automation in your workflow. 
You will never want to go back.