In this fast-paced market, where new trends appear so quickly that it's impossible to keep track of them, time is of the essence. For businesses of all sizes, time is an essential resource that can't be wasted. In fact, the famous saying is true: time is money. That's why time tracking for SEO agencies is so important. Using time wisely and optimising it can help businesses gain a competitive advantage and stay ahead of competitors. Time tracking is important because it shows transparency, helps increase productivity, and improves project planning and invoicing. In this article, we will discuss this in greater detail and cover the importance of time tracking for businesses.
The Importance of Time Tracking for SEO Agencies
The results of any search engine optimization strategy are influenced by multiple factors: individual approach, search engine, niche, current trends, target market, competition, and more. Thus, it is impossible to see the results of SEO overnight and find a universal approach for all cases. This is where time management plays a vital role. When you know that it will take time to see the results of a strategy, you need to know how to manage that time wisely and log all activities and tasks. By keeping track of all the activities that have to be done, it is possible to see what works best for the website, see the results in real-time, and make more informed data-driven decisions. Moreover, time tracking for SEO agencies helps automate repeatable marketing tasks and frees up time for other top-priority tasks.
4 Reasons Why Time Tracking for SEO Agencies is Important
There are multiple reasons why time tracking is so important for SEO agencies, but we will focus on the top 4.
1.It shows transparency
One of the most important reasons for tracking time in an SEO agency is that it helps with client transparency. Clients want to know what they are paying for, how the project is going, and how much time is spent on each task. Thus, if you want to have more clients, you need to become more transparent.
By providing your clients with an overview of the project as well as a trail of documentation, you demonstrate that you are open about your processes and want to share everything with them. As a result, they see the tasks that need to be performed, the deadlines, and their value. It also helps clients understand who is responsible for what and how much time it takes to complete certain things.
To make this process faster and even more transparent, you can use various time-tracking tools or integrate them with other tools for agencies available online. These tools allow you to track how much time you spend on each project or task and generate reports that you can share with your clients. Moreover, you can generate invoices based on the tracked time and customize them before sending them to clients.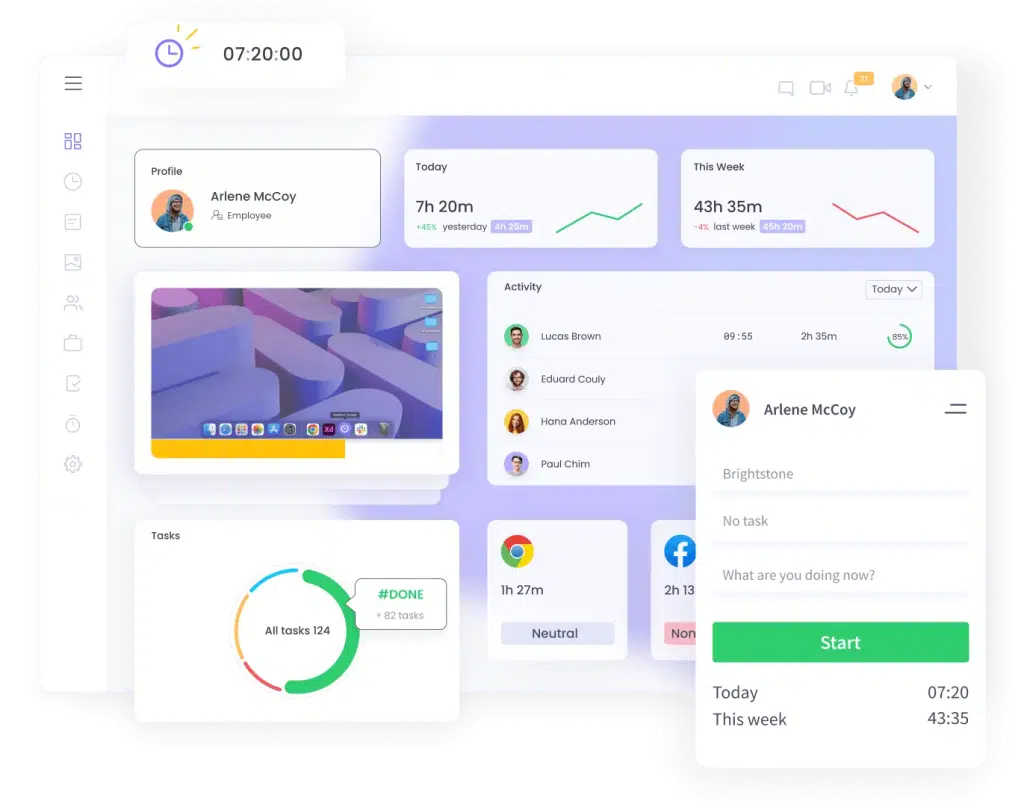 source: Webwork Tracker
Time tracking for SEO agencies allows clients to gain a clear understanding of the course of the project rather than seeing only the finished product. Clients will value your work more because they will understand how much effort and time each step of the project takes, and they will know what they are paying for. Moreover, you won't waste any time on conflicts or misunderstandings because the clients will have all the data they need.
Another benefit is that you can bill your clients more accurately. Since every step of the project is tracked, you will know exactly what to charge for. This is also beneficial for clients because they want to know what they are paying for, and the more details you provide – the better.
2. Employee reporting and increased productivity
If you want to monitor employee performance, tracking time is crucial. It not only helps you manage tasks and responsibilities but also increases productivity. Moreover, it is the basis for accurate reporting.
Time tracking software allows you to automate processes that used to take a lot of time. For example, it used to be a common practice to ask employees to send reports about their completed work at the end of the day. Sometimes, some people would forget to send these emails, and others would forget to log in to some tasks, etc. With time-tracking software, there are no such issues. The software allows you to see in real-time what everyone is doing and how much time the tasks take.
You can also break down your operations into functions (e.g., content creation, technical SEO, link building, etc.). Next, you can track the time employees spend on these functions. As a result, you can make adjustments to optimize these processes. Tracking, in its sense, also refers to result tracking, that's where backlink management tools come into play.
If you have been monitoring your employees' productivity, you probably wasted a lot of time on report-generation tasks. You can save dozens of hours on time-consuming tasks and generate an SEO report with the help of SE Ranking SEO Reporting Tools. Your SEO team can create its own template, generate a report in a matter of minutes, and schedule an auto-send to your client's email. It helps agencies create accurate data and estimate tasks properly.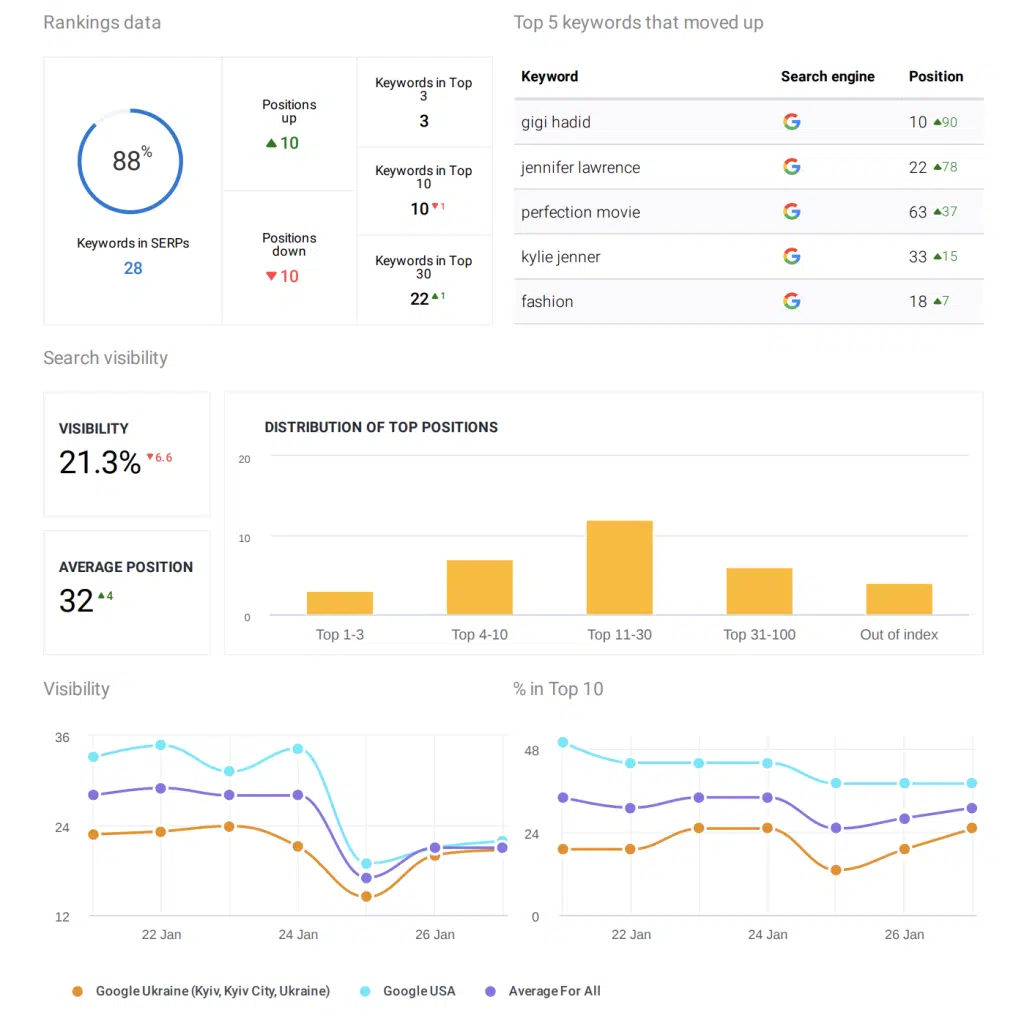 source: SE Ranking
3. Better project planning and performance management
If you want to complete a project successfully and on time, you need effective planning. Moreover, the plan must adhere to the anticipated timeline, and you should monitor the execution of the project. Here is where project and performance management comes into play, and time tracking can help improve this significantly.
Performance management is about making sure that your employees help your agency achieve its goals. It consists of regular performance evaluations, feedback, and process improvements. That is why it's important to understand how much time it takes your employees to complete certain tasks.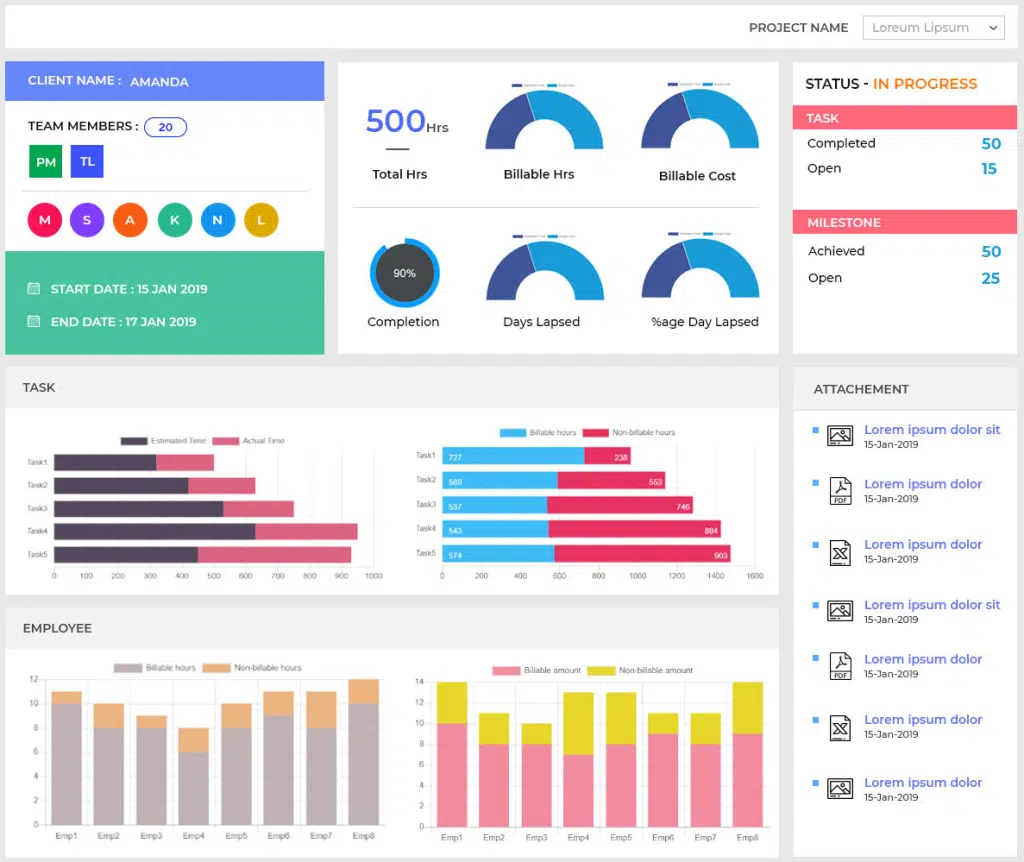 source: Officetimer
With time-tracking software, you can list all your projects and tasks and set deadlines for them. Moreover, you can set estimates for certain tasks and then assign them to your teams. Another way to improve project planning and performance management is to ask your employees to track their working hours. Finally, you can use all this data to create time-tracking reports and compare them every month.
4. Better invoicing
As it was mentioned earlier, time tracking helps you bill your clients more accurately and be better at invoicing. Accounting is vital for any SEO agency to minimize wasted resources, avoid mistakes, and reduce costs. Furthermore, your invoices should be accurate and detailed so that your clients know what they are paying for.
Time-tracking software ensures that the billing process is error-free and automated. It helps you track billable time and tasks and automatically count how much a client needs to pay you, as well as how much you owe your employees. Moreover, you will no longer need to waste any time manually creating invoices.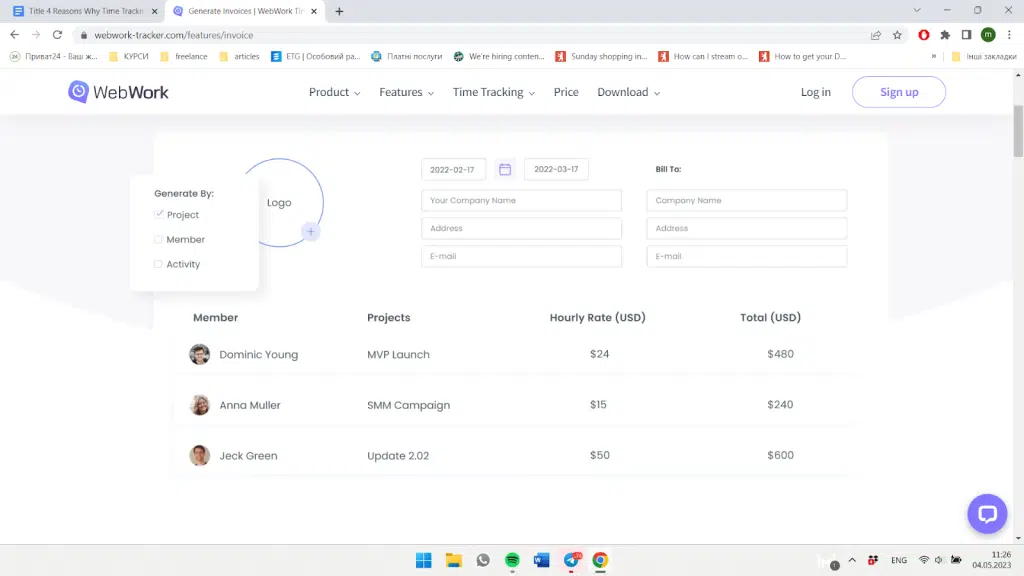 source: Webwork Tracker
With time-tracking software, invoicing becomes an automated task that is merely a part of your processes rather than a chore that takes a lot of time. As a result, you get more accurate invoices and transparent communication with clients and employees.
Summary
Time tracking for SEO agencies provides numerous benefits, including client transparency, better invoicing, better project planning and performance management, and increased productivity. Moreover, it helps automate processes and prioritize tasks instead of wasting time and resources on repeated day-to-day tasks. If you have been looking for ways to streamline processes and improve productivity, it's time to start using time-tracking software.
Author Bio:
Leslie Anglesey is a freelance writer, journalist, and author of various articles with a passion for telling stories about the economic and social situation in the world. In case of any enquiry or suggestion kindly reach out to her on GuestPostingNinja@gmail.com.
Check also: Reasons Why Your Remote Recruitment Agency Needs Monitoring