As the world slowly shifts to the digital platform, it has become difficult for companies to manage remote and hybrid teams. Though remote work is the answer to a perfectly balanced work-life, companies need to find ways to manage hybrid teams properly.
The COVID-19 pandemic has shown us that it's not necessary to be present in the office for work, while we can do everything from the comfort of our home. Though it sounds exciting, everything can go wrong if project managers cannot handle their remote teams. 
Whether it be balancing multiple projects at once or attending client meetings, everything needs to be done properly, especially while working from home. That's why companies are adopting software and tools that will help them stay connected with their employees throughout working hours. 
List of Remote Collaboration Tools to Manage Hybrid Teams 
When it comes to managing hybrid teams, there are certain tools that can make the task easier for project managers. Here is a list of the most popular remote collaboration tools used by organizations to manage hybrid teams easily.
#1 WebWork for Employee Monitoring & Time Tracking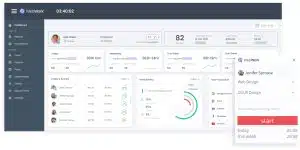 While working remotely, one of the main concerns for employers is to track time and monitor employees. WebWork exactly does that and releases stress from employers.
It is a cross-platform time tracking tool that tracks time with screenshots. You can track time on Desktop, Web, Mobile, and as a Chrome extension. It also helps you in monitoring employees. You can monitor attendance, website & apps usage, create screenshot reports, and activity level reports.
WebWork offers task management features that allow you to assign tasks, set priorities, write descriptions, and attach files.
It integrates with Zapier, Asana, GitHub, and 1500+ other apps so that you can work with your favorite tools.
Key Features:
Time Tracking with 4 Screenshot Modes

Attendance Monitoring

Task & Project Management

Activity Level Monitoring

Real-time Reporting

Billable Hours & Invoices

Apps & Websites Usage Tracking
Pricing:
Free trial of WebWork is available for 7 days while its paid plan starts at $2.99 per user/month.
#2 SmartTask for Project Management 
When it comes to project analysis, work management, and task distribution, there's no better tool than SmartTask. Thanks to its user-friendly interface, you can easily plan out everything for any upcoming project.
SmartTask is known for its task prioritization feature, where you can assign specific tasks to the team members, set deadlines, and even see progress from the dashboard. Apart from that, you can also manage the project's budget in the software and send reports directly to the clients.
Key Features:
Manage Tasks with List, Board, Calendar, and Timeline Views

Recurring Tasks, Task Dependencies, and Reminders

Instant Messaging, Video Conferencing & File Sharing

Task Auto-Scheduling & Project Milestones

Portfolio & Workload View

Sales CRM

Time Tracking & Budget Estimation

Custom Charts, Analytics & Reporting
Pricing:
SmartTask has both free and premium packages for its users. You can use the free package for performing unlimited tasks and projects but with limited storage. However, you can get the premium package at $5 per user/month or a business package at $8 per user/month, provided it's billed yearly.
#3 Mockplus for remote design collaboration and handoff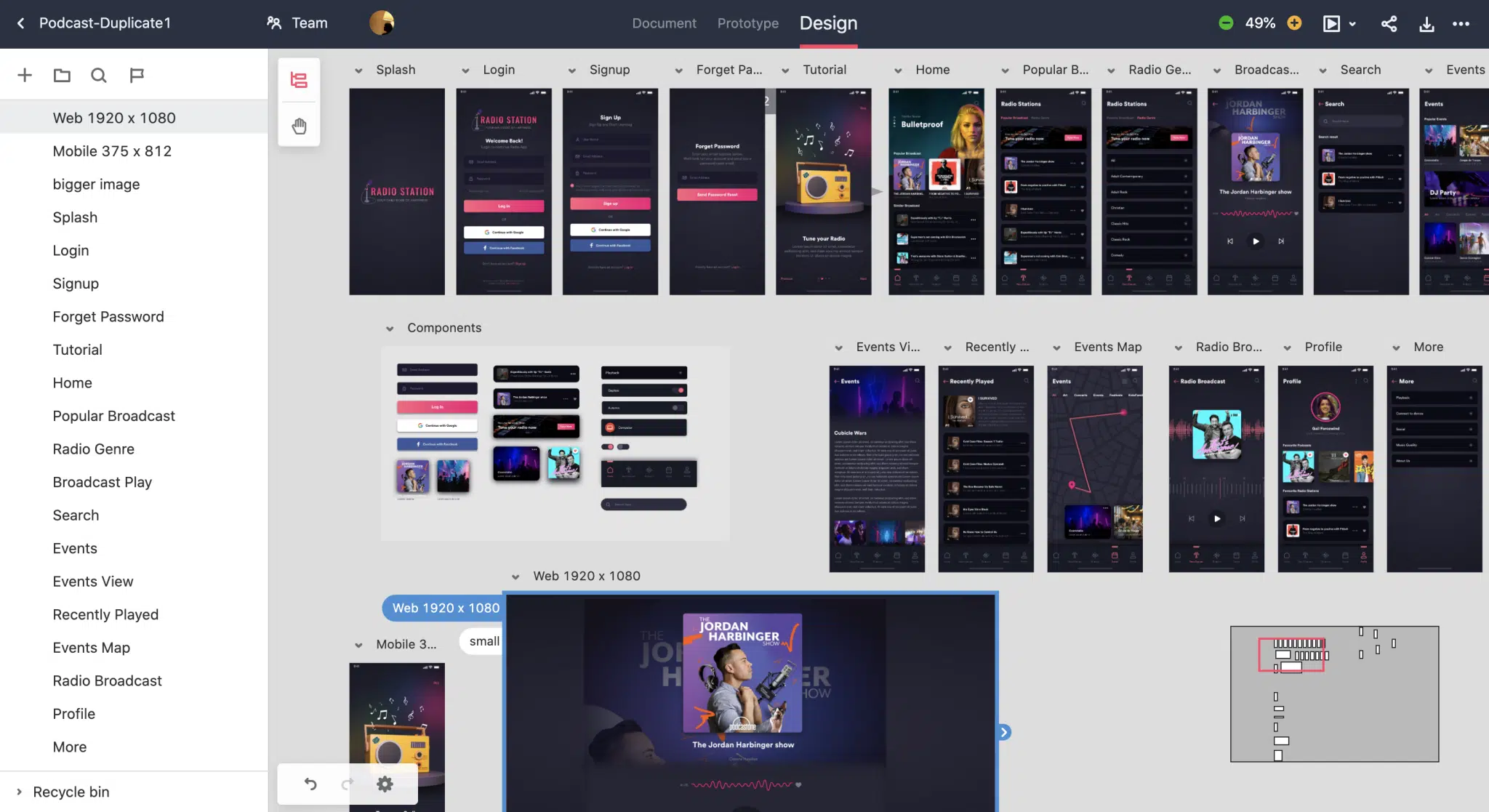 Mockplus is a one-stop product design platform for designers and teams around the world to stay connected and productive effortlessly. It covers everything that a design team may need to create a perfect web and mobile app design, all the way from low-fi wireframing, prototyping, and collaborating to developer handoff.
Thanks to its as simple and easy as possible interface and functionalities, individuals and teams with different design experiences can work on the same page without chaos.
Key Features:
Co-design a fully interactive prototype with premade templates and UI elements

Invite team members to work on the same project via a link

Share and test a web and mobile app on real devices

Review prototypes and leave comments directly on UIs for faster discussion and iteration

Turn third-party designs into detailed specs, assets, and code snippets for easy coding

Handoff all deliverables to developers via a single link

Allow developers to inspect design specs with simple clicking or hovering

Integrates with Adobe XD, Photoshop, Figma, Sketch, Axure, and more tools you often use

Create and manage your own design system for design consistency
Pricing:
Everyone registered there can get a free team with 10 users and 10 active projects for free.
Well, if you want to use some premium features such as downloading HTML prototypes, you may first purchase a Pro or Ultimate plan which starts at $5.95 per user per month.
#4 V2 Cloud for Secure Remote Access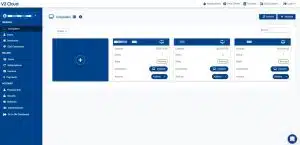 Though remote working has provided many benefits for both employees and employers, it has also increased security risks due to private systems. V2 Cloud is the perfect option for companies looking for secure remote access for their work-from-home teams.
V2 Cloud provides a secure desktop as a service that helps teams work without any worries about security breaches. Besides, this software tool is the easiest to understand and operate. With their services, your team can work from anywhere at any time, on any device, without worrying about any security hacks. 
Key Features:
Intuitive Management Console

Single and Multi-User Desktops

Web, Mobile & Desktop App

Malware Protection & Daily Backups

MFA & SSO

IPsec VPNs

Built-In Live Support

Active Directory Integration

Allows safe file sharing to remote employees
Pricing
:
V2 Cloud offers two subscription plans: basic and business. The basic plans start at $40/month per user, while the business plan starts at $60 per month. 
#5 Slack for Communication & Messaging
Slack is well-known for its amazing messaging features and has been a favorite for various companies. You can create public channels, private channels, and even have one-to-one conversations with your employees through this app.
Besides, it provides real-time messaging, due to which you can get immediate response for any urgent topic. Slack also makes it easier to share different files and documents without any risk of a security breach. Thanks to its 14-days conversation deletion, you can remain assured that no intruder will ever read any official conversations.
Key Features:
Provides space for creating multiple channels

Allows sharing of different types of files

Can conduct audio and video conferencing

Instant notifications to users for discussions

Accessible on both mobile and desktop
Pricing
:
When it comes to Slack pricing, it provides three packs: Free, Standard, and Plus. The free version allows users to try the app for unlimited time and conduct two-person video/audio calls with limited file storage of 5GB. The Standard version starts at $6.67 per user/month if billed annually and provides file storage of 10GB. The Plus subscription will cost you $12.50 per user/month with 20GB of file storage.
#6 Loom for Asynchronous Video Communication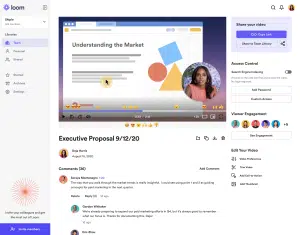 Loom has been a lot of help for recruiters while training freshers in the company. With the help of this software, trainers can easily record the entire session and send it to the freshers through embedded code.
Moreover, you can easily take unlimited takes for recording a perfect video without any difficulty. Gone are the days when trainers and project managers had to give a one-on-one session to the freshers to teach them about the processes. With Loom, as a remote collaboration tool, you can screencast several videos and send them ahead without compromising your current tasks. 
Key Features:
Compatible with different OS
Allows screen recording along with audio
Set passwords on videos to protect them from intrusion
No age restrictions to use the software
Instant video and screenshot editing
Pricing
:
Loom provides three packages: Free, Business, and Enterprise. With the free subscription, you can allot a team of 50 users with 25 videos per person and a limit of 5-minute videos. The business pack costs $8 per person/month if billed annually with unlimited recording length for each user. The Enterprise pack is a customization pack, for which you can get a quote from the company itself.
#7 Calendly for Scheduling

Calendly is one of the best ways to ensure that your remote team doesn't miss out on any meeting, seminar, presentation, or conference. It's a remote collaboration tool that allows you to schedule every meeting professionally, without having to mail everyone about the said meeting.
Moreover, Calendly also has integrations with Zoom, Outlook, Google, Slack, and other major team management tools. Due to this, you get the benefit of creating meetings on various platforms without any difficulty. Besides, Calendly reduces the chances of cancellations and makes sure that everyone knows about the schedule.
Key Features:
User-friendly interface for easy customization

Instant notifications and reminders for the meetings

Integrated with various apps for easy connection

Free email templates for use

Easy booking and specifying the meeting rooms
Pricing
:
Calendly provides a free version with unlimited event scheduling and only one active event type. It also provides an Essentials subscription at the cost of $8 per seat/month with separate calendars for Google, Office 365, and iCloud. You can also get the Professional subscription at $12 per seat/month which provides all facilities along with six calendars. There's also the Teams subscription at $16 per seat/month that gives you the freedom to manage the event types, conduct robin events, and integrate with Salesforce as well.
#8 Google Workspace for Collaboration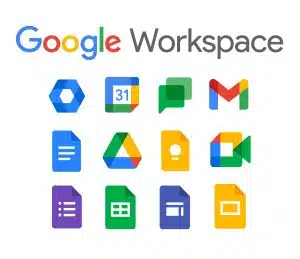 Google Workspace serves as a perfect platform for collaborating with different hybrid teams simultaneously. The entire package gives you everything you need to work together from afar. Be it Google Docs, Sheets, Meet, or Gmail; Google Workspace has all types of apps that are needed for teams to collaborate and work properly. This is a great remote collaboration tool with the next key features.
Key Features:
Tools are inter-connected

Regular follow-ups

Single sign-in everywhere

Easy file tracking

Easy editing with the team

Accessible on both desktop and mobile
Pricing
:
Google Workspace comes in two packages: the G Suite Basic and G Suite Business. The basic plan starts at $5 per user/month with limited storage, whereas the Business plan starts at $10 per user/month with unlimited storage for each user.
#9 Miro for Virtual Whiteboard Collaboration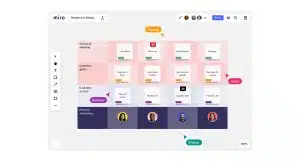 Miro is a boon for automobile designers, graphic designers, and creative remote teams. This software allows its users to have workshops, brainstorm sessions, and create designs together even when they are miles apart. With the help of a visual whiteboard, the team members can easily add or delete pointers from the design and download the final product afterward. 
Key Features:
Provides all basic designing tools

Helps communicate with team members while creating designs

Easy image importing

Contains pre-made templates

High-security measures to avoid risks
Pricing
:
Miro provides both free and paid subscriptions to its users. You can get the free version first to teach new team members about the software. In the paid plans, you would get the TEAM plan at $8 per user/month if billed annually, the CONSULTANT plan at $12 per user/month if billed annually and the BUSINESS plan at $16 per user/month if billed annually. Besides, you can also get a customized plan from the company.
#10 Notion for Note Taking & Document Management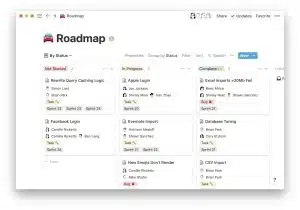 Companies mostly use Notion to connect with their employees, create projects and manage all types of documents strategically so that it's easy to find them. With this software, you can increase your remote team's productivity without any hurdles. It allows flexibility with unlimited boards and over 200+ templates. Besides, Notion is perfect for project tracking, setting goals, and managing workload effectively. 
Key Features:
Contains free templates

Customizable boards as per work requirement

Easy distribution and tracking of tasks

Instant notifications for due-dates

Highly secure to protect data
Pricing
:
When it comes to Notion, there are four packs: Free, Personal Pro, Teams, and Enterprise. The free plan allows only one member to use the software with unlimited blocks and a 5MB size limit for uploading files. The Personal Pro subscription pack starts at $4 per month and is limited to one user and unlimited guests. You can get the Teams pack at $8 per user/month with the benefit of unlimited members, guests, uploads, and storage. Apart from that, you can also get a customizable pack, known as Enterprise, as per your requirement.
#11 Bonusly for Employee Engagement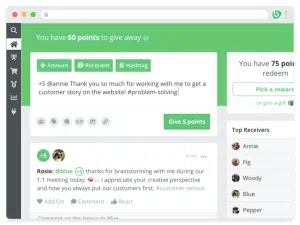 If you want your employees to remain connected throughout their working hours, then Bonusly is the perfect tool for you. The software uses all kinds of techniques to make work-life more fun for the employees. In addition, it continuously tracks the performance of each employee, based on which different rewards are given to them that further boost their confidence. 
Moreover, Bonusly also conducts surveys for both employees and employers that help them get recognized and understand their areas of improvement. With this remote collaboration tool, working in a remote team will become more exciting than stressful. 
Key Features:
Constant performance tracking

Provides daily and weekly reports of everything

Helps employees get recognized

Provides several awards on each level

Customizable dashboards as per needs
Pricing
:
Bonusly provides two different packs for hybrid teams: Core and Pro pack. The Core subscription pack starts at $2.70 per user/month if billed annually. You can get all software features in this pack, including fun activities, chat tools, and apps. You would have to pay $4.50 per user/month if billed annually in the Pro pack. Here, you can include the company's incentives and awards for the employees, along with flexible survey tools.
See Bonusly alternative for employee engagement. 
#12 Envoy for Desk Booking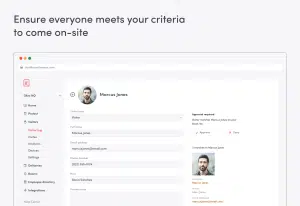 The main problem that managers face while handling hybrid teams is security. Envoy helps solve this issue by providing safe sign-in features for the visitors while keeping every confidential property safe from intrusion. Besides, it allows the teams to view the calendars of their teammates and see their working plans and adjust accordingly. Apart from that, Envoy also makes sure that the employees are safe by giving them a choice of submitting vaccination certificates, conducting daily tests, etc. 
As a manager, using this remote collaboration tool you can easily control who can enter the office while working on-site and conducting team activities. Besides, employees can also reserve their desks in offices before entering the office and even view the number of available desks from the tool. 
Key Features:
Online desk reservation

Easy work planning with teammates

Virtual sign-in for visitors

Assigning employees their entry time for office

Questionnaires for ensuring employees' health
Pricing
:
Envoy provides four plans for its users: Free, Standard, Premium, and Enterprise. You can use the free version for your hybrid team to understand the process if your team is in one location. The standard pack starts at $99 per month if billed annually, else $119 per month/location. The Premium model will cost you $299 per month if billed annually, else $349 per month/location. You can also get a customizable plan for your team from the company.
#13 Fellow.app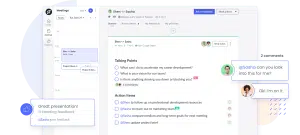 Fellow.app is a meeting note app where teams gather to have productive team meetings and meaningful 1:1s. As a manager's co-pilot, Fellow can help your team build winning meeting habits, a culture of feedback and effective note-taking and management strategies. 
Fellow replaces your paper notebook with a collaborative meeting agenda and notes where you can assign action items and request any feedback that results from your meetings. If you're lacking inspiration for your meetings, you can browse our template gallery for meeting template suggestions. You'll also get full integrations with dozens of apps, ranging from basics like Google Calendar to HR platforms like Workday. Fellow is a remote collaboration tool that is a great complement to your project management app.
Key features: 
Run effective meetings 
Collaborate on meeting agendas 
Track actions items and foster accountability 
Give and get feedback as work is being done 
Use our meeting template gallery for guidance in your meeting structure 
Run effective external meetings by inviting guest users
Pricing:
Fellow is free for a maximum of 10 users. The Pro plan is $5 per user per month, and custom-priced plans are also available.
#14 nTask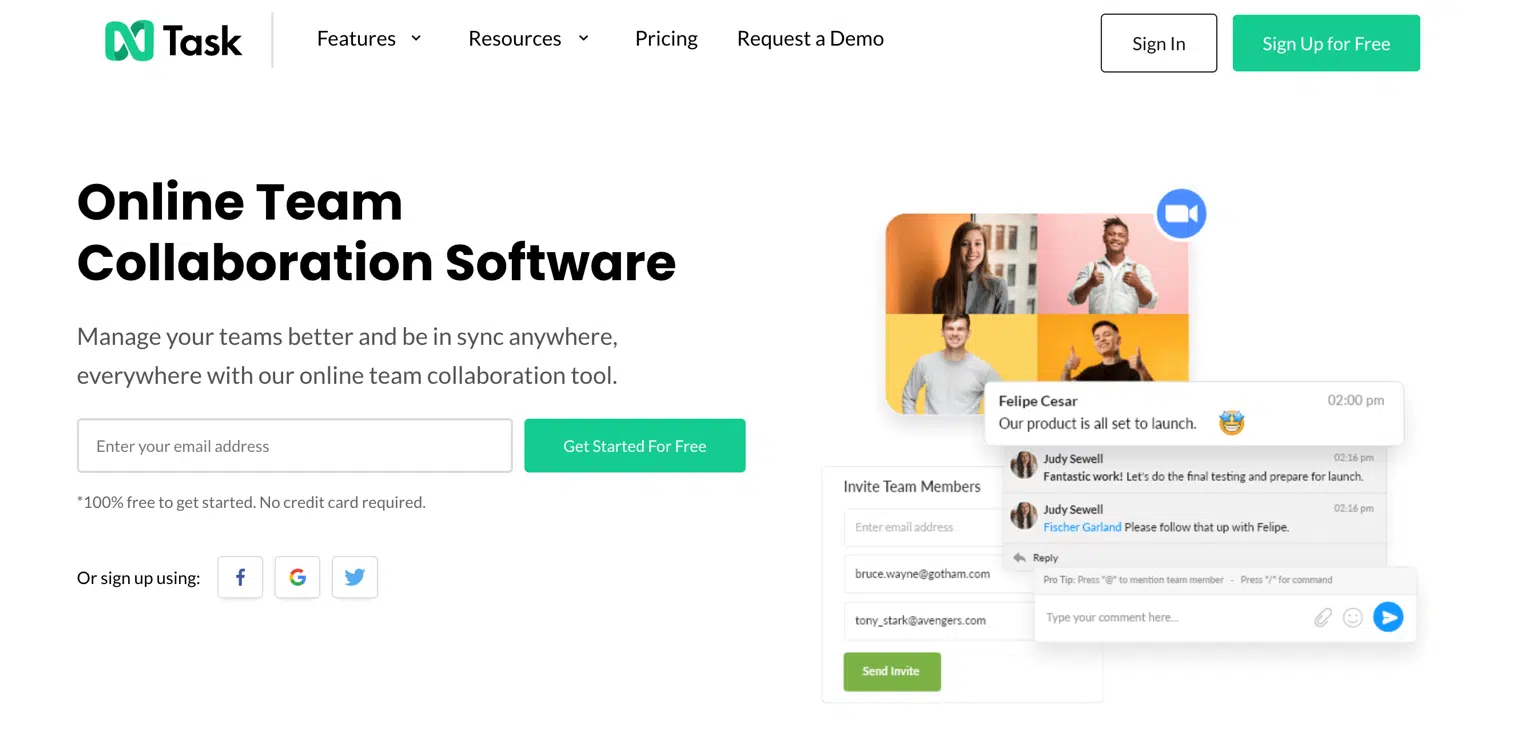 If you and your team are working from remote locations and you want a tool that allows you to track and manage everything that you and your team do, in a single interface, then nTask is the tool for you.
The application is an incredible remote collaboration tool that allows you to manage your team with a bunch of features that make this tool the best.
You can manage the risks, you can manage tasks, and you can also manage the meetings that you conduct with your team members from the interface.
Key Features
Task management to make sure that all of the tasks and processes are tracked and managed
Risk management to keep track of all of the issues and scope creeps that can affect the project
Kanban boarding and Gantt charting to see the whole project from a different point of view
Time tracking & Timesheet management to keep track of the time that the employees spend on their tasks and overall workday
Dashboard
Custom statuses, Analytics and Reporting
Pricing
nTask has both paid and free packages for its users. Every single user gets a free trial and if they want a more premium set of features then they have to pay $3/month, provided it's billed yearly.
#15 Zonka Feedback for Employee Feedback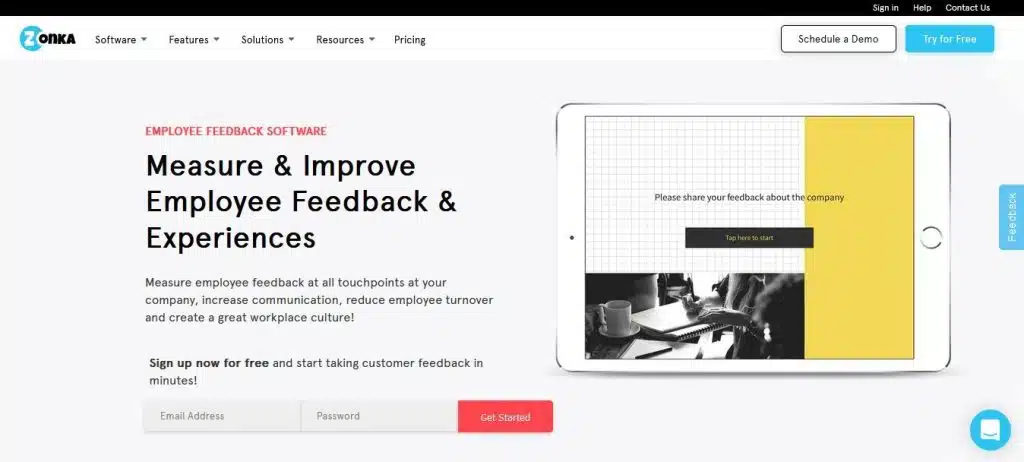 Zonka Feedback offers an effective and easy-to-use Employee Feedback Software that enables companies of all sizes to easily set up different employee surveys and take real-time feedback to help improve employee engagement and experience.

Its interface is uncluttered and user-friendly, making it easy for teams without technical know-how to create surveys, engage employees on different channels (tablets, kiosks, email, SMS, online, web widgets, QR Codes and more) and different touchpoints, and track employee satisfaction in real-time.

Managers and HR can set up real-time feedback alerts, access in-depth feedback reporting and take action to close the Employee Feedback loop.

Key Features:
Create employee surveys for all touchpoints
Set up feedback channels everyone – in office on tablet, through email and SMS surveys, in-app, QR Code, and online
Measure employee satisfaction and loyalty
Get notified for miffed employees and identify recurring issues
View employee feedback trends
Compare various locations
Measure metrics like Employee Satisfaction and Employee Net Promoter Score (eNPS)


Pricing:
Starts at $49/month
Final Words 
Though managing hybrid and remote teams might be a difficult task, with proper tools and software, it can be fun and exciting. However, make sure to keep your employees and team members motivated while working from home, as it's quite easy to get distracted when not in the office. Besides, it's important to understand that working from home is not as easy as it seems because even employees have to manage several things at a time. The above software tools can make it easy for them to stay focused during work.
Author Bio:
Shyamal Parikh

Shyamal is the Founder of SmartTask, an online work management tool that's helping teams be more productive by having clarity on who's doing what by when. Has a penchant for researching and sharing strategies that could benefit a team's productivity.