The competition in the digital marketing sphere has grown aggressively, and businesses are now in the digital landscape, where a strong online presence is a dire need to connect with the audience. The stronger your online presence is, the more limelight your business will gain. 
With a solid social media marketing strategy, brands can develop awareness among the audience and establish their loyal customer base. 
Here, a successful brand-building strategy can help the business to outshine its competitors in the market. This quick guide will help you learn ten simple steps proven for a successful brand-building process. So let's dive in without doing any further ado. 
What is Brand Building Process? 
Brand building refers to the activities associated with the establishment and promotion of a brand. It is all about the marketing of a business in a way that could bring an audience and generate new leads with boosted sales. And to get the job done, a business needs an excellent website compiling blogs, posts, an exciting and solid social media presence, and promising services. 
This curiosity among the audience helps online businesses to create powerful branding. They can create awareness about their products and services among the target audience. Using righteous marketing tactics can help during this stage to build the brand on social media. 
Brand building is necessary to make the audience feel credible about the brand. Since people are now more into online shopping, you need to keep your business up to the mark to hook the audience. For instance, if you use Facebook to market your brand, then you can schedule Facebook posts to elaborate your business and products. 
Brand building strategy can involve a lot of ways to engage with the audience, like digital marketing campaigns, social media posts and content, blog posts, articles, and web copies. Branding via any of these methods can help your business stand out from the crowd proficiently. 
10 Easy Steps for a Successful Brand Building Process
A successful brand-building process allows the business to earn customers' loyalty. To make your company successful, you need to establish a strong connection with the customers. Creating a proper brand-building process also boosts outbound sales and brings traffic to your website. From a simple branding guide to incorporating brand elements like logos and slogans, branding is the process of representing a company's authentic spirit. 
Meanwhile, you might be thinking that a successful brand should have to be the audience's favorite. A brand needs to be consistent in communication and experience across several elements like environment, print, packaging, website, online advertising, content marketing, social media, sales, and customer service.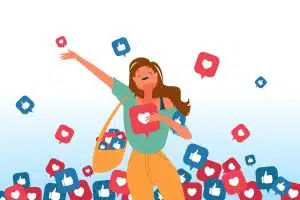 According to Nielson's survey, 59% of consumers prefer to buy new products from familiar brands. They are loyal to their favorite brands and follow the influencers they like. It usually ends up ruining small businesses with lesser followers. This is why you need to learn how to successfully build a brand. lso, implementing purchase-to-pay automation can help businesses manage their supply chains more efficiently and building a trusted brand. No matter if you use Twitter for business or Instagram marketing, strong branding is a big must. 
I always believe in the supremacy of building a brand, not only a business, and I will advise you to do the same. Here are the ten steps to help you create a successful brand-building process. 
Discover the Purpose of Your Brand
Every successful and known brand has a powerful purpose behind it, and that's how you should also plan your business. Think about the audience's queries and try to resolve them with your business. For instance, if you use TikTok for business, then you can go ahead to explain your brand on the platform with short videos.
More than 50% of consumers make a purchase from the brand on the basis of its values and impact. Do your homework and find all the truth nuggets that could distinguish your brand from others. Work effectively on your brand that could answer why, how, and what for the audience. 
Find Your Brand's Target Audience
A business must find its target audience; as the foundation of building your brand is to determine the target audience your business will focus on. While making the brand strategy, keep in mind who you want to reach via your brand. 
Be specific while determining your audience to narrow down a massive crowd of the audience as per your brand's values. It will help you to craft the right marketing strategy that could help you turn your visitors into paying customers. Specifying your audience and analyzing their wants and needs will help you in your demand forecasting efforts as well. 
Research the Competitors of Your Industry
There is no point in copying the big brands to promote yourself, don't fall into this trap. You must be aware of what you are offering the audience and let them understand you. Keep yourself different from your competitors. 
Here, extensive research about your competitors will help you stay a hand ahead. You can also take inspiration from their social media and website. However,  make sure that your brand name is easy, catchy, recognizable, and unique for the audience to remember. 
A business name generator can be a helpful tool for generating creative and unique brand name ideas. It can help you to combine different words and phrases to come up with a name that is both memorable and relevant to your business.
Create the Vision and Mission of Your Brand
Having a mission and vision of your brand by your side is essential. It helps the brand to create credibility among the target audience. Here, you will have to craft a clear expression of what your brand is all about and how you are different from others. 
Take the example of Nike which is a multinational footwear company. Their mission statement says "Just do it", and their vision focuses on manufacturing great quality shoes. They focus on all types of athletes and deliver them with the best service. Their strong branding and YouTube marketing helped them create a strong customer base globally. 
Have a Unique Selling Point and Brand Offers
While creating a groundbreaking brand-building strategy, you need to focus on having a unique selling point, something that others do not offer. Keep an eye on your products, services, and benefits that belong entirely to you and make your audience hooked to your business. 
A great way to make your brand stand out is by offering Customer Training about your product. By providing comprehensive and valuable training on using your product effectively, you can enhance your customers' experience and establish a distinct advantage. This fosters customer satisfaction and builds trust and loyalty.
Unique Brand Voice Is a Must
Once you have launched a brand, it is the time to form your own unique voice to elevate the company's vision. It is how you must communicate with your customers and respond to them on personal chat or in comments. A brand voice can be professional, friendly, technical, promotional, conversational, and informative. But one thing that it should always be is consistent!
It is crucial when you publish articles and social media posts on your website and brand account, respectively. Make sure to reflect your company culture, work ethics, professionalism, and humane side via your brand voice. 
People do not want to look at another cookie-cutter brand that offers the same thing as others. They look for an enhanced experience and more personalized services from the brands backed up by genuine interaction. 
Thinking about how to brand your business uniquely? Make your business account stand out in every aspect, from graphics to marketing, posters to content; keep everything catchy, crispy, and hooking for your audience. Even if you make brochures to promote your business, make sure they are visually appealing enough, along with being informative.
While building a brand, tell your audience who you are and how you began your journey. Use the business voice you have chosen to promote your brand and keep it intricately associated with your brand. Pro-tip, you can also start a content writing business if you are a creative storyteller and love to write. 
Having a brand story means that you are now in the stage of brand development that goes beyond logo and tagline. It is the finest way to connect with the customers and communicate with them on a human level. Keep it simple and straightforward while explaining why your brand is vital to your customers. 
Ensure a Relevant Domain Name
One cannot overstate a proper domain name's significance in brand-building. Your domain name serves as your online address and should effectively encapsulate what your brand represents. Before finalizing any brand name or identity, always check domain availability. An easily recognizable domain that aligns with your brand name or its ethos can significantly enhance your brand's visibility and credibility online. Moreover, a domain that's easy to recall ensures potential customers can effortlessly find you when they connect or purchase. Investing time in finding the right domain name will pay off in the long run by providing a solid foundation for your brand's online presence
Create a Brand Logo and Tagline
When we talk about building a brand, the first thing that should strike your mind are visuals. The brand-building process asks you to create a unique and simply aesthetic logo recognizable to the audience. Since the logo will appear on everything related to your business, keep it catchy and visually appealing for your business. 
Another most important thing is to create a great tagline for your business. Invest some time, do some research, and come up with a tagline that is easy for the audience to remember. Graphics, logos, typography, and tagline play a vital role in your branding, so make sure you have done a great job here! 
Keep Brand Building Going
The brand-building process never stops. Your brand should be visible and reflected in all your interactions via social media. For example, you can put up your brand logo on all the stationery items that you and your employees have, and also create men's tweed jackets/shirts with your brand vision embedded over them. 
While promoting your brand on other social media platforms, ensure that your brand looks the same across all the channels. Social media profiles of your brand should also be visually appealing with vibrant and informative  Incorporate the chosen voice rightly and keep accelerating the brand-building process. 
Take Advantage of Video Marketing
No brand is complete without a solid marketing strategy. While there are many different marketing techniques you could add to your arsenal, video marketing takes the cake and remains to be one of the most effective strategies of all time. That's because the average audience member finds it easier to retain information when it's in video form as opposed to long-form text.
Create engaging videos to be shared with your audience to drive your messaging even further. Whether you create short reels and TikToks or utilize live streaming, be sure to track your video marketing metrics and engagement to determine the best type of video content that converts. Additionally, you can try adding voice overs to your videos using the text to voice generator to make your video more engaging. You can maximize your video marketing potential by learning how to go viral on TikTok, harnessing its massive audience and engagement opportunities. Before starting your business, you need also to have a solid awareness of the financial state of the market you are entering. Learn about the per capita income, the banking system, the taxes and financial policies, and the social structure. You may appoint a registered agent to manage all of your company paperwork, tax returns, and official registrations in order to free up your time so that you can focus on growing your business. Alternatively, you can always visit websites like BusinessGuru for additional details on the procedure. 
It's a Wrap! 
Now that you know the steps for creating brand-building, it's time to get started with the proper marketing tactics. Good luck! 
Author Bio
I am a passionate content writer with a computer science background who always loves to write informative blogs. I usually love to watch cartoons and hang out with my friends when free. Launching my makeup brand has always been my dream, and I am open to more advice. Ping me at summaiya@socialchamp.io